July 12, 2011 -
Barry Dorey
Trappings of youth
The Trappings Of Youth
Let's not kid ourselves. Unless you're a proud enthusiast of Fresno State football -- or support a team that played the Bulldogs in 2009 -- there's a 3 percent chance that you saw Ryan Mathews tote the rock more than 20 times in the '09 season. So, imagine my shock to see all the draft-day frothing over Mathews' (immediate) all-world potential last August, as if he was an Adrian Peterson-esque lock to post monster numbers in his rookie campaign of 2010. It was baffling, and troubling, to say the least; but it also created an opportunity for exuberant owners to learn a hard life lesson about fantasy football: NEVER waste an elite draft pick on a rookie.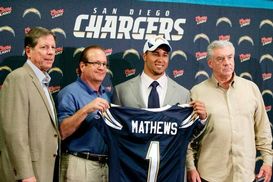 ICONMathews fell well short of expectations as a rookie in 2010.
In last year's drafts, I had a front-row seat for not one, but two short-sighted owners (who I greatly respect) snaring Mathews with top-10 selections; and it had nothing to do with his preseason stats (146 rushing yards on 34 carries) ... but everything to do with the insane hype from Chargers coach Norv Turner's innocuous minicamp prediction of "300 carries" for Mathews -- the unwitting heir to LaDainian Tomlinson's throne in San Diego. Or so they thought. Instead, Mathews did the equivalent of nothing until his Week 17 breakout of 120 rushing yards and three TDs. (Too little, too late in fantasy circles.)
This mini-section isn't about Mathews or his slightly depressed predraft value; rather, it's about how rookie running backs are the only players to benefit from a five-month lockout. With no minicamp, Redskins coach Mike Shanahan didn't have a chance to compare Roy Helu to Clinton Portis, circa 2002. Lions coach Jim Schwartz didn't get ample opportunities to hail Mikel Leshoure as a "beast." Saints coach Sean Payton wasn't forced to choose between Mark Ingram and free agent-to-be Reggie Bush. And owner Jerry Jones never got a shot to predict that DeMarco Murray would be the Cowobys' starting back by Week 6 -- if not sooner. And from that de facto media blackout, fantasy owners won't be duped into reaching for Ingram, Murray, Williams, Helu or Thomas in the draft's early rounds. There's absolutely no value in it.
Here's my early listing of the top 10 rookie running backs in fantasyland (standard-scoring leagues):
1. Ryan Williams, Cardinals (high-risk, high-reward talent ... best back in April's draft)
2. Mikel Leshoure, Lions (could easily score 8-10 red-zone TDs)
3. DeMarco Murray, Cowboys (may be the best rookie back during the fantasy playoffs)
4. Mark Ingram, Saints (a Ron Dayne clone ... not sure if that's a good thing)
5. Roy Helu, Redskins (could have the easiest path to a starting slot)
6. Daniel Thomas, Dolphins (Sporting News has him pegged as the 42nd overall pick ... wow!)
7. Shane Vereen, Patriots (Bill Belichick's draft prowess will never be questioned)
8. Dion Lewis, Eagles (has Jamaal Charles-like potential)
9. Delone Carter, Colts (history tell us Carter WILL start at least one game on Indy's merry go-round)
10. Alex Green, Packers (Green Bay execs obviously have an eye for finding great RB value in the draft)
11. Stevan Ridley, Patriots
12. Jacquizz Rodgers, Falcons
13. Kendall Hunter, 49ers
14. Taiwan Jones, Raiders
15. Johnny White, Bills
Speaking of Rookies ...
To be honest, I am not a hearty fan of any QB from this year's rookie class, and yet there are five candidates (Cam Newton, Jake Locker, Christian Ponder, Colin Kaepernick, Andy Dalton) who could actually be starting come Week 1. Should the astounding happen and we see a record-breaking amount of rookie-QB starters in 2011 -- in a lockout-ravaged year, no less -- The Big Lead's Jason Lisk has decided to attack that scenario ... one signal-caller at a time.
Check This Out
On Monday, I purchased my first fantasy football magazine of the season (Sporting News) and found it to be an exhilarating read -- even with all the lockout uncertainty. But a few things stood out in the section for the 12-team mock draft (standard scoring):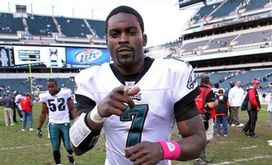 How long will Vick last on draft day?
1. TSN's Dan Barker plucked QB Michael Vick with the No. 5 overall pick -- passing on Mendenhall, Rice, McCoy and Aaron Rodgers.
2. There were two separate runs of six straight wideouts: From picks 25-30 (Hakeem Nicks, DeSean Jackson, Greg Jennings, Larry Fitzgerald, Miles Austin, Reggie Wayne) ... and picks 61-66 (Austin Collie, Wes Welker, Steve Johnson, Percy Harvin, Michael Crabtree, Julio Jones).
3. Matt Lutovsky and 2010 FSWA nominee Matt Schauf waited the longest to draft a starting QB: Round 7 -- Josh Freeman for Lutovsky and Eli Manning for Schauf.
4. The earliest RB-RB handcuff came from Barker ... with Peyton Hillis (No. 20 overall) and Montario Hardesty (No. 101).
5. My choices for the three savviest draft picks AFTER Round 12: QB Matt Cassel (145th), WR Jerome Simpson (160th) and TE Brandon Pettigrew (184th).
Tiers Of A Clown: QBs
Quarterbacks are the make-or-break assets of fantasy football, but they're not all created equal. To wit, the QB tier system for fantasy drafts:
Tier 1 (4,350 total yards and/or 34 TDs)
Drew Brees, Aaron Rodgers, Tom Brady, Peyton Manning, Philip Rivers
Tier 2 (4,000 total yards and/or 30 TDs)
Michael Vick, Matt Schaub, Ben Roethlisberger, Tony Romo
Tier 3 (3,600 total yards and/or 27 TDs)
Jay Cutler, Josh Freeman, Eli Manning, Matt Ryan, Joe Flacco, Matthew Stafford, Matt Cassel, Joe Flacco, Mark Sanchez, Sam Bradford
Tier 4 (3,250 yards and/or 23 TDs)
Ryan Fitzpatrick, Chad Henne, Alex Smith, David Garrard, Matt Hasselbeck (with Seattle or Tennessee), Carson Palmer (with Seattle or Cincy), Kevin Kolb (with Minnesota or Arizona), Kyle Orton (if he starts 10-plus games with Denver)
Tier 5 (2,850 yards and 17 TDs)
Jason Campbell, Colt McCoy, Cam Newton, Jake Locker, Rex Grossman, Donovan McNabb (with Minnesota or Arizona), John Skelton (assuming Arizona believes in him)
Tier 6 (Does it really matter how they perform?)
Vince Young, Colin Kaepernick, Christian Ponder, Andy Dalton, Sha un Hill, John Beck, Matt Flynn, Max Hall, Jimmy Clausen, Jordan Palmer, Caleb Hanie, Seneca Wallace, Brady QUinn, Jon Kitna, Dan Orlovsky, Matt Leinart, Blaine Gabbert, Joe Webb, Sage Rosenfels, Ryan Mallett, Rusty Smith, Josh Johnson
I'm Begging The NFL Network ...
... To air the 1984 Raiders-Dolphins tilt in its next batch of NFL Classic Games. Recently on YouTube, I stumbled upon the NBC original broadcast of this titanic showdown -- pitting the defending champion Raiders against the 12-1 Dolphins at the famed Orange Bowl ... and featuring the remarkable play-by- play tandem of Dick Enberg and Merlin Olsen. Three things immediately stand out from this well-preserved clip:
1) Dan Marino breaks John Unitas' single-season record for touchdown passes.
2) Raiders cornerback Lester Hayes and Dolphins receiver Mark Clayton warrant stronger consideration for the Pro Football Hall of Fame.
3) And at the 4:06 mark, you'll notice a Dolphins fan in the upper deck blowing into a vuvuzela, the same swarm-of-bees-replicate noisemaker that was all the rage at last year's World Cup in South Africa. Timeless stuff!
Target Practice
When it comes to preparations for Points Per Reception league drafts, there is no better starting point than investigating the number of times a tailback is thrown to -- or receiving targets. Here's a list of the 24 tailbacks to average at least 4 targets per game in 2010:
1. LeSean McCoy, Eagles -- 90 targets
2. Arian Foster, Texans -- 84 targets
3. Ray Rice, Ravens -- 82 targets
4. Jahvid Best, Lions -- 80 targets
5. LaDainian Tomlinson, Jets -- 79 targets
6. Peyton Hillis, Browns -- 77
7. Darren Sproles, Free Agent -- 75
8. Frank Gore, 49ers -- 72 (not bad for only 11 games)
9. Matt Forte, Bears -- 70
10. Jamaal Charles, Chiefs -- 64
11. Cadillac Williams, Free Agent -- 64
12. Steven Jackson, Rams -- 61
13. Darren McFadden, Raiders -- 61
14. Ahmad Bradshaw, Giants -- 58
Keiland Williams, Redskins -- 58
16. Mike Goodson, Panthers -- 57
17. Chris Johnson, Titans -- 57
18. Fred Jackson, Bills -- 54
19. Felix Jones, Cowboys -- 52
20. Jason Snelling, Free Agent -- 51
21. Justin Forsett, Seahawks -- 50
22. Brandon Jackson, Packers -- 50
23. Adrian Peterson, Vikings -- 50
24. Knowshon Moreno, Broncos -- 48
Choose Your Quarterback
The feedback from my first two columns with the National Football Post was largely positive, but I did get called to task on the starter-QB rankings, specifically involving Eli Manning (ranked 15th) and Matt Cassel (17th). It seems some readers think Manning is a lock for 31 touchdowns every year (but not 25 interceptions) ... while others are assuming that Cassel will always throw for 469 yards and four TDs against Denver. But then again, that's what makes fantasy football so great. There are very few certainties in this beloved, addictive game of chance, and we can only call 'em as we see 'em in July. That said, here's a week-to-week breakdown of Manning vs. Cassel:
Week 1 -- Cassel (vs. Buffalo) over Manning (@ Washington)
Week 2 -- Manning (vs. St. Louis) over Cassel (@ Detroit)
Week 3 -- Cassel (@ San Diego) over Manning (@ Philadelphia)
Week 4 -- Cassel (vs. Minnesota) over Manning (@ Arizona)
Week 5 -- Manning (vs. Seattle) over Cassel (@ Indianapolis)
Week 6 -- Manning (vs. Buffalo) over Cassel (BYE)
Week 7 -- Cassel (@ Oakland) over Manning (BYE)
Week 8 -- Manning (vs. Miami) over Cassel (vs. San Diego)
Week 9 -- Cassel (vs. Miami) over Manning (@ New England)
Week 10 -- Cassel (vs. Denver) over Manning (@ San Francisco)
Week 11 -- Manning (vs. Philadelphia) over Cassel (@ New England)
Week 12 -- Manning (@ New Orleans) over Cassel (vs. Pittsburgh)
Week 13 -- Manning (vs. Green Bay) over Cassel (@ Chicago)
Week 14 -- Manning (@ Dallas) over Cassel (@ N.Y. Jets)
Week 15 -- Manning (vs. Washington) over Cassel (vs. Green Bay)
Week 16 -- Cassel (vs. Oakland) over Manning (@ N.Y. Jets)
Week 17 -- Cassel (@ Denver) over Manning (vs. Dallas)
Final Tally: Manning wins by a nose, 9-8
Four Stupid Predictions For No Reason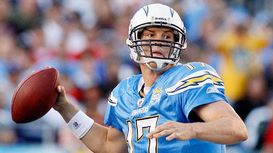 Clemons thinks Rivers is set for some big performances in 2011.
1. Philip Rivers will lead the NFL in 300-yard passing games (7) ... and 400-yarders, too (3).
2. At 28, Kellen Winslow Jr. will notch 80-plus receptions for the third time in his quietly stellar career.
3. Jaguars backup tailback Rashad Jennings will rush for 700 yards and at least four TDs this fall.
4. I'll bet every cent I own that -- barring injury -- Ravens running back Ray Rice will amass 2,000 total yards. And with the possible exodus of Le'Ron McClain and Willis McGahee, do I dare say that Rice is a healthy lock for double-digit TDs?
Toolbox Of Wonder
The forward-thinking workerbees at Fantasy Football Toolbox are off and running with unique takes on the upcoming season -- such as:
1. Positional Average Draft Position (ADP)
2. Team-by-Team Depth Charts
3. Top 200 listing (continually updated)
4. Positional sleeper picks
5. Beware of the busts
6. Best Year 3 wideouts
It's All About The Slot: #8
The No. 8 slot in a 12-team draft is only beneficial to those with a death wish, meaning there's not a single time in the 16 rounds where you can pass on a fantasy stud and be absolutely certain that same player will be waiting for you nine or 15 picks later. It's mentally taxing, above all, conjur ing up games of Draft Chicken with your fellow owners ... just to get one more starter-ready back or the perfect backup-QB to Michael Vick. Well, hath no fear or ambivalence about this perceived No Man's Land ... for here's a strategy to dominate a draft with the No. 8 selection:
Round 1, Pick 8: Motive -- Best overall player
1st option: RB LeSean McCoy, Eagles ... 2nd option: RB Darren McFadden, Raiders
Round 2, Pick 17 overall: Motive -- Best WR/RB/QB available
1st option: WR Calvin Johnson, Lions ... 2nd option: QB Drew Brees, Saints
Round 3, Pick 32 overall: Motive -- Best RB or WR available
1st option: RB Jonathan Stewart, Panthers ... 2nd option: WR Marques Colston, Saints
Round 4, Pick 41 overall: Motive -- Best WR/TE/RB available (unless Rivers or Brady lurks)
1st option: QB Philip Rivers, Chargers ... 2nd option: TE Antonio Gates, Chargers
Round 5, Pick 56 overall: Motive -- Best elite RB or WR
1st option: RB Shonn Greene, Jets ... 2nd option: RB Cedric Benson, Bengals
Round 6, Pick 65 overall: Motive -- Best tight end or top-tier running back
1st option: RB Javhid Best, Lions ... 2nd option: TE Jermichael Finley, Packers
Round 7, Pick 80 overall: Motive -- Best WR available (great upside)
1st option: WR Mario Mannigham, Giants ... 2nd option: WR Jerome Simpson, Bengals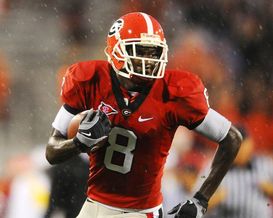 Could A.J. Green end up as an eighth round steal?
Round 8, Pick 89 overall: Motive -- Best RB/WR available
1st option: WR A.J. Green, Bengals ... 2nd option: WR Hines Ward, Steelers
Round 9, Pick 104 overall: Motive -- Best TE/WR/QB available
1st option: TE Brandon Pettigrew, Lions ... 2nd option: QB Matthew Stafford, Lions
Round 10, Pick 113 overall: Motive -- Best player available
1st option: QB Sam Bradford, Rams ... 2nd option: RB Reggie Bush, Saints(?)
Round 11, Pick 128: Motive -- Best talent available
1st option: RB DeMarco Murray, Cowboys ... 2nd option: D/ST Green Bay Packers
Round 12, Pick 137: Motive -- Best player available (with a nod to tight end)
1st option: TE Dustin Keller, Jets ... 2nd option: TE Aaron Hernandez, Patriots
Round 13, Pick 152: Motive -- Best defense available
1st option: D/ST Philadelphia Eagles ... 2nd option: RB Mikel Leshoure, Lions
Round 14, Pick 161: Motive -- Best kicker available
1st option: PK Mason Crosby, Packers ... 2nd option: PK David Buehler, Cowboys
Round 15, Pick 176: Motive -- Best upside threat at receiver
1st option: WR Golden Tate, Seahawks ... 2nd option: WR Titus Young, Lions
Round 16, Pick 185: Motive -- Best WR available
1st option: WR Donnie Avery, Rams ... 2nd option: WR Darrius Heyward-Bey, Raiders
The Over-23 Club
Kickers may be the red-headed step-children of fantasy football; but, like it or not, they're still a vital part of the game (and championships). So, if you're playing in a league that rewards kickers three points for field goals 21-39 yards, four points for FGs 40-49 yards and five points for 50-plus-yard FGs ... here's something to consider: Fantasy Football Today's projections for kickers who'll make 23 or more field goals:
Nate Kaeding, Chargers -- 30 field goals
Alex Henery, Eagles -- 30 field goals
Josh Brown, Rams -- 30 field goals
Jeff Reed, 49ers -- 28 field goals<br /> Sebastian Janikowski, Raiders -- 27
Neil Rackers, Texans -- 26
Matt Bryant, Falcons -- 26
Nick Folk, Jets -- 26
Robbie Gould, Bears -- 25
Rob Bironas, Titans -- 25
Olindo Mare, Seahawks -- 25
Dan Carpenter, Dolphins -- 25
Steven Hauschka, Broncos -- 25
Adam Vinatieri, Colts -- 24
David Buehler, Cowboys -- 24
Billy Cundiff, Ravens -- 24
Stephen Gostkowski, Patriots -- 23
Mason Crosby, Packers -- 23
Jason Hanson, Lions -- 23
I Cannot Leave Without Answering ...
... A (nameless) Twitter follower who asked me last week, "When is a good time to reach for a kicker in a 12-team draft?"
My reply: Never!
See ya Friday.
An award-winning fantasy writer with Sports Illustrated (2008-2010) before joining the National Football Post, Jay Clemons' Fantasy Philanthropist Blog can be found here every Monday, Wednesday and Friday. Clemons can be reached, day or night, via Twitter.