January 09, 2012 -
National Football Post
Trent Richardson vs. Morris Claiborne
Breaking down the game of LSU CB Morris Claiborne …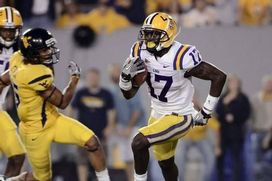 Claiborne can create with the ball in his hands.
CB Morris Claiborne: LSU (6-0, 185)
Possesses a tall frame with a thinner physique. However, looks a lot taller than his height numbers would indicate because of his long arms. Is an aggressive corner by natural who loves to play up near the line of scrimmage, sit into his stance and press off the line. Extends his arms well into contact and can really uncork a pop when asked to re-rout. Has a tendency to get a bit overextended into contact though and will shoot with the improper hand at times off the line. However, he really can be physical off the line and can consistently disrupt the timing of opposing receivers. Showcases natural foot quickness and fluidity to his game. Is quick-footed when force to mirror laterally and despite getting a bit upright at times laterally, is quick enough to collect himself, settle his feet and close on the football.
Exhibits impressive fluidity and balance for his size when asked to flip his hips and turn to run. Demonstrates a "plus" first step, can keep his pad level down out of his breaks and really track the football. Uses his length well to be physical with receivers down the field and exhibits the coordination to quickly settle his feet and attack throws at the highest point.
Does a nice job when asked to get out of his breaks on inward breaking routes. Is patient in his drop and again, can keep his pad level down, creating a good closing burst. Stays low and routinely manages to maintain balance and undercut routes underneath. Now, when he isn't asked to press off the line he does have a tendency at times to get a bit lazy in his drop and allow his pad level to rise, taking away from his initial burst out of his breaks and giving receivers the chance to gain inside leverage. Nevertheless he does have the ability to sit into his drop and stay balanced/compact with his footwork in off/zone concepts. Showcases a good feel reading routes off the line in off man. And because of his ability to cleanly flip his hips and reach top end speed quickly, he can be patient in his drop and isn't' forced to bail out of his back-pedal prematurely.
Showcases some toughness vs. the run game. Extends his long arms well into contact, can gain leverage and disengage from defenders trying to seal him on the edge. Isn't the most physical of tacklers, but is willing to throw his body around and use his length to wrap on the play. Takes good angles when asked to drive on the football and for the most part gets his man to the ground. However, I would like to see him get a bit stronger as at times he will slip off his target.
I love his mental make-up though. Will play on special teams, not only as a talented kick return man, but also on kick coverage units as well. Is explosive down the field, takes good angles and is a tough man to outrun.
Impression: The top corner in this year's draft. He's tall and long which allows him to play big off the line. However, he showcases the footwork, balance and quick-twitch ability of a much smaller corner out of his breaks. With improved technique he should mature into one of the leagues best.
For the final outcome click to page two...
Follow me on twitter: @WesBunting