December 01, 2011 -
Barry Dorey
Tricks of the trade
Week 13 Rules To Live By
1. If your league allows it, don't hesitate to make a pre-deadline blockbuster. As stated many times in previous columns, there is little or no value in having starter-worthy depth on your bench, since these productive benchwarmers serve no purpose during the fantasy playoffs -- other than breaking ties. In the SI.com & Friends league, for example, I made every possible effort to unload Michael Bush, Ryan Mathews, Mark Ingram, Brandon Marshall and Dwayne Bowe last week for a superstar like Arian Foster, Ray Rice or LeSean McCoy, but was rebuffed by owners of marginal squads who viewed the 4-for-1 or 5-for-2 offers as too good to be true. (Seriously.) As a result, I'm left with the ambivalent luxury of choosing amongst Mathews, Bush, McCoy, Ingram and Chris Johnson over the next four weeks at running back. Ugh. Which brings me to this ...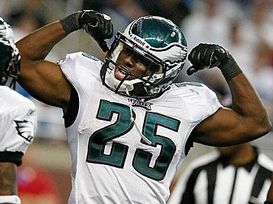 Ride your studs like LeSean McCoy no matter what the situation.
2. Don't overthink starting lineups: Play your studs! As great as Mathews (career-high 137 rushing yards last week), Bowe (19 TDs the last two seasons), Ingram and Michael Crabtree have been with the SI.com & Friends club this year, there's no way I'm sitting McCoy, Chris Johnson, Bush, Marshall, Brandon Lloyd or Laurent Robinson (7 TDs in his last five games) for the playoff drive, barring injury; and if I should get knocked out before the Week 16 Fantasy Bowl, then so be it. My stubbornness is borne out of the thinking that, absent of a last-minute pickup or blockbuster trade, you dance with the stars who earned a division title and No. 1 playoff seed ... and cross your fingers for a championship. Do Mathews or Bowe have a 50-50 chance of usurping Bush or Lloyd in any of the next four weeks? Absolutely. But aside from an injury or Storm of the Century, I pledge not to overthink my way to a blown title.
3. R-E-S-P-E-C-T cold, blustery weather when choosing a starting QB. Strong winds or heavy rains don't concern me in September or October. Most quarterbacks can throw the ball with relative ease amid warm and windy conditions. But bitter-cold temperatures and stifling crosswinds can be a fresh hell for quarterbacks in the Northeast or cities such as Green Bay, Denver and Kansas City. The greatest example of this will forever be Tom Brady during his record-breaking season of 2007: Yes, Brady threw for 4,806 yards and 50 touchdowns that year; but on a cold, soggy, windy, miserable day in Week 15 -- traditionally the semifinal round of the fantasy playoffs -- he rolled for 140 yards and zero TDs ... likely dashing the title hopes of every fantasy owner who rode his out-of-nowhere awesomeness to a wire-to-wire division crown. To be fair, the Jets defense had something to do with Brady's middling outing that day; but it still should make GMs think twice about starting non-elite QBs like Mark Sanchez, Ryan Fitzpatrick, Rex Grossman, Matt Moore, Joe Flacco, Colt McCoy and even Andy Dalton in crappy, blustery weather. (Obviously, Brady would never be benched under any circumstances, simply hope for the best.)
4. Start all productive players from the Saints, Packers, Lions, Patriots and Giants this weekend. The scheduling gods sometimes smile on fantasyland ... and when that happens, act accordingly. For all-important Week 13, you absolutely cannot go wrong with starting regulars from Packers-Giants, Lions-Saints, Cowboys-Cardinals and even Colts-Patriots -- a game where Indy principals like Reggie Wayne, Donald Brown, Pierre Garcon, Jacob Tamme and even QB Dan Orlovsky should have ample opportunities for garbage-time scoring. And once again ... we're back to the time-tested principle of Don't Overthink Your Lineups In Crunch Time.
5. It's OK to tank your Week 13 matchup ... if it will lead to a better setup in next week's fantasy playoffs. This has nothing to do with ethical responsibilities or possessing a holier-than-thou moral compass: If you have a golden chance to play a lesser opponent in Round 1 of the playoffs (Week 14) by losing this weekend, there's really no crime in doing so. Simply put, you've earned the right to control your own playoff fate ... so tank away!
Week 13: QB Locks For 275 Yards and/or 3 TDs
1. Tom Brady vs. Indianapolis
2. Drew Brees vs. Detroit
3. Eli Manning vs. Green Bay
4. Ryan Fitzpatrick vs. Tennessee
5. Aaron Rodgers @ N.Y. Giants
6. Tony Romo @ Arizona
7. Matthew Stafford @ New Orleans
RB Locks For 120 Total Yards and/or 2 TDs
1. Ray Rice @ Cleveland
2. Marshawn Lynch vs. Philadelphia (LeSean McCoy would be an iffy 'lock')
3. Chris Johnson @ Buffalo
4. Matt Forte vs. Kansas City
5. Willis McGahee @ Minnesota
6. Frank Gore vs. St. Louis
7. Beanie Wells vs. Dallas
8. Maurice Jones-Drew vs. San Diego
9. Michael Bush @ Miami
10. Arian Foster vs. Atlanta
Talking Points
1. Ray Rice is on pace for only 1,829 total yards this season ... short of my August guarantee of 2,000. If Rice (10 TDs in 2011) was averaging only 11 more yards per game, he'd be right on track for 2,000, so it's not like I'll have to eat a super-sized bag of crow after Week 17. But then again, who's to say Rice can't go off against the Browns (twice), Colts and Chargers in the next four weeks -- ranked 29th, 31st and 25th against the run? As the calendar reads December and the weather turns colder, Baltimore will likely lean on Rice (and Ricky Williams) to carry the club to a 4-0 finish, 13-3 overall record and possible No. 1 seed in the AFC playoffs. It's the perfect recipe of success for a franchise that has a great shot of making the Super Bowl, while boosting the profile of Rice (beyond Energy Sheets), QB Joe Flacco (2,737 yards passing, 13 TDs) and a defense that can truly bring the wood, whenever necessary. But right now, fantasy owners should only be concerned with Rice's touches and capacity for hitting 120 yards and one TD in every remaining game.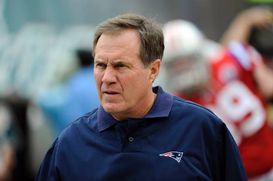 ICONBill Belichick and the Patriots are monster favorites this Sunday.
2. Vegas bookmakers have installed the Patriots as 20.5-point favorites against the winless Colts. According to R.J. Bell of the excellent Web site Pregame.com, nine NFL teams have been favored by 20 or more points since 1978, with the favorites going 9-0 straight up but only 2-7 against the spread. This bodes well for Indy in one respect: While I'm sure that head coach Bill Belichick won't show any mercy on Sunday, directing New England to at least 38 points , there should be a ton of garbage-time scoring possibilities for the Colts in the second half. After all, Dan Orlovsky has some nice physical tools (stop thinking of that safety!), and Indy's full range of playmakers (aside from Dallas Clark) will be available to him; and let's not forget that New England has a below-average pass rush and one of the worst passing defenses in the league. So please, don't ignore Reggie Wayne or Donald Brown. You may be sorry on Monday morning.
In Case You're Wondering ...
By my research, the two largest betting lines for regular-season games since 1970 (the NFL-AFL merger) are:
1. 1976: Buccaneers @ Steelers -- Pittsburgh, favored by 24 points, cruised to a 42-0 rout of expansion Tampa Bay.
2. 1993: Bengals @ 49ers -- San Francisco, favored by 23 points, pulled out a sluggish 21-8 victory over Cincinnati.
The Hands That Built America
Here's my always-fluid listing of the top-40 wideouts in standard-scoring leagues ... from this point forward:
1. Calvin Johnson, Lions (still the gold standard of wideouts, despite a recent mini-slump)
2. Wes Welker, Patriots
3. Mike Wallace, Steelers
4. Victor Cruz, Giants (remember when everyone attributed his 3-TD night in the 2010 preseason opener to dumb luck?)
5. Greg Jennings, Packers
6. Larry Fitzgerald, Cardinals
7. Jordy Nelson, Packers
8. Steve Smith, Panthers (let's hope Cam Newton doesn't hit the proverbial rookie wall)
9. Vincent Jackson, Chargers
10. Roddy White, Falcons
11. Brandon Lloyd, Rams (you don't bench WRs averaging 12 targets/0.8 TDs in their last five games)
12. Brandon Marshall, Dolphins
13. Andre Johnson, Texans
14. Laurent Robinson, Cowboys (easily one of the three biggest undrafted studs of the year)
15. Dez Bryant, Cowboys
16. Marques Colston, Saints
17. A.J. Green, Bengals
18. Dwayne Bowe, Chiefs (let's not overreact to his last-minute alligator arms against the Steelers)
19. Hakeem Nicks, Giants (don't let the middling ranking fool ya ... he's a sleeping, ahem, giant)
20. Anquan Boldin, Ravens
21. Miles Austin, Cowboys
22. Percy Harvin, Vikings (don't lose sight of the Vikings' only big-time offensive hope right now)
23. Reggie Wayne, Colts
24. Steve Johnson, Bills
25. Mike Williams, Buccaneers (behold ... four straight games in presumably warm southern climates!)
26. Greg Little, Browns (a preseason top-20 receiver next year -- regardless if <strong>Colt McCoy's his QB)
27. Deion Branch, Patriots
28. DeSean Jackson, Eagles
29. Jeremy Maclin, Eagles (out for Thursday against Seattle)
30. Julio Jones, Falcons (no worries on last week's double goose egg)
31. Santonio Holmes, Jets
32. Michael Crabtree, 49ers
33. Eric Decker, Broncos (does Denver even need to line up three receivers?)
34. Nate Washington, Titans
35. Jabar Gaffney, Redskins (wouldn't make the list if John Beck was helming the offense)
36. Antonio Brown, Steelers
37. Steve Breaston, Chiefs
38. Johnny Knox, Bears (let's exercise patience from last week's 4/145/1 explosion)
39. Jerome Simpson, Bengals (one of the most confounding receivers in fantasy ... oh, how I loathe him sometimes)
40. Torrey Smith, Ravens
Head over to Page 2 for more!