December 26, 2011 -
Barry Dorey
Two more Hurricanes declare early for NFL Draft
The Breakdown…

OG Brandon Washington: Miami (6-4, 325)

What I like…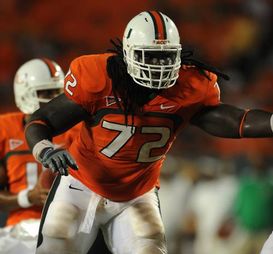 ICONWashington can pull and get out to the second level.
- A thick, naturally strong kid with a muscular set of legs and good girth through the base.

- Possesses good length for his size and has the length to consistently gain leverage into contact.

- Has experience at both guard and tackle and offers some versatility to an NFL offensive line.

- Possesses the ability to bend, sink his hips and keep his base/feet under him.

- Showcases natural athleticism for a big man with the range to reach speed off the edge in pass protection and push explosive defenders past the pocket.

- Exhibits natural fluidity in the hips when asked to mirror inside. Displays good balance/coordination with his footwork through contact and can easily push defenders past the play.

- Demonstrates "plus" recovery ability for his size and can quickly make up for a false step, slide laterally and cover the necessary ground.

- Extends his arms well into contact in the pass game and once he gains leverage can sink his hips and anchor with consistency inside.

- Showcases a natural feel picking up blitzing linebackers from the second level and stonewalling them on contact.

- Is a naturally powerful kid who can create a push in-line in the run game through contact once he drops his pad level and starts churning his legs. Has the power to overwhelm.

- Showcases good initial quickness off the snap, is quick footed getting around defenders and sealing on the outside.

- Exhibits a snap through the hips when reaching blocks off his frame and can collapse the pocket down from the backside.

- Is a "plus" athlete on the move, takes good angles into contact, showcases good range and breaks down well in space.

- Can drop his pad level quickly and cut down defenders on contact both at the line of scrimmage and down the field.

- Has a bit of a mean streak, will finish blocks and plays hard through the whistle.

- Has a ton of upside. Has never really had a chance to just focus on one position and the skill set is there for him to develop his technique at one spot quickly.

What I don't like…

- Has never become real natural as a technician at either guard or tackle. Has moved back and forth between the two spots, which stunted his growth a bit.

- In pass protection on the edge, he doesn't do a great job sitting into his base initially on contact, tends to double over at the waist and will lose his balance and give up leverage because of it.

- Has a tendency to get inconsistent with his footwork laterally. Is more athlete than technician and you will see his footwork get inconsistent, as he gets really overextended at times and too often goes into recovery mode quickly because of it.

- Isn't a great puncher into contact either, is heavy handed and can stick through contact, but needs to do a better job keeping himself clean at the point with a compact jolt.

- Doesn't do a great job working in tandem with his center/guard combo at this stage, will blow some assignments and give up penetration because of it.

- Tends to pop upright in the run game after his initial step and then buckle at the waist into contact as an in-line guy.

- Gets most of his push in-line through contact and not initially off the snap, needs to do a better job keeping his pad level down through contact.

Impression: The talent is there for this guy to mature into a guard you can win with consistently inside at the next level. He needs to improve his pad level in the in-line game and tighten up his footwork in all areas. However, with a year of seasoning he certainly should mature into an above-average guard in the NFL with the talent to start at right tackle as well.

Grade: 6.9 D
Follow me on twitter: @WesBunting
To check out DE Olivier Vernon click here..