April 05, 2011 -
National Football Post
Two sport studs
Taking a look at which prospects have had success in other sports and does it translate in any area of their game on the football field?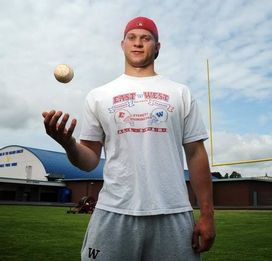 ICONLocker has a nice fallback plan if football doesn't work out.
QB Jake Locker: Washington (Baseball)
A former 10th round pick of the Angles in 2009, Locker has spent the past couple summers working on his swing from the diamond and honing his skills as an outfielder. He decided against it in 2010 in order to focus solely on football, but you have to wonder if his summers spent playing baseball might have stunted his growth to a degree as a quarterback. Either way, he has a pretty good fall back plan if football doesn't work out for him.
QB Colin Kaepernick: Nevada (Baseball)
As a high school senior Kaepernick chose football over baseball, despite the fact he was considered a better pitching prospect than QB. His fastball was capable of reaching the mid 90's and he was actually drafted in the 43rd round by the Chicago Cubs in the 2009 MLB draft. You can tell when you watch him on tape he still feels comfortable delivering the football as if he's a pitcher, as he possesses an elongated release and isn't real compact/clean with his throwing mechanics. Therefore, one of his major drawbacks as a prospect looks to be directly correlated with his time spent as a pitcher.
TE Jordan Cameron: Southern Cal (Basketball)
A former McDonald's High School All-American nominee looks to be the next in line of former basketball studs that will make the move to the gridiron. Cameron is a gifted athlete, possesses good short area quickness and his leaping ability is noticeable on tape. He displays the vertical explosion to consistently go up and easily sky for the football as if he's plucking a rebound, and is one of the top tight ends in the class because of it.
TE Julius Thomas: Portland State (Basketball)
Thomas played in over 25 games in each of his past four years on the Portland State basketball team and averaged 10.8 points per game as a senior. He's still a work in progress on the football field, however, his athleticism –much like Cameron- is obviously noticeable when watching him glide down the seam and make a play on the football. In a weaker tight end class, Thomas could end up coming off the board as early as the 4th round because of his upside.
OT/TE Will Yeatman: Maryland (Lacrosse)
Yeatman is a former standout lacrosse player who was even on the U.S. National Team tryout pool in 2010. He's very coordinated, possesses a great looking frame and has the upside to possibly mature into an NFL caliber tackle with some time. He's also a naturally strong kid who could certainly develop as a in-line blocker, can catch the football in the pass game and worst-case scenario looks like a very solid sub package "on the line Y" in the NFL.
DE Robert Quinn: North Carolina (Wrestling)
I like prospects who have a wrestling background because the sport is all about learning to play with leverage and being quick with your hands. But, I like prospects even more with a successful wrestling background, which is the case for Quinn. The former UNC star was a two-time State Champion heavyweight wrestler in high school and it certainly shows up in his game. I have Quinn ranked as the draft's best overall defensive end prospect and without a doubt his wrestling background has helped him get there.