April 13, 2011 -
National Football Post
Two-round mock draft
With about two weeks to go until the 2011 NFL Draft, the NFP releases its newest mock draft of the season.
1. Carolina: Cam Newton, QB, Auburn
I'm feeling more and more confident as we get closer to the draft that Newton will end up being the number one pick.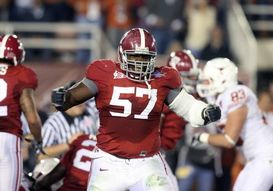 ICONDareus looks like a lock for the top-five.
2. Denver: Marcell Dareus, DT, Alabama
With so many holes along the front seven, a stout, versatile defender makes a lot of sense.
3. Buffalo: Blaine Gabbert, QB, Missouri
The Bills can be patient with Gabbert, as the future signal caller has the skill set to be effective in the nasty Buffalo weather.
4. Cincinnati: A.J. Green, WR, Georgia
With neither quarterback still on the board, look for the Bengals to simply nab the best player available.
5. Arizona: Von Miller, OLB, Texas A&M
The Cardinals get the type of impact-caliber rush linebacker they covet for their front seven.
6. Cleveland: Julio Jones, WR, Alabama
There is enough depth in the defensive line class for the Browns to look there in round two. Jones has the kind of game that is perfect for the AFC North.
7. San Francisco: Patrick Peterson, CB, LSU
Potentially the best player in the draft could fall to the 49ers if things play out correctly.
8. Tennessee: Nick Fairley, DT, Auburn
With some vets in place to take Fairley under their wing, the Titans get the most talented DT in the class.
9. Dallas: Tyron Smith, OT, USC
Even with two top-tier pass rushers still on the board, the Cowboys will have a tough time overlooking a potential blue-chip left tackle in Smith.
10. Washington: Robert Quinn, OLB, North Carolina
With Julio Jones off the board, the Redskins might be forced to stay at ten and take the best pass rusher available.
11. Houston: Prince Amukamara, CB, Nebraska
Despite using a first-round pick on a cornerback last year, Amukamara is a guy who can play in a variety of roles on the Houston defense early in his career.
12. Minnesota: Aldon Smith, DE, Missouri
Smith has the skill set and frame to mature into a full-time starter and gives them some scheme versatility on 3rd down as well.
13. Detroit: Anthony Castonzo, OT, Boston College
The Lions need to find a way to keep QB Matthew Stafford upright and clean and Castonzo is a step in the right direction.
14. St. Louis: Da'Quan Bowers, DE, Clemson
Despite having bigger needs elsewhere, Bowers has the talent to play the run and get after the passer as a three-down player on the edge. He's simply too good at this stage to pass up.
15. Miami: Mike Pouncey, OL, Florida
I'm having a tough time seeing the Dolphins go RB at 15. Therefore, a guy like Pouncey who can come in and upgrade the interior of their O-line from day one makes sense.
16. Jacksonville: Ryan Kerrigan, DE, Purdue
Expect the Jaguars to go the safe route in round one and then take a chance on a QB later in the draft.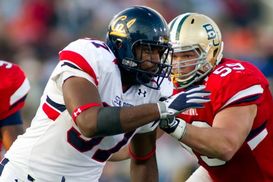 ICONJordan offers a lot of scheme versatility.
17. New England: Cameron Jordan, DE, California
Jordan is an intelligent player who can play a number of spots in a front seven and makes a lot of sense in New England.
18. San Diego: J.J. Watt, DE, Wisconsin
The Chargers need a more consistent presence across from Luis Castillo and Watt could be that guy.
19. N.Y. Giants: Corey Liuget, DT, Illinois
It's either offensive or defensive lineman here and Liuget is simply the best player on the board.
20. Tampa Bay: Adrian Clayborn, DE, Iowa
The idea of pairing Clayborn with the young DTs they have in place is intriguing.
21. Kansas City: Phil Taylor, DT, Baylor
Taylor looks like an ideal fit at the nose for Romeo Crennel's defense in Kansas City.
22. Indianapolis: Nate Solder, OT, Colorado
Protecting QB Peyton Manning more consistently this year is a must for the Colts offense.
23. Philadelphia: Jimmy Smith, CB, Colorado
Smith is the kind of bigger, more physical corner the Eagles need in their secondary. He's simply too good of a talent to fall out of round one.
24. New Orleans: Cameron Heyward, DE, Ohio State
Heyward would give the Saints a big body up front who can play both inside and out, giving them solid three-down production at both spots.
25. Seattle: Jake Locker, QB, Washington
I still have a tough time seeing the quarterback-needy Seahawks passing on their hometown signal caller.
26. Baltimore: Muhammad Wilkerson, DT, Temple
At 6-5, 310 pounds, Wilkerson has the ability to play both as a five- and three-technique at the next level and his upside is tremendous.
27. Atlanta: Gabe Carimi, OT, Wisconsin
The Falcons get the draft's best in-line run blocker.
28. New England: Danny Watkins, OL, Baylor
The type of tough, NFL-ready body that the Patriots love to plug into their O-line up front.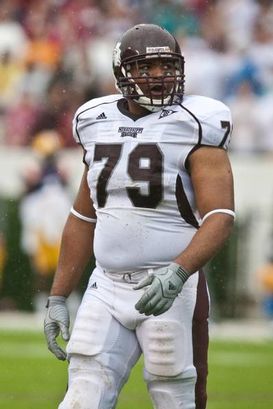 ICONThe Bears could have the steal of the draft in Sherrod.
29. Chicago: Derek Sherrod, OT, Mississippi State
The Bears get an absolute gift with the potential of Sherrod falling into their laps at 29.
30. N.Y. Jets: Justin Houston, DE/OLB, Georgia
The Jets have a number of needs, but adding the best front seven player available looks like the way to go.
31. Pittsburgh: Mark Ingram, RB, Alabama
It may not be the most pressing of needs, but Ingram is a great value at this stage and gives the Steelers a nasty one-two punch.
32. Green Bay: Benjamin Ijalana, OL Villanova
Ijalana has the ability to play a number of positions across the O-line and can win for you consistently in both the run and pass game.
33. New England: Akeem Ayers, OLB, UCLA
34. Buffalo: Brooks Reed, OLB, Arizona
35. Cincinnati: Ryan Mallett, QB, Arkansas
36. Denver: Jabaal Sheard, DE, Pittsburgh
37. Cleveland: Kenrick Ellis, DT, Hampton
38. Arizona: Christian Ponder, QB, Florida State
39. Tennessee: Colin Kaepernick, QB, Nevada