October 20, 2011 -
Barry Dorey
UAB OT Matt McCants definitely worth a watch tonight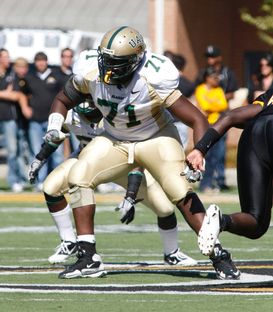 ICONThe big man can move in space.
There's never a ton of excitement when two mid-majors get together on a Thursday night. However, despite the overall talent level not being quite the same of two BCS caliber programs, there are always a few talents who stand above the rest and that are in fact NFL caliber prospects. And the one guy to take a close look at this evening is UAB's offensive tackle Matt McCants.
The 6-5, 295-pound lineman possesses a tall, long frame with the natural width through his lower half to continue to fill out physically and get stronger. This will be a key for him at the next level as he does struggle to anchor with consistency at times vs. stronger defensive lineman. However, he's a long armed lineman who despite not being the most compact of punchers can help himself with leverage as he routinely keeps opposing lineman from getting into his frame.
But, McCants is a coordinated athlete in pass protection with the range to reach speed of the edge and the body control/fluidity to cleanly change directions and mirror. He will get caught overextending at times when defenders want to try to play with power, causing him to lose balance and fall off blocks. However it's more of a technical flaw than anything else, which should improve with more development.
In the run game your not going to find a more impressive athlete getting out in front of the play and reaching targets at the second level. He's an elite athlete in space with "plus" body control as well when asked to breakdown. McCants is also a flexible kid who coils up into his stance well and does exhibit a real snap through his hips, creating an initial surge at the point. Again, he lacks ideal lower body strength, but he has the flexibility to gain leverage and win off the ball, it's just of matter of getting him into an NFL weight room and filling him out physically.
McCants isn't an NFL starting caliber tackle from day one. However, if you give this guy some time to mature and tweak some of his technical flaws with his footwork in pass protection, you have a tackle prospect who is capable of playing on the left side in the NFL.
And that's why he ranks so high on my board –as a top-50 senior prospect- and will likely end up warranting a potential top-90 pick come draft day.