October 14, 2010 -
National Football Post
Underclassmen breakdown
A look at some of the most intriguing underclassmen who could potentially declare early and quickly become some of the top prospects in the 2011 NFL draft class.
Quarterbacks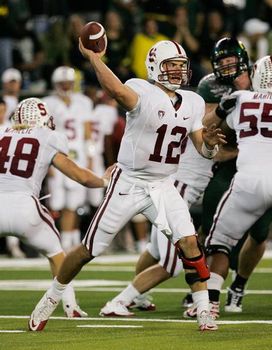 ICONLuck ranks in our view as the nation's top QB prospect.
Andrew Luck: Stanford
The only quarterback in the country I would feel completely comfortable taking with the first overall pick at this stage.
Ryan Mallett: Arkansas
Possesses a great arm and has the tools that you know a team will fall in love with, but questions about his accuracy and overall intangibles are both major concerns of mine.
Nick Foles: Arizona
An accurate, natural thrower of the football who needs another year, but besides Luck, is in my view the second-best quarterback option out there.
Running Backs
Mark Ingram: Alabama
The one can't-miss running back prospect in my view. He's physical, instinctive and looks capable of carrying the load from day one.
Mikel Leshoure: Illinois
At 6-0, 230 pounds, the guy has the power, footwork and athleticism to pick his way through the line, wear down opposing defenses and get stronger as the game goes on.
Shane Vereen: Cal
Is bigger and tougher than given credit for and has the ability to be dynamic in the open field.
Ryan Williams: Virginia Tech
He's a talented kid who is sharp and sudden with the football, but might have a tough time coming out after an injury-plagued 2010.
Wide Receivers
A.J. Green: Georgia
His combination of fluidity, body control and athleticism is rare for a guy his size. Leads the very talented junior wideout class.
Michael Floyd: Notre Dame
Hasn't been quite as impressive as last season, but all the tools are there for this guy to be a big time starter in the NFL.
Julio Jones: Alabama
He's big, powerful and strong, but it's his ability to sink his hips and cleanly change directions as a route runner that has really stuck out to me this year.
Jonathan Baldwin: Pittsburgh
The rawest route runner of the group, but he's a big, long kid who can go up and get the football.
Ryan Broyles: Oklahoma
He's shifty, balanced and explosive off the line, making him a tough cover on all levels of the field.
Tight Ends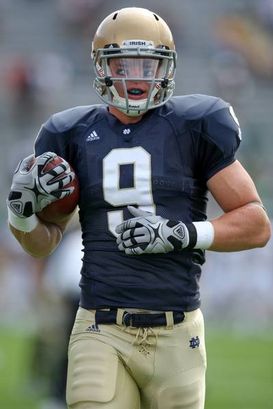 ICONRudolph is a massive kid who looks like a starting caliber "on the line Y" at the next level.
Kyle Rudolph: Notre Dame
If he can heal up from his hamstring injury, he should come off the board early and be an instant starting-caliber tight end in the NFL.
Linemen
OT Tyron Smith: USC
He needs to continue to add some more bulk to his frame, but possesses a similar skill set to 2010 USC tackle Charles Brown.
DE Robert Quinn: North Carolina
The best pure pass rushing defensive lineman I saw on tape during the summer. However, there are some character concerns now attached to his name after his agent run-ins this offseason.
DE Da'Quan Bowers: Clemson
The physical skill set is most definitely there and now everything is starting to click for him as a junior.
DL Marcell Dareus: Alabama
He's thick, powerful and sudden off the line, and has the ability to start at a number of positions along an NFL defensive line.
DL Nick Fairley: Auburn
Has developed into one of the most disruptive defensive linemen in the SEC this season. Adds some potential versatility up front as well.
DT Jurrell Casey: USC
An explosive, sudden pass rusher who has the ability to consistently knife his way into the backfield and make plays behind the line. However, there are some questions about his overall conditioning/work habits at this stage.
Linebackers
Akeem Ayers: UCLA
A physical freak who is getting a lot of interest from 3-4 teams as a pass rusher. Can be as good as he wants to be in the NFL.
Sean Spence: Miami
The guy has been on a tear all season making plays sideline-to-sideline. But at 5-11, 216, is he a linebacker in the NFL or safety?
Martez Wilson: Illinois
Is a bit high cut, but possesses good range for his size and has the versatility to play a number of spots in both a 3-4 or 4-3 front in the NFL.
Travis Lewis: Oklahoma
A smooth, balanced kid who showcases good range, finds the football and looks comfortable in coverage. Ideal weakside backer in a 4-3.
Cornerbacks
Patrick Peterson: LSU
Another physical marvel who has a rare skill set for the position.
Brandon Burton: Utah
The one junior cornerback no one is talking about. However, he's physical, fluid, can run and has shown very well vs. the top receivers he has faced this year.
Janoris Jenkins: Florida
Seems to have taken his game to another level this season and is at his best in off coverage when he can read his pass keys and quickly click and close on the football.
Aaron Williams: Texas
A tall, athletic corner who runs well, possesses good ball skills and will tackle after the catch.
Brandon Harris: Miami
Is having as good a year as anyone shutting down his side of the field week in and week out.
Safeties
Mark Barron: Alabama
A big, physical safety prospect who can tackle in the run game and does a nice job reading his pass keys in the secondary and routinely puts himself in position to make plays on the football.
Rahim Moore: UCLA
Hasn't had the type of year many expected and I'm hearing he's about 50/50 at this stage whether he comes out or not.
NFL draft/college football questions? Get them answered at Wes.Bunting@nationalfootballpost.com
Follow me on Twitter: @WesBunting
Want to work in the NFL? Click here to register for the NFP's "Chalk Talk" seminar in Chicago on October 22nd.