January 03, 2013 -
Erik Oehler
Underclassmen – Should they stay or go?
With college football's regular season over and the bowl season under way, this is the time when the real speculation about under-classmen declaring for the draft takes place. While the focus of most articles will be on predicting if a player will come out early for the draft, we are taking a different approach here. I will be offering my insight as to whether a player should stay in school or go pro on three players each week. Some players may have already announced their decision, like Missouri DT Sheldon Richardson and California WR Keenan Allen, but I will offer my insight on them also.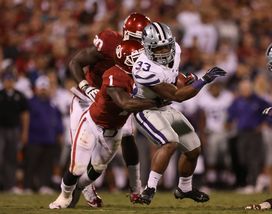 US PRESSWIREOklahoma Safety Tony Jefferson (#1) makes tackle against Kansas State.
1. Tony Jefferson, SAF, Junior, Oklahoma (5110 E, 212 E and 4.50 E): A well-built safety that flies around the field trying to make impact hits, Jefferson would definitely benefit from staying in school. Quick reading and reacting to the run, he comes up the field fast in run support, avoids blockers well and can make hard/violent tackles. However, he is so intent on making the blow-up hit that he tends to launch himself at the ball carrier, which leads to him missing nearly as many tackles as he makes. Possessing quick feet and good playing speed he has the range to get outside to the sideline to be effective in deep coverage. Unfortunately, despite the physical ability to get outside, he does not consistently read the quarterback/pass correctly and does not break on the ball fast enough to be effective in deep coverage. Additionally, despite having the physical ability to cover tight ends and slot receivers in man coverage, he tends to get back on heels in his pedal, cannot transition and stay with man out of cuts and allows the catch too easily. Jefferson needs to stay in school to improve his coverage skills and become more consistent as a tackler to give himself a chance of being a first or second round pick in the 2014 NFL Draft.
2. Taylor Lewan, OT, Junior, Michigan (6080 E, 309 E and 5.05 E): A fourth year junior who has started three years at left tackle for Michigan, Lewan is ready to make the jump to the NFL. Blessed with very good height, long arms and a solid build, Lewan looks the part of an NFL offensive tackle "on the hoof." As he showed in Michigan's bowl game against South Carolina, where he went up against the Gamecocks' Jadeveon Clowney, he can slide out to protect the corner from explosive edge pass rushers with surprising ease. Even though he tends to pass block a little bit high, which hinders his ability to consistently re-direct and slide back inside to handle quick and explosive pass rush moves back underneath, he will likely be a high first round draft pick. While he does not physically dominate man on in-line run blocks, Lewan is quick out of his stance, gets into good blocking position and makes contact with defensive linemen fast, which allows him to seal his man out of the play consistently. One of the big reasons that some highly drafted offensive linemen fail in the NFL is a lack of competitiveness, which will not be an issue for Lewan. Even though Lewan is not an aggressive blocker, he is highly competitive and consistently stays after his block until the whistle every snap.
3. Cordarrelle Patterson, WR, Junior, Tennessee (6030 E, 205 E and 4.45 E): Overshadowed by teammate Justin Hunter in the media, many in the NFL view Patterson as a better NFL prospect. A tall, thick bodied receiver with excellent playing strength and balance, Patterson has consistently shown the ability to run through hits and arm/grab tackles to make big plays when he has the ball in his hands. Not only dangerous running after the catch, he has also made big plays as a kickoff returner, which increases his value to NFL teams. Although Patterson could improve his routes and hopefully become more consistent catching the ball (He drops passes he should catch due what I believe is a lack of concentration) if he stayed at Tennessee another season, in a year without many elite receivers he is still likely to be a late first or high second round pick now so staying in school will not greatly improve his draft stock. Many scouts have told me that Patterson reminds them of a more explosive and faster version of Falcons' receiver Roddy White, which tells me that if he can convince teams that he can absorb the complex playbooks in the NFL that he will likely end up as a first round draft pick in the 2013 NFL Draft so he should enter the 2013 NFL Draft.

Email Russ at Russelllande@yahoo.com and Follow Russ on Twitter @RUSSLANDE