December 27, 2012 -
Erik Oehler
Underclassmen – Should they stay or go?
With college football's regular season over and the bowl season under way, this is the time when the real speculation about under-classmen declaring for the draft takes place. While the focus of most articles will be on predicting if a player will come out early for the draft, we are taking a different approach here. I will be offering my insight as to whether a player should stay in school or go pro on three players each week. Some players may have already announced their decision, like Missouri DT Sheldon Richardson and California WR Keenan Allen, but I will offer my insight on them also.
1. Adrian Hubbard, OLB, Red-Shirt Sophomore, Alabama (6060 E, 248 E and 4.75 E): While not a big name nationally, Hubbard, like all of Alabama's potentially eligible under-classmen, are reported to be debating whether to come out early for the Draft. While Hubbard no doubt looks the part "on the hoof" and is a good all-around athlete, he is not NFL ready right now. Blessed with the size, instincts and upside, Hubbard is still raw and developing, which is why he would benefit greatly from staying in school another season. Scouts we spoke to consistently described him as a better athlete than football player right now and felt that while he has the athleticism to excel in the NFL, he is not a finished product yet and therefore would not warrant being a first round pick. If Hubbard were to return to school and improved his play in 2012 he could challenge to be a first round pick a year from now, but right now it would be a mistake in my opinion for him to enter the 2013 Draft.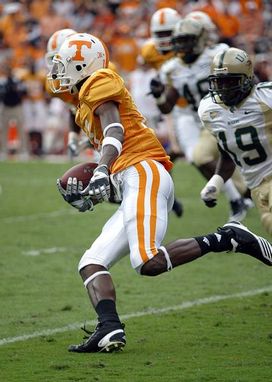 ICONTennessee WR Justin Hunter turns up the field while running after the catch.
2. Justin Hunter, WR, Junior, Tennessee (6040 E, 200 E and 4.45 E): Expected to declare for the 2013 Draft since he showed up at Tennessee, Hunter definitely should change course and stay in school for another season. During the 2011 season he displayed the elite speed and receiving skills to warrant comparisons to Randy Moss, but his penchant for dropping too many passes was a concern. After he suffered a torn ACL at the end of the 2011 season, he returned and had a strong 2012 season. He did not however show the same explosiveness and speed that he did before the injury, which is often the case as many receivers do not get back to their pre-injury form until their second season back from the injury. Additionally, during the 2012 season his routes are still not polished and need work and he continued to drop too many passes he has the talent to catch. So despite flashing the big play, game changing skills, primarily in 2011, Hunter would be much better suited to return to school where he could work on his routes and concentration to become a more complete receiver who catches the ball more consistently. If he comes out for the 2013 Draft I expect he will be a second round pick, but if he stays in school and is able to show his pre-injury explosiveness and speed, while improving his routes and consistency catching the ball he could challenge to be a Top 10 overall pick in the 2014 Draft.
3. Sam Montgomery, OLB, Junior, LSU (6050 E, 260 E and 4.875 E): Unlike Hubbard and Hunter above, Montgomery has improved greatly as a junior and would not benefit greatly from staying at LSU another season. While he no doubt would improve as a player, the difference would not be significant enough to change his draft position much, if at all, as he is viewed as a likely first round pick now. Although Montgomery lacks the elite first step explosiveness of the best speed rushers, once moving he displays the quickness to threaten the corner and uses his hands well to defeat pass blocks. Impressive in his ability to beat offensive tackles inside and around the corner, he also has shown the strength and aggressive hand use to jolt and drive man backwards into the quarterback's lap when he bull rushes. Long and linear, Montgomery is quick to identify the play, gets started towards it fast and has the playing speed to consistently chase plays down in pursuit. As opposed to many college pass rushers who are also productive chasing down running plays in pursuit, Montgomery does an excellent job of taking on run blocks with leverage and good hand use to anchor at the point of attack, sheds fast and makes tackles on running plays to his side of the field. In the end, I think Montgomery will be a top twenty pick because he has the talent to be productive as a starting defensive end in a 43 defense and as an outside linebacker in a 34 scheme.
Email Russ at Russelllande@yahoo.com and Follow him on Twitter @RUSSLANDE