December 13, 2012 -
National Football Post
Underclassmen – Should they stay or go?
With college football's regular season over and the bowl season on the way, this is the time when the real speculation about under-classmen declaring for the draft takes place. While the focus of most articles will be on predicting if a player will come out early for the draft, we are taking a different approach here. I will be offering my insight as to whether a player should stay in school or go pro on three players each week. Some players may have already announced their decision, like Missouri DT Sheldon Richardson and California WR Keenan Allen, but I will offer my insight on them also.
1. Giovani Bernard, RB, Redshirt Sophomore, North Carolina (5100 E, 205 E and 4.50 E): Playing at North Carolina has not helped Bernard gain the national recognition that backs with his production usually do, but NFL scouts have been keeping a close eye on him all season. Ultra quick, with great acceleration and the elusiveness to easily make tacklers miss, Bernard has the skill set to be a big play back in the NFL. While he is never going to be the pile dragging power back who can wear defenses down with his inside running, his ability to find the inside hole, get through it fast and make big plays in the open field makes him productive running between the tackles. After tearing his ACL on the third day of practice in 2010 he ended up missing the season and redshirting, so Bernard knows the dangers of being injured. Having stayed healthy the last two seasons while touching the ball over 500 times (Rushing, receiving and on punt returns), Bernard does not need to put any more tread on his tires as I am of the belief that running backs have a limited number of carries in their career. In my opinion Bernard should enter the 2013 NFL Draft because he will be in the mix to be the first running back taken, will likely be a first round pick and should not risk further pounding and injury with another season in college.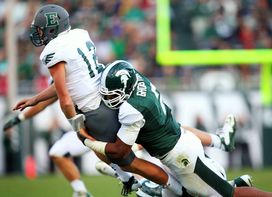 US PRESSWIREMichigan State DE William Gholston (#2) lays out to make tackle.
2. William Gholston, DE, Junior, Michigan State (6070 E, 285 E and 4.85 E): When the 2012 season began Gholston was viewed as a likely top ten pick in the 2013 NFL Draft as he was coming off an outstanding sophomore season where he was a dominant player. However, Gholston had a disappointing junior campaign. He played upright and without leverage way too often, did not use his hands well and lacked aggressiveness in his play, which led to him often being stuck to blocks and a non-factor. For a tall, well-built defensive end he did not play strong at the point of attack consistently. Blockers were easily able to tie him up, turn him and seal him out of the play on in-line run blocks and could stop his bull rush in his tracks with shocking ease. A smart and hard working young man, Gholston has the intangibles that NFL teams love, so I have a feeling he will choose to stay in school, as I believe he should, in order to improve his play in 2013 which would put him back in position to be a high first round pick in the 2014 NFL Draft.
3. Luke Joeckel, OT, Junior, Texas A&M (6060 E, 310 E and 4.90 E): With rare feet and overall athleticism for a 6-6 offensive tackle, Joeckel's quick kick-step and slide to protect the edge vs. explosive speed/edge rushers makes NFL teams drool. Able to sink hips and block with leverage, Joeckel can hold ground vs. most power rushers and especially impressive is his ability to re-set and anchor when he is jolted backwards initially. Few tall offensive tackles can re-direct and slide as quickly side to side to adjust to quick change of direction pass rush moves and defensive line stunts/loops as Joeckel can. While not an aggressive, take no prisoners style in-line run blocker, his ability to "get a good fit" on man, work into proper position and seal man to the side of the play is consistently impressive. In addition to all his strengths blocking in-line, Joeckel's blocking out in space is special and makes him a very valuable linemen as he can get outside to make big play springing blocks consistently. In a season without elite senior offensive tackles, it makes sense for Joeckel to come out early for the Draft as he will not only challenge to be the first offensive tackle drafted, but also could be in the mix to be the first overall pick.
Email Russ at Russelllande@yahoo.com and Follow Russ on Twitter @RUSSLANDE