December 06, 2012 -
National Football Post
Underclassmen – Should they stay or go?
With college football's regular season over and the bowl season on the way, this is the time when the real speculation about under-classmen declaring for the draft takes place. While the focus of most articles will be on predicting if a player will come out early for the draft, we are taking a different approach here. I will be offering my insight as to whether a player should stay in school or go pro on three players each week. Some players may have already announced their decision, like Missouri DT Sheldon Richardson and California WR Keenan Allen, but I will offer my insight on them also. On measureables listed, they are all verified (As in taken by someone in the NFL) unless they have an "E" next to them, which stands for estimated.
1. Keenan Allen WR California 6030 E 210 E 4.45 E Has already declared for the Draft.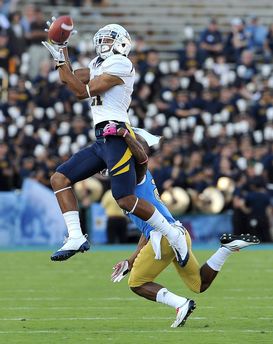 US PRESSWIRECal's Keenan Allen catches high pass against UCLA.

Allen has already declared that he will be entering the draft and while there will be many players who I believe mistakenly come out early, this is not one of them. There is no doubt that Allen could have improved a little bit in terms of his route running by staying for another season, but it is likely that his overall production would have gone down even with that improvement due to the coaching change. Whether firing Coach Tedford was a good decision or not for the long term health of the program is unknown at this point, I believe it would have hurt Allen's production if he had stayed in school. With former Louisiana Tech Head Coach Sonny Dykes expected to replace Tedford, there will be a new offensive playbook which would have required Allen and the quarterback to learn a new system and they likely would not have played as well as they did in 2012. Obviously, coming off the knee injury is not ideal for Allen, but as he should be 100% for testing prior to the draft it should not drastically affect his draft stock. In the end, Allen made the correct decision and will almost assuredly be a middle to high first round draft pick.
2. Tyler Bray QB Tennessee 6060 E 215 E 5.05 E No decision yet - Should Stay In School
Rumors have been flying since before the season that Bray would come out early for the 2013 Draft, but after his inconsistent play in 2012 that would be a mistake in my opinion. No evaluator, and you can count me in that group, can come away unimpressed with the package of physical tools that Bray brings to the table. Few college quarterbacks have the elite arm strength that Bray does to make every NFL throw with ease and when combined with deceptive foot quicks and athleticism, he has outstanding skills to work with. However, the issue is that he tends to keep his legs pretty straight when going through progressions, is inconsistent with his stride (Both length of and direction), lacks consistent accuracy and makes some bad decisions throwing the ball into bad spots. When Bray is on his game he looks like a legit first rounder, but what scares me, and scouts I have spoken with, is that his inconsistent play which reminds me of a late round pick is pretty much the norm for him. Because of the vastly different viewpoints of where he should be drafted, I believe Bray would be much better off in the long term by staying in school for another season even though he will have to learn a new offensive system for his senior season (If Bray was a sure fire first or second round pick based on film evaluation I would recommend he leave early because of the coaching change, but in this case he can greatly improve his likelihood of being a high draft pick with small technical improvements in 2013).
3. Barkevious Mingo DE LSU 6040 E 245 E 4.50 E No decision yet - Should Stay In School
When the 2012 season began there was enormous hype surrounding Mingo, not only coming our early for the 2013 Draft, but also that he could challenge to be the first defensive lineman drafted despite not starting for even half of the 2011 season. Viewed as an elite athlete with rare first step initial quickness, Mingo flashed the ability in 2011 to be a dynamic edge rusher along the lines of Dwight Freeney and DeMarcus Ware. However, in 2012 Mingo was not the impact player he was expected to be and for a player with such great physical gifts he was a non-factor in too many games. Playing many more snaps on a regular basis in 2012, Mingo did not consistently show the explosiveness off the ball to threaten the corner as a speed rusher. Additionally, he tended to rush the passer upright, without leverage and displayed little to no aggressiveness rushing the passer. Additionally, he struggled greatly vs. OT run blocks and was tied up and controlled by blocker too easily. While many may believe Mingo should come out early, we believe he no doubt should stay in school as he is not assured of being a first round pick right now and if he does not greatly improve his play, whether in college or in the NFL, he will end up having a short NFL career.
Email Russ at Russelllande@yahoo.com and Follow Russ on Twitter @RUSSLANDE