April 18, 2013 -
Erik Oehler
Under-Rated / Over-Rated Prospects
Over-Rated Prospect: John Jenkins
Round I expect Jenkins to be Drafted: Late First / Second Round
Round I believe Jenkins should be Drafted: Third or Fourth Round
John Jenkins, NT, Georgia, Senior (6035, 346 and 5.40 E): Since the 2012 season began, Jenkins has been receiving publicity as one of the best nose tackles in college football and a likely first round pick. However, after evaluating the film, I do not believe that his on-field play warrants being selected in the first two rounds. Although he was more productive at Georgia, his situation reminds me of former Alabama NT Terrance Cody who was drafted in the second round because of his rare combination of great size and natural athleticism despite not being consistently productive on the field.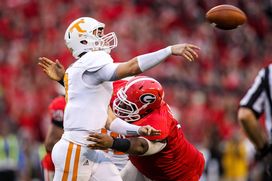 US PRESSWIREGeorgia defensive tackle John Jenkins delivers blow to Tennessee quarterback Tyler Bray.
Blessed with rare natural strength, when he maintains leverage and gets hands on offensive lineman first he plays strong and is able to anchor vs one on one run blocks and double teams. He flashes the ability to lock-out run blocker, can torque man off feet to shed block and makes tackle on inside run. Additionally, when he bull rushes aggressively he has the strength to jolt and easily drive the pass blocker backwards into the pocket. Not only can Jenkins defeat blocks using strength, but for a big man he has surprisingly quick hands and good agility to beat one on one blocks with an aggressive "punch and arm-over" move.
For a massive defensive lineman who played at over 350 pounds during the 2012 season, Jenkins ability to pop up off the ground in a flash after being cut down is outstanding and shows off his natural athleticism. Not only quick popping off the ground, I was impressed with his playing speed to chase down ball carriers along the LOS in pursuit when he wanted to. What is frustrating though is that he does not play with great intensity, aggressiveness or competitiveness on every snap and when he doesn't, he is often a non-factor. When he does not play aggressively, Jenkins has a tendency to get high as he comes out of stance, loses leverage and allows offensive lineman to get their hands on him first, which leads to him being tied up and sealed out of the play.
The inconsistent play I saw on film was also evident at the Senior Bowl. During the first two days of practice in Mobile, Monday and Tuesday, Jenkins did not display a good motor throughout practice and way too often could not get a push when he tried to bull rush. However, during Wednesday's practice he seemed to show up with a different level of energy and really competed with great intensity, which enabled him to be the only defensive tackle all week to jolt and drive Kentucky guard Larry Warford backwards repeatedly when he bull rushed.
Overall, I have no doubt that Jenkins has legitimate first round talent for a nose tackle, but his lack of consistency and production would keep me from drafting him that high. I think he would be a great fourth round pick and a decent risk in the third round, but anything higher than that would be a huge reach in my opinion.
Under-Rated Prospect: Travis Frederick
Round I expect Frederick to be Drafted: Fourth Round
Round I believe Frederick should be Drafted: Second Round
Travis Frederick, C, Wisconsin, Senior (6035, 312 and 5.59): After running terribly slow at the Combine, people immediately began assuming that Frederick is a bad athlete and does not warrant being selected until day three of the draft. However, when I went back and double checked his play on film, I confirmed what I had seen in earlier film evaluation, which is that he is a good prospect with the tools to be a quality starting center in the NFL.
However, I am not going to try and sell Frederick as a quick twitch / fast athlete who can pull and get outside fast to lead block effectively on outside runs or adjust to block moving targets in space. While his foot speed/quickness is not ideal, he is quick enough out of his stance to get into good blocking position with time to spare. He also has good flexibility, balance and body control for a big man. Consistently able to bend knees and sink hips, he can block with good base/leverage, which allows him to slide well side to side to adjust and maintain his pass blocks well within a small area. On in-line run blocks, his ability to consistently block with base helps him to stay over his feet so that he can maintain contact and seal man out of the play. In addition to being a better athlete than his workout numbers indicate, Frederick is a massive man with the size many NFL teams want.
Although he weighed in at 312 pounds at the Combine, Frederick played in the high 320's/low 330's during the 2012 season. With nearly half the NFL defenses running 34 schemes, the ability of a center to block the huge nose tackle one on one is a vital component to an offense's ability to succeed and Frederick will have no problem doing this. He makes it look easy anchoring versus bull rushers and can keep man pinned on the LOS. Additionally, his short area quickness out of stance enables him to make contact with defensive lineman fast and he consistently is able to tie his man up and uses his strength to get movement on in-line run blocks.
An added bonus is that unlike many center prospects who enter the NFL as "center only" prospects, Frederick has the size, playing strength, good athleticism and experience playing guard (He started in 2011 at guard alongside center Peter Konz) to be viewed as a center/guard prospect who can start at either spot in the NFL. Overall, I believe that Frederick's selection will not get much publicity and may even be criticized due to his poor 40 time, but two years from now when he is a good starting center or guard in the NFL he will start to receive the positive publicity his on field play has always warranted.
Email Russ at Russelllande@yahoo.com and Follow Russ on Twitter @RUSSLANDE