November 23, 2012 -
National Football Post
Under-Rated Prospect from the Big East
Chris Jacobson OG Senior Pittsburgh 6017 304 5.20
It is not uncommon when an under-sized college offensive lineman that has missed two seasons due to injury enters his final season viewed as a long shot to make it in the NFL, but I view Jacobson in a different light. After missing his true freshmen season, 2007, due to a dislocated knee cap suffered during fall camp, Jacobson worked as a backup most of the next two seasons before winning a starting job as a junior. Entering 2011 he was expected to finish his second straight seasons as the Panthers' starting left guard and the move on to the NFL. However, against Iowa he suffered an ACL injury to his left knee that required season ending surgery and put his future in the hands of the NCAA as he had to apply for a sixth year of eligibility.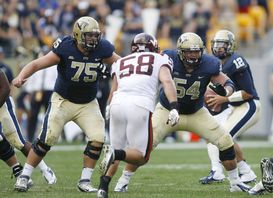 US PRESSWIREPittsburgh OG Chris Jacobson (#54) prepares to make block.
Despite receiving a sixth year from the NCAA, Jacobson was not viewed as a top NFL prospect and needed to prove he was worthy of drafting. As Jacobson finishes the season, he has done just that and will likely be a fourth to sixth round draft pick. Not the massive guard that has become the norm in today's NFL, Jacobson has been productive at Pittsburgh for a variety of reasons. A good athlete with natural knee and hip flexibility, Jacobson is consistently able to set up quickly to block with good base/leverage. This helps him to slide well side to side to stay on pass blocks and to recover if he gets beaten by a pass rusher's initial move. "Getting a good fit" with his hands helps him to lock-up and control man despite often being out-weighed by 20 pounds or more. He does a good job of not only getting hands on man fast, but is able to re-coil after punching man to deliver a second punch. This ability helps Jacobson to hold his ground vs "bull rushers" well most of the time, but if he does not get hands on many first he can be driven backwards.
In addition to helping him deal with bigger defensive linemen, his quickness setting up to block makes him an effective side/angle in-line run blocker and allows him to get through the line to block on the second level. Jacobson consistently does a good job of staying over his feet and maintaining good base when blocking in space, which allows him to maintain contact with defender to eliminate man from the play. Jacobson competes at a very high level and never quits fighting to keep man blocked, which helps him to keep man from impacting/disrupting the play even when defender is bigger and stronger than him.
For a player who came into the season with a lot of questions about him, Jacobson has answered as many as possible with his play on the field. Now he will need to prove during medical exams/physicals that he will be able to physically hold up playing in the NFL after missing nearly two full seasons due to injury.
Although he played guard almost exclusively at Pittsburgh and will likely be tried there first in the NFL, I believe he has the tools to be an excellent backup at guard and center early in his NFL career. As he adjusts to playing at the highest level and improves his playing strength, I believe that Jacobson has many of the tools to develop into a solid, work-man-like starting center or guard in his second or third season. He reminds me a little bit of two current NFL players, Julian Vandervelde on the Eagles practice squad and Lyle Sendlein of the Arizona Cardinals.
Email Russ at Russelllande@yahoo.com and Follow Russ on Twitter @RUSSLANDE