October 19, 2012 -
National Football Post
Under-Rated Prospect FSU RB Chris Thompson
UNDER-RATED PROSPECT
Chris Thompson RB Florida State 5080 E 187 E 4.45 E
The public perception of a prospect is often drastically different from what I, along with NFL scouts, think because I always trust my film evaluation over anyone else's opinion. Throughout the 2012 college football season, I break-down one player each week that is either over-rated or under-rated based on my film study and what I am hearing from NFL scouts. This week I focus on Florida State running back Chris Thompson who has played at a very high level in 2012 now that he is healthy.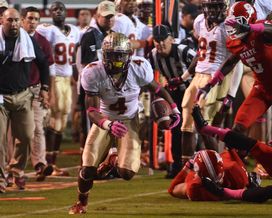 US PRESSWIREFlorida State RB Chris Thompson makes play against N.C. State.
After breaking his back against Wake Forest in 2011, Thompson missed the remainder of the season after undergoing surgery, so it is not a surprise that he was not given a draftable grade by either of the scouting combines (National Football Scouting and Blesto) entering his senior season. Combined with his lack of ideal size, many scouts did not put him on their list of players to evaluate this fall. However, after breaking out with 201 yards rushing against Wake Forest where he showed rare explosiveness through the hole and the speed to out run angles to make big plays, he has been playing at a very high level and has the NFL's attention.
There is little doubt that NFL teams do not love 5'8 running backs that are not thickly built like Maurice Jones Drew, but Thompson's skill set warrants him being drafted. A naturally instinctive runner with excellent vision, Thompson finds the hole/crease, can make the sharp cut to get to it and has the burst to get through it. While many running backs can make tacklers miss out in space, his ability to change directions quickly in the hole to avoid tacklers in tight quarters is a rare and valuable trait. For a small back he attacks the hole with uncommon aggressiveness, gets shoulders down to make himself a smaller target and has the lower body strength and balance to run through arm/grab tackles/hits to consistently gain yards after contact.
Backs with Thompson's open field running ability and lack of size must contribute catching passes, which he has the hands to be good at. However, he lacks the size and playing strength to hold ground consistently in pass protection. If he does not improve greatly in pass protection he will not be able to get on the field in passing situations, which will hinder his ability to win a battle to be a backup running back.
Thompson has battled a number of injuries during his college career, so he must not only pass team physicals to get drafted. But if he cannot stay healthy the remainder of the 2012 season he will likely not be able to shed the label of being injury prone and would not be drafted. Many short backs are often compared to Darren Sproles despite lacking the quick change of direction ability, explosiveness through the hole, elusiveness and top end speed to take plays the distance. Thompson is different as he has a similar skill set to Sproles, but has not proven he can stay healthy consistently when he gets many touches or be productive in pass protection. Overall, if Thompson stays healthy the rest of the season he will likely be a fourth or fifth round pick who becomes a contributing offensive weapon similar to Darren Sproles and Jacquizz Rodgers.
Email Russ at Russelllande@yahoo.com and Follow Russ on Twitter @RUSSLANDE