November 09, 2012 -
National Football Post
Under-Rated Prospect: Kansas State QB C. Klein
Under-Rated Prospect - Big 12
Collin Klein QB Senior Kansas State 6052 220 4.79
Most college quarterbacks who play in a run based option style offense are not viewed as good NFL prospects and are not drafted high, except of course for Cam Newton and Tim Tebow. This year Kansas State quarterback Collin Klein is going to put that to the test as he is one of the best quarterback prospects to come from a run based option attack. Having not begun playing football until the ninth grade, Klein is still learning many of the nuances of the quarterback position.
Clearly possessing great size and strength, Klein has shown the ability to not only break tackles running the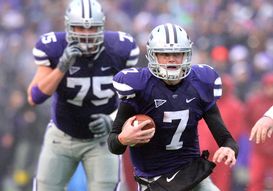 US PRESSWIREKansas State QB Collin Klein runs with the ball.
ball, but also to make accurate passes with defenders grabbing at him. No one will ever say that a quarterback's ability to make big plays with his feet is a bad thing, but Klein, like many quarterbacks from a run based option attack, must improve his footwork within the pocket to become an effective passer at the NFL. When Klein strides into his throws, it is clear that he has the arm strength to make every NFL throw with ease. Not only does he have to striding into throws every time, but he will need work dropping back and driving off back foot to make the quick hitting passes that are so much a part of today's passing attacks in the NFL.
While Klein's footwork needs to be cleaned up a bit, the bigger issue is his delivery/release. It is not that he cannot get rid of the ball quickly and that his release looks awkward "like a shot-put," but rather that the ball does not zip out of his hand. His passes tend to "pop" up and out of his hand which I believe will hinder his ability to make the quick, hitting throws. I have however been very impressed by Klein deep ball accuracy. He has consistently shown the ability to "drop the ball out of the sky" so that the receiver can make the catch in stride. Having played in a less traditional passing offense, Klein will need work on playing within the framework of a one once he gets to the NFL, but based on what sources have told me he will have no trouble handling the mental side of that change.
Klein is regarded as not only a smart young man, but one with surprising "football intelligence" for a player who did not begin playing football until the ninth grade. One of the keys to a quarterback's success in the NFL is his ability to not only make good decisions, but to avoid mistakes even when he makes the right decision. Klein excels in both of these areas as he consistently seems to make the correct decision, even when that includes running with or handing off the ball, and does not force passes into bad spots to avoid sacks.
Klein's development as a passer will no doubt determine whether he makes it as an NFL quarterback, but his ability to pull the ball down and make big plays running with it is a great, added bonus. This running ability will probably manifest itself and help Klein the most by giving him the ability to avoid pressure within the pocket to extend the play and make good throws on the move.
Overall, I am not one to overlook how hard it is to make the switch a run based option offense to becoming a successful passing NFL quarterback, but if I were to bet Klein seems to have many of the intangibles to make it. He is not likely to be a high draft pick because of the failure rate of quarterbacks who have been highly successful in run based option attacks in college, but some team will likely take a gamble on him in the third to fifth round. He would be ideally suited to go to a team that has a veteran starting quarterback and a coach, either a quarterback coach or offensive coordinator, with a history of developing quarterbacks who need a lot of work on fundamentals/technique.