December 21, 2011 -
Barry Dorey
Updated NFP Mock Ten
Breaking down the potential top 10 picks of the 2012 NFL Draft.
*Draft order is set by predicted finish.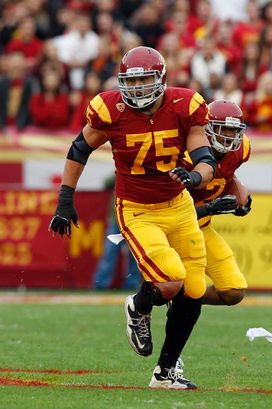 ICONKalil would be simply too good to pass up.
1. Indianapolis Colts: Stanford QB Andrew Luck
The Colts won their first game of the season this week, but I can't image it having any effect on their draft board. Luck is a Peyton Manning-type prospect who could give Indy another 10-plus years of playoff football.

2. St. Louis Rams: Southern Cal OT Matt Kalil
Despite investing a number of high picks on offensive linemen, the Rams still need to do a better job protecting their quarterback. Kalil has the skill set to mature into one of the league's best and gives the Rams the option of kicking either Rodger Saffold or Jason Smith inside to improve their O-line even further.

3. Minnesota Vikings: Iowa OT Riley Reiff
The Vikings need to address their offensive line even with Kalil off the board. Minnesota could opt to move back or even look at one of the prized quarterback prospects here. However, if not, Reiff has the skill set to mature into an NFL blindside protector early in his NFL career.

4. Cleveland Browns: Baylor QB Robert Griffin III
With the love that Browns team president Mike Holmgren has shown for backup quarterback Seneca Wallace, one can only figure he would also love an athlete the caliber of Griffin III. The Browns need to improve their play at the quarterback position and Griffin III is the kind of multi-dimensional athlete that has the ability to make everyone around him better.

5. Jacksonville Jaguars: LSU CB Morris Claiborne
If the Jaguars are to stay true to their board and select the best talent still available, which they have a history of doing, I expect them to take Claiborne over WR Justin Blackmon despite receiver being a bigger need.
For picks 6-10 click to page two...
Follow me on twitter: @WesBunting