November 16, 2011 -
Barry Dorey
Updated senior rankings
Breaking down the draft's Top 10 senior prospects…
10. OT Mike Adams: Ohio State (6-6, 310) Stock: Same
Adams has really settled in nicely since coming back from suspension this year. Compared to last season he's using his length much better to keep himself clean in pass protection and looks more patient/coordinated into contact. When it's all said and done, I wouldn't be surprised at all if he ends up being a mid first round guy.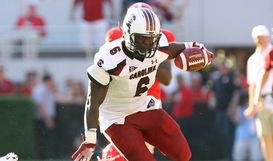 ICONIngram has been a stud all year.
9. DE Melvin Ingram: South Carolina (6-2, 276) Stock: Same
He is an impressive pass rusher who can get after the QB in a number of ways from a number of spots. His suddenness, length and natural feel for the game makes me think he's one of the draft's best pass rushers.
8. QB Ryan Tannehill: Texas A&M (6-4, 220) Stock: Same
He's smart, athletic, can make all the throws and is willing to put in the work. His flaws are correctable and it's crazy to think where this guy could be in five years with more experience and coaching. A potential franchise quarterback in my mind.
7. DE Quinton Coples: North Carolina (6-6, 278) Stock: Down
Can be as good as he wants to be in the NFL. The game comes very easy to him and he can be dominant if he learns to use his hands better to slip blocks in the pass game. The sky is the limit, but his questionable motor is the reason for his fall.
6. OG Kelechi Osemele: Iowa State (6-5, 350) Stock: Up
A big, thick kid with natural strength, athleticism and flexibility. Has improved his technique and overall range off the edge, but is still better suited to play inside or on the right side at the next level. Nevertheless, could certainly mature into one of the league's best at either spots.
Check out page two for prospects 1-5...