December 23, 2011 -
National Football Post
USC DE Nick Perry Declares for the draft: Where does he stand?
The Breakdown…

DE Nick Perry: Southern Cal (6-3, 250)

What I like…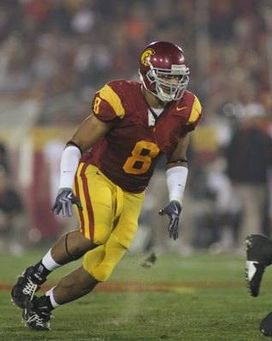 ICONPerry can threaten off the edge.
- Displays the ability to coil up into his stance, keep his base under him, back flat and take a positive first step off the football.

- Eats up grass well initially, getting on top of opposing tackles quickly in the pass game.

- Possesses the first step to threaten the edge and demonstrates some savvy to his game setting up his outside speed rush.

- Extends his long arms well into contact and showcases a little know how of when to work the club/chop in order to keep himself clean on the edge. Can be violent on contact.

- Possesses good length for his size, is a long armed kid who maximizes his length well into contact.

- Showcases some natural power when he's trying to turn the corner through contact. Has a stronger lower half, works hard in pursuit and showcases a good motor fighting his way past tackles.

- Does a nice job working the edge and using his length to wrap on the quarterback when closing in pursuit.

- Showcases some suddenness when trying to change directions and keep himself clean toward the corner.

- Has slightly above-average power on his bull rush, extends his arms well and works his legs hard through contact.

- Exhibits better natural anchor strength vs. the run game than given credit for.

- Keeps his pad level down well initially off the snap in the run game, has an explosive first step and a compact punch on contact.

- Uses his length well to shed on slide down blocks, finds the football well and has some range when asked to close.

- Was productive as a junior finishing with 9.5 sacks and showing well vs. some of the best offensive tackle prospects in the country.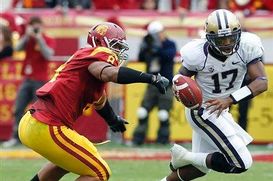 ICONPerry can be a bit tight when trying to breakdown.
What I don't like…

- Is a tighter pass rusher who struggles to drop his pad level around the edge, sink his hips and flatten out under tackles.

- Too often is easily pushed past the pocket and eliminated from the play due to higher pad level.

- Isn't real sudden off his speed rush on any type of change of direction move. There isn't a real quick/sudden element to his game back inside.

- Gets upright through contact, doesn't play as strong as he could because of pad level and makes it tough on himself to disengage once a lineman gets their hands on him.

- His pass rushing arsenal is limited, looks more like a one trick pony who is only real confident working the speed rush. Will sprinkle in the bull or the inside rush at times, but doesn't have a "go to" change up.

- Gets upright vs. the run game when trying to play off blocks. Fails to sit into his base and keep his feet under him, allowing lineman to wash him from the play too easily.

Impression: Exhibits the first step to be a threat off the edge, however, he's isn't an overly dynamic athlete and struggles to drop his pad level when flattening out. Plus, he doesn't have much of a counter to his game at this point. Has some obvious talent, but is a guy who is going to need to develop a secondary move in order to mature into a productive NFL pass rusher. More of a potential starter only at this stage.

Grade: 6.4 T
Follow me on twitter: @WesBunting
Check out the NFP Draft page here...