December 20, 2011 -
Barry Dorey
USC OT Matt Kalil Declares for NFL Draft: Where does he stand?
The Breakdown…

OT Matt Kalil: Southern Cal (6-6, 295)

What I like…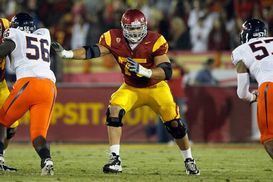 ICONKalil possesses natrual range in all areas of his game.
- Possesses a naturally broad frame and should be able to continue to add girth and get stronger without sacrificing much athleticism in the process.

- Is a natural bender who sits into his stance well and displays proper knee bend in pass protection.

- Is quick to set, gets out of his stance well and maintains balance even vs. speed on his kick-slide.

- Takes proper angles on the edge, never seems rushed and exhibits "plus" balance in his lower half.

- Displays very good range when reaching speed off the edge because of overall snap awareness and angles into contact more so than pure athletic ability.

- Keeps his hands up, is a compact puncher who uncoils his long arms well and exhibits good hand placement into contact.

- Showcases good change of direction skills on any type of counter. Is fluid in the hips and exhibits good foot quickness when asked to mirror.

- Displays a good combination of lateral quickness and balance through contact when locking out and sticking to defenders once engaged.

- Re-sets his hands well through contact in order to maintain leverage.

- Exhibits a "plus" first step off the football in the run game.

- Is routinely the first lineman moving off the football, takes a quick first step and uses his length well to get into contact.

- Displayed more of a mean streak in 2011, working harder to finish blocks and creating more of a push in-line.

- Exhibits excellent initial quickness and balance when asked to get around defenders on reach blocks.

- Steps and seals very quickly on the edge as well, taking excellent angles and keeping defensive ends from getting a sniff on runs designed to go through the B-gap.

- Looks natural/rangy pulling on lead tosses, getting into the second level and breaking down on contact.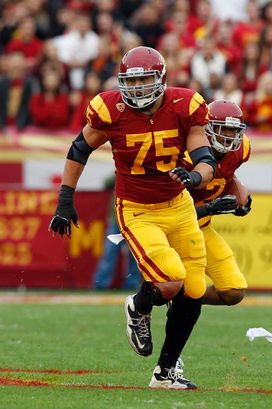 ICONKalil is natrual on the move.
- Possesses the body control to be patient into contact in space, gets his hands on defenders and sticks well through the play.

- Wasn't responsible for a sack given up in 2011 and has played at a high level over the past two years.

- Isn't afraid to compete for a job, was the reason the 10th overall pick in the 2011 NFL Draft OT Tyron Smith played on the right side at USC.

- Has good family blood lines, brother Ryan Kalil was a second round pick in 2007 and has started four straight seasons for the Carolina Panthers at center.


What I don't like…

- He needs to continue to add strength/girth to his lower half. Looks thinner through the legs and will have a tough time consistently anchoring at the next level at his given weight.

- Has a tendency to widen his base/footwork on contact in order to help him anchor. And will get caught a bit overextended in the lower half and struggle to quickly re-direct through contact.

- Also will widen footwork in anticipation off the bull rush and give up a step laterally at times because of his overextended footwork and lack of balance.

- Tends to allow his pad level to pop up a bit through contact in the run game. Doesn't keep his base/feet under him through contact consistently which limits his natural power in-line.

- Isn't the stickest of players through contact in the run game, will get caught playing straight-legged and fall off blocks after his initial surge.

- Isn't the most naturally powerfully in-line guy on contact. Generates a good natural snap at the point, but lacks the lower body strength to simply drive stronger defensive linemen off the ball consistently. More of a step and seal guy.

- Wasn't overly natural when asked to drop his pad level down at the line and cut defenders on contact, struggled to consistently get into their frame.

Impression: There are some negatives concerning his overall anchor strength. However, you have a "plus" athlete at the position with good foot quickness, natural change of direction skills who knows how to bend. Might need a year to get stronger. But has the skill set to play in year one and develop into one of the leagues better offensive tackles as he matures physically.

Grade: 8.0 B
Follow me on twitter: @WesBunting
Check out the NFP Draft Page here...