October 13, 2011 -
Barry Dorey
USC/Cal: Top 5 senior prospects playing tonight
The top five senior prospects…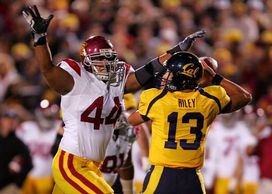 ICONTupou is stout at the point and can push the pocket.
1. DT Christian Tupou: USC (6-2, 305)
Tupou is coming off a knee injury which forced him to miss the 2010 season. However, he looks like a better nose tackle prospect to me than Stanford's third round pick Sione Fua from a year ago and Tupou should be able to make a move up boards with a strong year.
2. DE Trevor Guyton: Cal (6-3, 289)
A guy who can fill a number of roles on a defense, but he's a naturally powerful kid who can anchor and overwhelm vs. the run game. Needs to improve hands and awareness, but the upside is there for him to move up boards in a big way with a strong senior year.
3. WR Marvin Jones: Cal (6-2, 200)
Possesses good size, good body control and hand eye coordination, and for his size and a pretty fluid athlete as well. Isn't a dynamic athlete, but should be able to find a way to make and earn playing time on an NFL roster.
4. TE Rhett Ellison: USC (6-5, 250)
Isn't an elite straight-line athlete or dominate in-line guy. However, has the ability to be successful in both the run and pass game at the next level. Doesn't look like a starter to me, but could be able to earn playing time early on during his NFL career.
5. OT Mitchell Schwartz: No. 72 (6-5, 325)
Displays solid athletic ability, but looks better suited to play on the right side in the NFL vs. less speed. A nice later round developmental type draft pick who could eventually fight for playing time.