December 27, 2011 -
National Football Post
Utah State RB Robert Turbin declares: Where does he stand?
RB Robert Turbin: Utah State (5-9, 216)
What I like…
- Possesses an ideal physical make-up. Is a thick kid with a low center of gravity and natural power/girth through both his upper and lower half.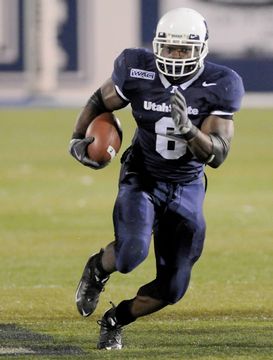 ICONTurbin is a load to bring down in space.
- Is a powerful/aggressive back who can make himself small, runs behind his pads and can churn out tough yards through contact.
- Showcases a natural feel when working the zone stretch toward the edge, exhibits good vision and quickly is able to decipher cut back/running lanes.
- Does a great job dipping his pad level, sticking his foot in the ground and accelerating through lanes as a zone runner. Showcases a burst to his game and is quickly able to square his shoulders and get north to south.
- Exhibits "plus" foot quickness in tight areas for his size and is a naturally balanced back. Demonstrates the ability to side step defenders even at full speed and simply run through arm tackles in the open field.
- Takes what the defense gives him when running between the tackles. Presses the line of scrimmage quickly in short yardage/goal line situations, keeps his pad level down and can routinely push the pile/run over defenders.
- Runs with a low center of gravity and routinely exhibits good knee bend when changing directions in a phone booth. Can pick his way through tight areas and get up to top end speed quickly out of his breaks.
- Exhibits the ability to change gears and set up his angles well toward the edge. Is a patient back who allows his blocks to set up well.
- Possesses the frame to carry the load at the next level. Gets stronger as the game goes on and really seems to wear on opponents.
- Has
experience running from the gun
, running from more typical zone looks and also playing some option football. Isn't just a downhill guy.
- Can catch the football out of the backfield in the screen game. Looks natural when asked to adjust and pluck off his frame.
- Possesses the physical make-up and patience to pick-up blitzing linebackers and hold his own on third down. Takes pride in pass protection.
What I don't like…
- Missed the entire 2010 season with a knee injury and determining his medical long term will be key.
- Isn't a real dynamic athlete. Lacks a great first step in all areas of the game and isn't a guy who is going to outpace many angles in the open field. Looks like a 4.6 guy.
- Isn't the most decisive of runners when asked to find a hole quickly at the line of scrimmage. Will slow his feet trying to decipher information and leave some yards on the field.
- Will get lose with the football and let the ball get away from his pad level when he gets into the open field.
- Looks a little tight hipped when trying to turn the corner and accelerate, maxes out at top end speed quickly and will stiffen up in the open field.
- Isn't a guy who is going to simply make defenders miss consistently from a stand still position. Needs to get his momentum going downhill in order to be effective.
- His tightness in the hips will show up when trying to change directions at full speed, will chop his feet and gear down because of it.
Impression: Physically, he reminds me some of New York Jets RB Shonn Greene. But as a runner, he looks more natural as a zone guy who he can use his cut back ability to pick his way through traffic, square his shoulders and then attack daylight. Has the skill set to mature into a starter at the next level, but because of his lack of a great burst, he doesn't strike me as a guy who is ever going to have a real gaudy yards per carry average. Nevertheless, he should be able to keep you ahead of the chains.
Follow me on twitter: @WesBunting
Check out the NFP draft page here...