March 28, 2011 -
National Football Post
Villanova's Benjamin Ijalana: A top five OT?
Standing at 6035 and 317 pounds, Villanova standout offensive tackle Benjamin Ijalana might not have ideal height for the position. However, he's a long armed kid with a 36- inch reach and because of that certainly has the length to play on the outside in the NFL.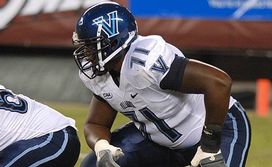 ICONIjalana certainly has the tools to be successful in the NFL.
When watching Ijalana on tape this past year, you have a prospect who is a thick-bodied kid with the ability to bend and sit into his stance. He displays an explosive initial snap from his lower half off the ball, can consistently gain leverage in the run game and possesses the power in his base to routinely drive defenders off the football.
Even more impressive is his overall movement skills and fluidity both in the run and pass game. Ijalana displays very good range off the edge, can change directions with ease and looks comfortable mirroring through contact. When he's asked to anchor he can quickly drop his pad level, sit into his stance and in my view won't have much trouble with power rushers in the NFL.
Now, he is still raw with his footwork, which is expected at this stage and will allow his pad level to pop up at times. But overall, you see he has the ability to bend, to reach speed off the edge and mirror through contact. So, like many small school players he's just going to need some NFL coaching in order to develop.
The other negative I saw on tape was his "passive" demeanor, as Ijalana didn't consistently have that mean streak going. To his credit I did see it a lot more "nasty" as a senior than I did as a junior, but at times he looked content to simply let go of blocks, wasn't the most consistent of finishers and I just wanted to see a little more fire in his belly.
This attribute will pop up at times, especially with small-school linemen who are just so physically more gifted/talented than their competition that they can get away with not always having that killer instinct going. In my mind it's a concern, but at the same time I think once he gets into an NFL camp he'll quickly realize that he won't be able to take anymore plays off and he'll mature into a more consistent finisher.
Therefore, with the consistent need of left tackles who have the ability to anchor vs. power players, win on the edge and get a push in the run game, Ijalana is an intriguing prospect. In my view he's one of the top offensive tackle prospects in the draft and also gives you the versatility to kick inside to guard because of his base strength if need be. He's a guy who I would definitely consider in the second half of round one and I expect with some time to adjust to the NFL game, he's going to develop into a very good NFL offensive lineman, either at guard or tackle, depending on where he feels most comfortable.