January 04, 2012 -
National Football Post
Virginia Tech CB Jayron Hosley Declares for NFL Draft: The Breakdown
CB JAYRON HOSLEY: Virginia Tech (5-10, 171)
What I like…
- Displays natural fluidity when asked to turn and run. Keeps his feet under him and reaches top end speed quickly.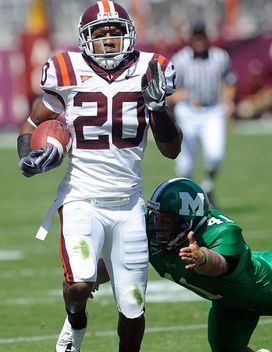 ICONHosley is natrual with the ball in his hands.
- Locates the ball well vertically down the field, exhibits good balance and has the explosion to go up and make a play at the highest point.
- Displays a "plus" feel in zone coverage, deciphering information quickly, feels routes developing around him and routinely puts himself around the football.
- Possesses that 6th sense to know when to come off his man and jump a route off his frame.
- Demonstrates a "plus" first step when asked to click and close once he gathers himself.
- Is quick footed and naturally balanced allowing himself to quickly gather his feet and make plays on the football despite his spotty technique
- Displays excellent ball skills in all areas of the game, consistently can adjust and come down the pick.
- Demonstrates good timing when locked up with his man and but needs to play big. Times up the throw well, maximizes his length with proper angles toward the football and shoots the proper hand in order to knock away the pass.
- Doesn't waste much motion out of his breaks when he can stay true to his leverage off the line in zone and drive on the football. Exhibits the ability to undercut routes and go get the football.
- Has experience playing as the field safety and getting over the top of the defense in the deep half.
- Has been extremely productive as a corner the past two seasons with 12 picks during that time.
What I don't like…
- Is an undersized corner with a thinner frame, narrow waist and lacks ideal height.
- Doesn't have a great feel for the run when playing as the field safety. Doesn't take consistent angles and can be slow to decipher the inside run game.
- Isn't a consistent tackler, lacks ideal power into contact and has a tendency to slip off his fair share of ball carriers.
- Doesn't have a ton of experience in man coverage.
- Wants to open his hips up prematurely and turn and run in all situations.
- Gets too upright and narrow with his footwork when trying to cleanly get out of his breaks in off man and will lose balance because of it initially.
- Will get upright in his drop in off man coverage and will drift slightly when trying to click and close on routes under him.
- Gives up too much of a cushion at times in off man and his willingness to open up his hips prematurely allows too many easy completions outside his frame.
- Isn't going to be a fit for every scheme. More of a cover two type guy only who is going to need to do a better job sitting into his drop and staying compact with his footwork, as he gets upright when he tries to backpedal down the field taking away from his initial burst.
- Is quicker than fast, lacks elite straight-line speed, looks like a 4.5 guy on tape.
Impression: An undersized zone corner who lacks ideal size and doesn't run overly well. Exhibits "plus" ball skills and a natural feel in zone, but is raw with his footwork in man coverage and looks more like a cover two guy only who might be best suited to play inside.
Follow me on twitter: @WesBunting
Check out the NFP Draft Page here...