September 21, 2012 -
National Football Post
Want a chance to beat Bowen in the NFP/FanDuel Fantasy challenge?
Think you know the NFL? Then sign up for the NFP/FanDuel challenge this week and take a shot at the $1,000 dollar prize pool. Even better, take on the NFP's Matt Bowen and see if you can knock off his squad. Check out the Week 3 matchups, draft players and put a team together. Want to know what you are up against? Here is a look at Bowen's roster for the weekend: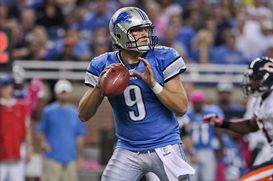 ICONBowen is counting on big numbers from Stafford this Sunday.
QB: Matthew Stafford, Lions
RB: Frank Gore, 49ers
RB: DeMarco Murray, Cowboys
WR: Calvin Johnson, Lions
WR: Wes Welker, Patriots
WR: Malcolm Floyd, Chargers
TE: Tony Gonzalez, Falcons
K: Garrett Hartley, Saints
Defense: Steelers
Click here to sign up, stack your team with talent, send Bowen home with a loss and start collecting some cash from the NFP and FanDuel.
Follow the NFP on Twitter: @FootballPost