November 30, 2012 -
National Football Post
Want to win some cash? Play the NFP/FanDuel Week 13 Fantasy challenge
Want to compete with Matt Bowen for a chance at the $2,000 prize pool from the NFP and FanDuel? Then sign up for this week's fantasy challenge. It costs $10 to play and you can select up to three rosters for a shot at the cash.
Its easy. Scout the matchups, grab some talent and submit your lineup before kickoff on Sunday.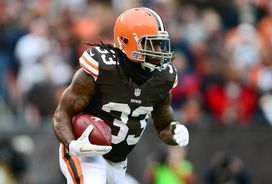 US PRESSWIREBowen likes the matchup of Richardson vs. the Raiders' defense.
Let's take a look at Bowen's roster this week:
QB: Matt Schaub, Texans
RB: Trent Richardson, Browns
RB: Alfred Morris, Redskins
WR: Reggie Wayne, Colts
WR: Hakeem Nicks, Giants
WR: Randall Cobb, Packers
TE: Jason Witten, Cowboys
K: Lance Zuerlein, Rams
Defense: Seahawks
Click here to sign up for the Week 13 NFP/FanDuel Fantasy challenge…
Follow the NFP on Twitter: @FootballPost