December 14, 2012 -
Erik Oehler
Want to win some cash? Play the NFP/FanDuel Week 15 Fantasy challenge
Want to play some fantasy football with the NFP and FanDuel for a shot at the $65,000 prize pool? Then sign up for the Week 15 fantasy challenge. It costs you $25 and you can enter as many teams as you want with prizes all the way down to 255th place.
The frst place prize? A cool $8,500. Not bad, right?
Scout the matchups; select some talent and then load up your roster for this week's challenge before kickoff on Sunday.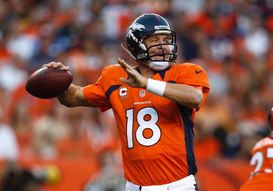 Bowen is rolling with Peyton Manning this week in the fantasy challenge.
The NFP's Matt Bowen is getting in on the action also. Let's check out his lineup:
QB: Peyton Manning, Broncos
RB: Marshawn Lynch, Seahawks
RB: Steven Jackson, Rams
WR: Reggie Wayne, Colts
WR: Randall Cobb, Packers
WR: Marques Colston, Saints
TE: Tony Gonzalez, Falcons
K: Lance Zuerlein, Rams
Defense: Patriots
Click here to sign up for the Week 15 NFP/FanDuel Fantasy Challenge.
Follow the NFP on Twitter: @FootballPost