October 12, 2012 -
National Football Post
Want to win some cash? Play the NFP/FanDuel Week 6 Fantasy challenge
If you have two bucks laying around then sign up for this week's NFP/FanDuel Fantasy challenge for a shot at the $1,000 prize pool.
It's easy and you can select up to three rosters in the Week 6 challenge. So go ahead and scout the matchups, load up your squad and try to win some cash while competing against the NFP's Matt Bowen.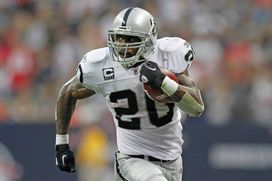 US PRESSWIREBowen is rolling with Raiders' RB Darren McFadden this week.
Let's check out Bowen's roster for this week…
QB: Philip Rivers, Chargers
RB: Darren McFadden, Raiders
RB: Stevan Ridley, Patriots
WR: Julio Jones, Falcons
WR: Jordy Nelson, Packers
WR: Eric Decker, Broncos
TE: Antonio Gates, Chargers
K: David Akers, 49ers
Defense: St. Louis Rams
Think you can put together a solid lineup to win some cash?
Click here to sign up for the Week 6 NFP/FanDuel Fantasy Challenge
Follow the NFP on Twitter: @FootballPost