October 26, 2012 -
National Football Post
Want to win some cash? Play the NFP/FanDuel Week 8 Fantasy challenge
Who doesn't have a couple of bucks laying around when it comes to an opportunity for a shot at the $1,000 dollar prize pool with the NFP and FanDuel?
That's right. Two bucks. All it takes to enter the NFP/FanDuel Week 8 Fantasy Challenge. You can select up to three teams and compete against players such as the NFP's Matt Bowen for a chance at some real cash.
Check out the matchups, load up your team and get in the mix…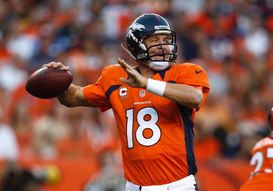 Bowen likes the matchup of Peyton Manning vs. the Saints' secondary.
Let's take a look at Bowen's roster this week:
QB: Peyton Manning, Broncos
RB: Matt Forte, Bears
RB: Alfred Morris, Redskins
WR: Marques Colston, Saints
WR: Reggie Wayne, Colts
WR: Randall Cobb, Packers
TE: Antonio Gates, Chargers
K: Jay Feely, Cardinals
Defense: San Francisco 49ers
Click here to sign up for the NFP/FanDuel Week 8 Fantasy Challenge.
Follow the NFP on Twitter: @FootballPost