June 11, 2012 -
National Football Post
Washington State WR Marquess Wilson is only scratching the surface
WR Marquess Wilson: Washington State (6-4, 185)
What I like…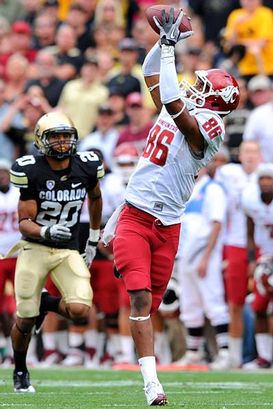 ICONWilson certainly looks the part.
- Possesses excellent height for the position with a frame to grow into.
- Runs well for his size. Showcases the ability to get up to speed quickly off the line and be a threat over the top.
- Displays good body control and balance with the ball in his hands. Looks natural on the bubble screen creating in tight areas.
- Understands how to come off the line low and use his wiggle to gain a step on corners vs. press coverage.
- Uses his length well to knock defenders hands away off the line as well, gain inside leverage and create down the field.
- Looks natural running inside vertical routes, can drop pad level and play with a corner in his back pocket.
- Does a nice job boxing corners out and adjusting to the football.
- Showcases a surprising burst to his game when trying to separate for a big guy and initially can create some space as a route runner.
- Builds speed and once he can open up his gate he has the ability to separate vertically and track the football.
- Showcases the natural bend/flexibility to mature as a route runner and be able to run sharply breaking routes.
What I didn't like…
- Has to learn to come off the line from more of a traditional stance, too much weight is out over his chest in college and will struggle to beat press in NFL.
- Needs to show better concentration catching the football, puts far too many throws on the ground that are catchable.
- Will get caught looking for defenders or trying to run before securing the football over the middle of the field.
- Tends to gear down before his breaks on comeback routes. Doesn't force opposing corners to routinely open up their hips and run before snapping out of his break.
- Isn't the cleanest of receivers on sharply breaking routes, tends to drift in and out of his breaks and is more of a vertical route runner only at this stage.
- Wants to simply outpace defenders to spots instead of setting corners up out of his breaks.
- I didn't see a real killer instinct from him in either the run game or when asked to chase the football after an interception.
- Isn't real physical and can be slowed off the line and down the field by stronger corners checking him into his routes.
- Lacks ideal body control when asked to adjust on the fade, tends to drift away from the throw and will struggle to gather himself and attack the football quickly.
Overall…
Marquess Wilson is a tall wide out with good size and has the ability to run and create vertically. Plus, I see enough short area quickness and flexibility to his game to make me think he can develop as a route runner.
However, he's raw at this stage and has a tendency to put the football on the ground and lose concentration. Therefore, it will be interesting to see how much he matures in the coming years. Nevertheless, he's a high upside guy who is only starting to scratch the surface of his potential as an NFL prospect.