January 16, 2013 -
Erik Oehler
Wednesday's Afternoon Review of East West Shrine Game Practices.
Padded practices are now over and the race to the airport is on. Before we head on to Mobile for the Senior Bowl, here are our notes on the West squad's Wednesday practice. On Thursday we will breakdown those players that helped and hurt themselves the most after three days of practice and Friday will preview the actual East West Game and what players need to step up after not such a great week of practice.
Players that performed well in Wednesday's practice: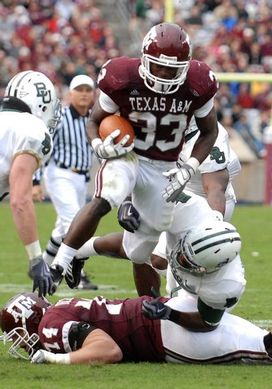 ICONA&M RB Christine Michael runs through grab tackle to gain yards after contact.
1.Christine Michael, RB, Texas A&M (5096, 221, and 4.55): Michael looked more decisive today than he did Monday or Tuesday. When he made cuts he showed quickness and burst through the hole, and displayed the balance and strength to run thru traffic.
2.Tanner Hawkinson, OT, Kansas (6051, 304, and 5.25): Hawkinson was quick out of his stance and aggressive with his punch which prevented defensive linemen from getting into his frame. While he clearly has the athleticism to shuffle and cut off the edge, he has a tendency to stop his feet on contact and allow his man to shed his block. Although this is a concern, he also displayed the foot quickness, agility and balance needed to recover once beaten at the point of attack. Hawkinson also flashed the ability to sink his hips and absorb contact, but needs to improve his consistency in this area.
3. Wes Horton, DE, USC (6044, 261 and 4.80): Horton looked very quick and agile when changing directions and showed the ability to get skinny when splitting gaps. When he had space to rush the passer he displayed quick, active hands, and consistently gave blockers fits on the edge. One major concern we have with Horton's game is his tendency to play too high, as he struggles to hold the point of attack and can be tied up on pass rushes when he does not utilize proper leverage.
4. A.J. Klein, LB, Iowa State (6013, 246 and 4.70): We were pleasantly surprised to see Klein at practice today, as he has apparently accepted an invitation to next week's Senior Bowl. He continues to make the most of his opportunity here in St. Pete, as today he displayed solid speed and athleticism versus the run and pass. He showed good instincts in zone coverage on one play by taking a solid drop and following the QB to the ball in order to break up a pass. On run plays he was quick to fill gaps and was consequently able to beat blocks to the point of attack.
5.Zeke Motta, SAF, Notre Dame (6022, 215 and 4.60): Motta was extremely impressive today breaking and closing on the ball as he was fluid in transition and was able to cover a ton of ground in a flash. He was consistently the first man in the back seven to attack plays in front, as he did a solid job of reading the QB's eyes and identifying his keys. His most impressive play was on a deep ball to the back of the end zone that he was able to close and break up at the last possible moment.
6.Anthony Amos, WR, Middle Tennessee State (5111, 183 and 4.65): Amos impressed with his route running today, as he was able to use a variety of quick jukes and head fakes to defeat defenders on his breaks. He showcased the ability to pluck the ball away from his body naturally, and despite lacking long speed was able to gain separation because of his initial quickness.
7. Sheldon Price, CB, UCLA (6014, 178 and 4.50): Throughout practices he displayed the ability to click and close on the ball from off coverage. He used his length well to get position on receivers and reach around for pass breakups. For being such a long-legged corner he shows surprising short area quickness, which allows him to flip his hips smoothly in transition.
Players that did not perform well in Wednesday's practice:
1. Travis Johnson, DE, San Jose State (6015, 249, 4.85): Johnson is undersized and likely out of position at DE, as he struggled throughout today's practice taking on and shedding blocks. Blockers were able to easily get into his frame and engulf him at the point of attack, as he did not display the strength or hand usage needed to keep blockers off his frame.
2. Steve Greer, LB, Virginia (6001, 236 and 4.90): Greer displays aggressiveness to the point of attack on run plays but struggles athletically in space. Throughout the week he has struggled to change directions fluidly and has not displayed the range needed to make plays on the boundary. The athletic limitations he has displayed the last three days could make it difficult for teams to consider drafting him in April.

Email Russ at Russelllande@yahoo.com and Follow Russ on Twitter @RUSSLANDE