January 16, 2013 -
Erik Oehler
Wednesday's Review of East West Shrine Game Practices
Wednesday is usually the last day of padded practices at college All-Star games, so generally speaking today is the last chance for prospects to impress scouts before the mad dash to the airport. Here are some of the players that stood out from the East squad practices this morning:
Players that helped themselves:
1. Brandon McGee, CB, Miami (5106, 195 and 4.58): McGee impressed us again today with his fluidity and acceleration in and out of his breaks, as he was able to close on balls in front of him effectively. He demonstrated loose hips in transition which allowed him to stay on hips man's hip off the flip. He was physical with receivers on the break but also did a good job of keeping his hands off on downfield routes.
2. Kayvon Webster, CB, South Florida (5102, 194 and 4.60): Webster showed excellent acceleration in transition out of his pedal in the 9 on 7 period which allowed him to cut off his man's out route and break up a pass. He did a solid job throughout practice of quickly diagnosing routes and beating receivers to their break points. He also demonstrated the ability to compete for the ball in the air with bigger receivers.
3. Matt Evans, LB, New Hampshire (5115, 231 and 4.80): Against the run, Evans took very good angles of pursuit and attacked blockers aggressively at full speed. He did a nice job today of sifting through traffic and working hard to get off blocks. Where other small school linebackers have struggled with false steps this week Evans did a nice job of staying patient and reading his keys correctly before attacking the ball.
4. Zac Stacy, RB, Vanderbilt (5083, 215 and 4.60): Stacy was able to make himself skinny on inside runs and showed the burst needed to get through holes before they closed. We were impressed with his vision on both inside and outside runs, as he knew when lanes were open to the boundary but at the same time was more than willing to pound the ball inside.
5. Earl Watford, OG, James Madison (6036, 300 and 5.10): Watford had a solid day on Wednesday, as he displayed an impressive combination of athleticism and technical prowess throughout practice. He looked comfortable getting out into space and changing direction and was effective locating and sustaining second level blocks. On the interior in both one on one drills and team drills he did a solid job of locking out with his hands inside and using his feet to seal his man from the play side. He also showed good flexibility in pass pro and the ability to anchor and reset against bull rushers.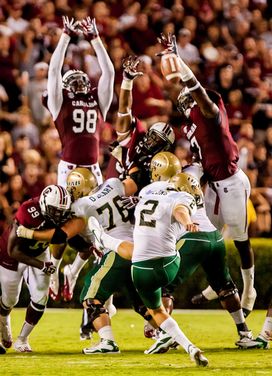 US PRESSWIRESouth Carolina DE Devin Taylor skies to attempt to block a kick.
6. Devin Taylor, DE, South Carolina (6072, 275 and 4.80): Taylor finally put a complete practice together today as he showed good speed and hand usage in one on one drills as well as during the team period. He did a solid job of using his impressive length to keep blockers off his frame, allowing him to set the edge effectively against the run. When rushing the passer he showed decent speed on the edge and also was able to penetrate inside with violent rip moves off the snap.
1. Rodney Smith, WR, Florida State (6043, 220 and 4.65): Smith struggled getting in and out of his breaks today due in large part to his long stride. He showed only average initial quickness whether releasing versus air or the jam, and was not able to gain consistent separation on downfield routes. He had a fumble on the goal line and did not play the ball well in the air today.
2. Mark Jackson, OT, Glenville State (6054, 341 and 5.50): Today Jackson flashed impressive athleticism considering his size, but he struggled to maintain blocks and generally seemed out of place. While he flashed the ability to bend his knees and sink his hips against bull rushers, on run blocks he tended to bend at the waist instead, causing him to lose his balance and fall off blocks early. In addition, after making contact on pass blocks he tended to stop his feet and duck his head, allowing his man to defeat him at the point of attack and penetrate the pocket.
3. Collin Klein, QB, Kansas State (6045, 218 and 4.77): Klein's struggles continued today, as he struggled with his accuracy and timing throughout practice. He was consistently late on his throws, a problem compounded by the hitch in his throwing motion. This allowed defenders to get an early jump on his throws and consistently contest the balls he did manage to throw accurately.
Email Russ at Russelllande@yahoo.com and Follow Russ on Twitter @RUSSLANDE