September 12, 2011 -
Barry Dorey
Week 1 Revelations
Week 1 Revelations
1. Ray Rice successfully launched his campaign for 2,000 total yards. This revelation is neither new nor surprising, since I've been guaranteeing Rice's 2K prophecy since July 5 ... and that he amassed 2,041 yards just two years ago. And truth be told, I'm hardly shocked that Rice racked up 149 total yards and two TDs on Sunday, partly because he's crossed the "140 yards and/or 2 TDs" threshold three times in his last five clashes with the Steelers. That aside, it's cool to see that Rice is still the dominant figure of Baltimore's offense, and that QB Joe Flacco (224 yards passing, 3 TDs), WR Anquan Boldin (4 catches, 74 yards, 1 TD) and TE Ed Dickson (5 catches, 59 yards, 1 TD) are eminently capable of following Rice's golden path to fantasy success -- and a possible Super Bowl berth.
2. Let's hold off on touting Matthew Stafford and Calvin Johnson as the NFL's pre-eminent QB-WR handcuff in standard-scoring leagues ... until Week 3. The football gods work in mysterious ways, don't they? As a long-overdue reward for enduring the Matt Millen-GM era (2001-08) and historically bad 0-16 campaign in '08, Lions fans have suddenly been blessed with the presence of head coach Jim Schwarz (five straight wins), Ndamukong Suh, RB Jahvid Best (114 total yards) and superstars Stafford (305 yards, 3 TDs) and Johnson (6 catches, 88 yards, 2 TDs) -- the type of five-man foundation that sparks championship runs sooner than later. And through this convergence of real-world viability and fantasy celebrity comes a gentle reminder that Stafford (14 career starts) will undoubtedly encounter a few bumps and bruises in Year 3 -- hopefully more of the former -- on his way to a top-7 QB fantasy ranking next summer. As for Calvin and his unmatched flair for acrobatic Opening Day touchdowns ... he's the wideout fraternity's next best bet for 15 touchdowns.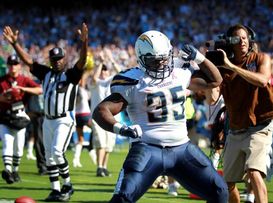 ICONTolbert posted an impressive 93 total yards and three touchdowns on Sunday.
3. Ryan Mathews and Mike Tolbert are the best 1-2 running punch in fantasyland. The NFL may be trending toward committee approaches with tailbacks, as a means of extending a player's unique talents for a few years; but you'd be hard-pressed to identify a platoon that actually yields two rubber-stamp starters in 12-team leagues. Enter Mathews (118 total yards) and Tolbert (93 total yards, 3 TDs), both realistic threats for 100 total yards/1 TD every week -- regardless of the Chargers' opponent, or how many times Philip Rivers (335 yards, 2 TDs) flirts with 50 passes this season. Incidentally, I'm willing to bet that San Diego scores 24 points or fewer only three times in 2011 ... which should be enough juice to keep Mathews and Tolbert's owners fat and giggly for the foreseeable future.
4. Matt Forte and Michael Turner are the fantasy gifts that keep on giving. It's hard to believe that any running back could steal the spotlight on a day when Jay Cutler (312 yards passing, 2 TDs) and Matt Ryan (319 yards passing, zero TDs) combined for 79 passes ... and Bears LB Brian Urlacher (10 tackles, one INT, one fumble recovery, one TD) flashed his Hall of Fame potential. And yet, Sunday's one-sided, real-world affair was all about the highly efficient work of Turner (140 yards on 13 touches) and Forte (158 total yards, 1 TD on 21 touches) -- two indispensable fantasy stalwarts who were inexplicably short-changed during the August drafts (Turner with PPRs; Forte in standard-scoring leagues). Bottom line: For the few (and proud) owners of both Forte and Turner, Week 1 won't be the only time when The Brothers Carry-a-mazov launch your team to a landslide fantasy victory.
5. LeSean McCoy is the Eagles' most valuable fantasy asset. The previous statement wasn't a referendum on the all-world talents of QB Michael Vick (285 total yards, 2 TDs) or WR DeSean Jackson (6 catches, 102 yards, 1 TD); it simply accounts for the devastation that McCoy can bring on only 17 touches (137 total yards, 2 TDs) ... and how most fantasy owners will soon regret passing on this Westbrook-in-his-heyday clone after the 7th pick in standard-scoring or PPR drafts (health permitting). Speaking of Vick (14-of-32 passing for 187 yards), 42-percent efficiency isn't going to cut it against stingier defenses in October, November and December -- especially when Jeremy Maclin (1 catch, 20 yards), Steve Smith (zero catches) and TE Brent Celek (1 catch, 13 yards) are nowhere to be found on gameday. But all in all, not a bad way to ring in the new year for Philly.
6. Let's not overreact to Chris Johnson's bad day ... and underscore Luke McCown's pedestrian play. Any rational person could have predicted Johnson's 15-touch, 49-yard outing in Week 1. After all, even the fittest and fastest of human beings need time to recapture their all-pro mojo -- a mere 10 days after concluding a nine-month stay on the proverbial couch. Like it or not, fantasy owners, the Titans were wise to treat Johnson with kid gloves on Sunday, out of precautionary fear of a leg injury (pulled hammy, strained quad, etc.) and the educated guess that no AFC South club will likely run and hide from their division brethren by Halloween. Look for Johnson to struggle again next week against Baltimore; but for Week 3 in Denver, CJ2K is an even-money bet for 120 total yards and/or two touchdowns. As for Jacksonville's QB du jour, McCown (185 total yards, zero TDs), he holds zero fantasy value in 12- or 14-team leagues and is merely keeping the QB seat warm until Week 5 or so ... when rookie Blaine Gabbert gets the keys to the franchise.
Revelations, Book II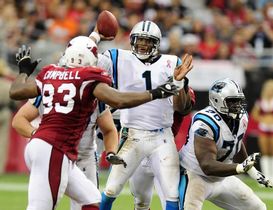 ICONRookie learning curve says who? Newton threw for over 400 yards in his debut on Sunday.
7. Cam Newton deserves immediate respect in fantasyland. Rookie quarterbacks are usually treated like red-headed stepchildren in our little parlor game -- and rightfully so; but there's no way to spin Newton's prodigious day against the Cardinals (440 total yards, 3 TDs) -- including an NFL-rookie-debut-record of 422 passing yards -- other than saying this is no ordinary rookie ... and that Newton should garner weekly starting consideration for teams that don't have entrenched franchise QBs (Brees, Rodgers, Brady, Vick, Rivers, Romo, Schaub, Stafford, Ryan, Roethlisberger). As for Steve Smith (8 catches/178 yards/2 TDs) ... welcome back to the elite stra ta of wide receivers; and for WR Brandon LaFell (4 catches, 70 yards) and TE Greg Olsen (4 catches, 78 yards) ... enjoy the fruits of single coverage, thanks to the distracting talents of Smith, Newton and Carolina's two-headed rushing monster (DeAngelo Williams/Jonathan Stewart). Speaking of Newton, his over/under for rushing touchdowns is now 7.5. (We'll take the over.)
8. You could do worse than Kerry Collins as a QB2 in 12- or 14-team leagues. Without a doubt, Collins (197 yards passing, 1 TD) looked old and slow in his Colts debut, seldom pulling his new teammates through Houston momentum swings and never showing a sense of urgency with the Indy offense. But then again, what did you expect from a 38-year-old quarterback who had been happily retired as of two weeks ago? Bottom line: The Colts have too many offensive playmakers to average seven points per game while Peyton Manning recovers from a third neck surgery; and in due time, Indy may slowly gain traction as a real-world contender for a wild card spot. In the meantime, feel free to take advantage of the rock-bottom trade prices for Dallas Clark (4 catches, 39 yards), Pierre Garcon (3 catches, 39 yards), Joseph Addai (52 total yards), Austin Collie (zero catches) ... and even the redoubtable Reggie Wayne (7 catches, 106 yards, 1 TD). Apparently, Wayne can only catch 100 balls with Peyton at his side.
9. Tight end Jermaine Gresham warrants weekly starting consideration -- regardless of who's playing QB for Cincy. There's a reason why the Bengals invested a 2010 first-rounder on Gresham (6 catches, 58 yards, 1 TD) ... and why Chad Ochocinco and Terrell Owens are no longer vulturing red-zone touches in the process. At 6-foot-5, 260 pounds, Gresham serves as the ideal safety net for rookie Andy Dalton (81 yards passing, 1 TD) and veteran Bruce Gradkowski (92 yards passing, 1 TD) and represents the perfect the complement to RB Cedric Benson (123 total yards, 1 TD), whose running style is eerily reminiscent to that of embattled Hall of Famer O.J. Simpson. (The comparisons obviously end there.) As for rookie receiver A.J. Green ... congrats on posting your first NFL catch and touchdown on the same play -- even if it involved the Browns inexcusably falling asleep on defense. For what it's worth, Green would've had an easy-cheesy TD in the first quarter ... if Cleveland's Sheldon Brown hadn't wisely committed a holding penalty on the flare toss. Bold prediction: If Gresham and Benson can operate at full capacity, Green is a sneaky-good candidate for 7-8 touchdowns ... even with only 50 catches.
10. The Bucs' running attack looks atrocious. During the offseason, I might have been the only guru to publicly chide Tampa Bay for putting its rushing eggs into the baskets of two bulky runners (LeGarrette Blount/Earnest Graham) and a sleek, but tremendously raw athlete as the third back (Kregg Lumpkin). This, in a nutshell, explains why I believe the Buccaneers are headed for a noticeable downturn from last year's 10-6 mark ... and why fantasy owners and Bucs backers should pray that WR Mike Williams (4 catches, 50 yards, 1 TD) and TE Kellen Winslow (6 catches, 66 yards) can bring the wood every single week. Otherwise, I shudder to think how QB Josh Freeman (285 total yards, 1 TD) will survive the season in one piece -- let alone lead Tampa Bay into playoff contention. On the bright side, the franchise has plenty of cap room to restock the cupboard with playmaking street free agents.
11. Cadillac Williams is the fantasy version of Rasputin. Try as they might, owners cannot kill off Williams (140 total yards) as a viable candidate in 12-team leagues -- especially when Steven Jackson incurs quad injuries while sprinting for 47-yard touchdowns -- untouched. Admit it: When Caddy signed with the Rams on the back end of the Great Free Agent Frenzy of 2011 ... you quietly murmured, "Oh dear, he'll be relevant by October ... if not sooner." And given the state of the injury-ravaged Rams (Jackson, Sam Bradford, Danny Amendola, Jason Smith), it's quite possible that Williams and Jerious Norwood (10 yards) will be asked to log 25-plus touches next week against the Giants. Speaking of injury replacements, WR Donnie Avery (recently cut by the Rams) and ex-Jags QB David Garrard should probably turn their cell-phone ring volumes to "High" this week -- if Amendola (dislocated elbow) and Bradford (possible nerve damage with finger) should miss significant time. As for the other Rams, a word to the wise: Let's wait for rookie Lance Kendricks (1 catch, 18 yards -- two drops) and WR Mike Sims-Walker (1 catch, 5 yards) to not embarrass themselves first ... before forecasting any fantasy relevance for Week 2. Just a thought.
Revelations, Book III
12. The Chiefs' air brigade is on the path to nowhere. In this pass-happy era of professional football, I am incredibly skeptical of any team that taps a 69-year-old offensive line coach to call plays -- like Kansas City has with Bill Muir, the franchise's longest-tenured assistant. Now, for all we know, Muir's duo designation may simply be a public ruse to disguise head coach Todd Haley's fingerprints being all over what's called and when; but the public perception is this: Either Haley gave former O-coordinators Chan Gailey and Charlie Weis the boot out of spite and/or jealousy ... or the club is completely committed to beefing up the running game, starting with Jamaal Charles (65 total yards, 1 TD) and Dexter McCluster (67 total yards) -- but not necessarily Thomas Jones (3 yards). Whatever the case, I have deflating confidence in QB Matt Cassel's capacity to eclipse last year's numbers (3,116 yards passing, 27 TDs), and I weep for the immediate futures of wideouts Dwayne Bowe (2 catches, 17 yards), Steve Breaston (2 catches, 26 yards) and even Jerheme Urban (zero catches). Yikes!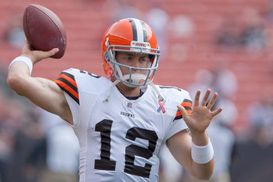 ICONColt McCoy and the Browns looked unimpressive in their home loss to Cincinnati.
13. The Browns are hard to watch on DirecTV. It's nice to see QB Colt McCoy (224 total yards, 2 TDs) and WR Mohammed Massaquoi (3 catches, 77 yards) take baby steps to fantasy relevance. But right now, only RB Peyton Hillis (87 total yards) and TE Ben Watson (3 catches, 45 yards, 1 TD) deserve consistent props in fantasyland; and even Watson (seven targets) must be somewhat weary of Evan Moore (3 catches, 35 yards, 1 TD) detracting from his preseason value in 12-team leagues. At this point, if any AFC club deserves the ignominiou s distinction of being fantasy roadkill, it might be Cleveland's band of underachievers and not-ready-for-primetime players (Greg Little, Montario Hardesty, Brian Robiskie, Jordan Norwood).
14. Fred Davis is a potentially dynamic receiver trapped in a tight end's body. Hmmm, looks like someone purchased P90X during the 132-day lockout. What other explanation could satisfy my highly plausible assertion that Davis (5 catches, 105 yards) and suddenly invisible Packers wideout James Jones switched bodies during the offseason? At risk of dipping into the hyperbole pool here, Davis (72 catches from 2008-10) could become the next Jermichael Finley of the tight-end circuit, shaking off a humble start to his NFL career before blossoming into an undeniable -- and indefensible -- force at the position. Of course, Davis' success is partly due to Chris Cooley's ongoing recovery from offseason knee surgery and the Redskins' noticeable dearth of high-end receivers (sorry, Jabar Gaffney -- 3 catches, 54 yards, 1 TD); but hey, talent AND opportunity are the constant keys to one's fantasy success. Just ask QB Rex Grossman (305 yards passing, 2 TDs) and RB Tim Hightower (97 total yards, 1 TD).
15. The Cowboys -- even with their many creative ways to lose games -- are still fantasy gold.</strong> You absolutely cannot go wrong with the star-crossed quartet of QB Tony Romo (345 yards passing, 2 TDs), TE Jason Witten (6 catches, 110 yards) and wideouts Miles Austin (4 catches, 83 yards, 1 TD) and Dez Bryant (3 catches, 71 yards, 1 TD) in fantasy circles. They're so bankable, so dynamic in standard-scoring, PPR and TD-only leagues, it stands to wonder how any other Cowboy can be fantasy-relevant on any given Sunday (like Felix Jones -- 76 yards, 1 TD). For Week 2 against the 49ers, I already have the Cowboys' Big Four pegged for five combined touchdowns ... and maybe one gut-wrenching defeat.
16. The 49ers owe Ted Ginn Jr. a huge debt of gratitude. That's the most polite way of masking San Francisco's foibles on offense (209 total yards) and minimalistic contribution from QB Alex Smith (146 total yards, zero TDs) -- extend all the credit to a stingy 49ers defense (219 yards allowed) and the lightning-fast Ginn (268 return yards, 2 kick-return TDs). But still, I can't help but wonder: Prior to Sunday, has an NFL club ever scored 33 points on just 12 first downs?
17. Don't expect multiple TD passes from Ryan Fitzpatrick again ... until Week 5. Fitzpatrick may have been razor-sharp against the Chiefs (208 yards passing, 4 TDs), but it's important to note the following: Of the two times Fitz has thrown for four TDs in his 37-start career (excluding Sunday), he endured separate-but-equal slumps of one passing touchdown in the three successive games after hitting 4-TD paydirt. And before you passionately defend Fitzpatrick's prospects for Weeks 2-4 and the Bills' supporting cast on offense, if TE Scott Chandler (5 catches, 63 yards, 2 TDs) and WR David Nelson (4 catches, 66 yards) were shopping at a Buffalo-area grocery store this week during 'rush hour' ... would you identify 'em on the first try? Thank goodness for Fred Jackson (117 total yards, 1 TD) and Steve Johnson (4 catches, 66 yards, 1 TD), eh?
An award-winning fantasy writer with Sports Illustrated (2008-2010) before joining the National Football Post, Jay Clemons' Fantasy Philanthropist Blog can be found here every Monday and Thursday during the regular season. Clemons can be reached, day or night, via Twitter.