November 14, 2011 -
Barry Dorey
Week 10 Revelations
Week 10 Revelations
1. Who needs Andre Johnson when you can bludgeon teams with Arian Foster? Should we attribute the Texans' scintillating run to a 7-3 record -- largely without the help of Johnson -- to zen-like patience or a successful bout of riverboat gambling? Either way, Houston should be commended for giving Johnson a full eight weeks to recover from a hamstring injury and get ready for the stretch run ... which may include an easy jaunt to the AFC South title. Not only is Foster (186 total yards, 2 TDs vs. Tampa Bay) the No. 1 tailback in fantasyland right now, he's also the Texans' best receiver (4 catches, 102 yards Sunday) -- a declaration that undoubtedly pleases backup rushers Ben Tate (87 total yards, 1 TD), Derrick Ward (36 total yards, 1 TD) and QB Matt Schaub (242 yards passing, 2 TDs on only 11 completions) ... who hardly broke a sweat in Houston's 28-point road rout. Foster's ascension may also comfort Jacoby Jones (2 catches, 78 yards, 1 TD), Owen Daniels (3 catches, 31 yards) and Kevin Walter (1 catch, 6 yards) -- none of whom will see double teams again once Johnson hits the the ground running for Week 12. (On Monday evening, ESPN's Adam Schefter reports that Matt Schaub is out for the season with a foot fracture.)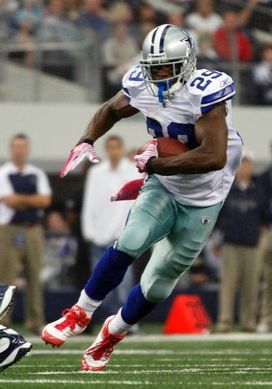 DeMarco Murray continues to roll up RB1 numbers for owners.
2. DeMarco Murray has the stuff to carry a struggling fantasy team to a title. It's gotten to the point where Murray is no longer a fantasy Flavor of the Month, or even a guy who should fear for his job once the previous starter (Felix Jones) returns to the field. For four straight games, Murray (171 total yards, 1 TD vs. Buffalo) has been a top-five playmaker; in that span, Murray has also done enough to evoke realistic comparisons to Emmitt Smith or Tony Dorsett, while lending credence to the Cowboys' Super Bowl aspirations over the next few seasons. And yet, there's still some trepidation about his fantasy prospects in the short term: Can Murray be a top-5 back when sharing the spotlight with QB Tony Romo (270 yards passing, 3 TDs), WR Dez Bryant (6 catches, 74 yards, 1 TD), TE Jason Witten (5 catches, 37 yards), Miles Austin (out with hamstring injury) and Austin's current successor, Laurent Robinson (3 catches, 73 yards, 2 TDs)? That's a lot of playmaking mouths to feed every week; and we can't assume that Dallas will post 433 total yards every game. Correct? After all, the Bills only adorn the Cowboys' schedule once in a four-year cycle.
3. Are you not entertained by Matthew Stafford ... even on his worst day ever? Here's where it's necessary to qualify the distinction between real-world and fantasy football: Yes, Stafford threw four brutal interceptions -- including back-to-back pick-sixes in the third quarter -- and in many respects, the Lions resembled a fraternity flag football team that had already tapped a second keg. And yet, no one should be demoralized by Stafford's 329 yards passing (on 63 pass attempts!) and one TD ... or the upside to Calvin Johnson's seven catches for 81 yards (19 targets!). And GMs from 12- and 14-team leagues should relish the potential viability of pass-catchers Nate Burleson (8 catches, 83 yards), Titus Young (7 catches, 74 yards) and Brandon Pettigrew (5 catches, 38 yards) -- all of whom drew nine targets -- when thinking of short-term replacements for Week 11, the NFL's last bye. As for Stafford, there's no way to sugarcoat Sunday's meltdown, so why bother? For one day, broken finger and all, the kid channeled his inner-Scott Mitchell and looked nothing of a top-10 asset at his position. But hey, it's only one game it's not like you're going to bench him against Carolina, Green Bay, New Orleans or Minnesota from Weeks 11-14.
4. Rob Gronkowski isn't ceding anything to Jimmy Graham in the race for Fantasy Tight End of the Year. As stellar as Graham (62 catches, 873 yards, 6 TDs) has been with the Saints, Gronkowski (8 catches, 113 yards, 2 TDs on Sunday) has been the class of his position in recent weeks, collecting 30 catches, 382 yards, three TDs and 42 targets in the last four games. He's also the Patriots' redoubtable star in the red zone, an occurrence that should alleviate any concerns about Tom Brady (329 yards passing, 3 TDs) for the stretch run, even if it slightly deflates the values of WR Wes Welker (6 catches, 68 yards), WR Deion Branch (5 catches, 58 yards, 1 TD) or TE Aaron Hernandez (4 catches, 41 yards). Running back BenJarvus Green-Ellis (8 yards) also took a hit against the Jets, unless you thought his chances of repeating the 139-yard, 2-TD day effort from Week 5 weren't strong (like yours truly). Bottom line: Neither Green-Ellis, Kevin Faulk, Danny Woodhead nor rookie Stevan Ridley should be viewed as anything more than flex starters for November and December; they're part of a dynamic offense that unabashedly defines "balance" as equal touches for tight ends and receivers.
5. Chris Johnson and Steven Jackson have relatively clear paths to fantasy success for the stretch run. OK, so maybe Jackson (151 total yards on Sunday) will encounter a few obstacles against the Niners (the No. 1-ranked defense against the run) on Dec. 4; but at this point of the season, no team is a lock to contain Jackson (484 total yards, 3 TDs since Week 8) when he's healthy, explosive and primed to take advantage of the low-key help that QB Sam Bradford (155 yards passing, 1 TD) and WR Brandon Lloyd (4 catches, 48 yards, 1 TD) provide. The same holds true for Chris Johnson (174 total yards, 1 TD on 31 touches): If Titans WR Damian Williams (5 catches, 107 yards, 1 TD) and QB Matt Hasselbeck (240 total yards, 1 TD) can absorb some of the heat, Johnson (back-to-back 100-yard games) easily has the most fantasy-friendly schedule of any running back from Weeks 11-16 -- so much that he's a healthy lock for the minimum star threshold of 120 total yards and/or two TDs at every turn. Simply put, it's not too late to do whatever's necessary to land him, via trade.
6. Thank goodness this is a fantasy column ... otherwise we'd be required to mention the Falcons' 4th-and-inches meltdown in overtime. As someone who detests the Wussification Of America in today's politically correct culture, it'd be hypocritical to lampoon Falcons coach Mike Smith for riding his gut and going for it on 4th down -- deep in Atlanta territory. I'll just ask one question before moving on to Harry Douglas: Was that your best can't-miss, bread-and-butter play for Michael Turner? Regarding Douglas (8 catches, 133 yards; team-high 14 targets), he may have been the fantasy equivalent of The Invisible Man prior to Sunday's game ... but with Roddy White struggling (19 of 20 games without 100 yards receiving) and Julio Jones aching once again (hamstring), Douglas has a golden chance to be an underrated star during the fantasy-playoff period of Weeks 13-16. Think about it: As long as Matt Ryan (351 yards passing, 2 TDs, 1 INT), Turner (106 total yards), White (4 catches, 62 yards) and Tony Gonzalez (6 catches, 71 yards, 1 TD; 10 targets) are on the field for the Falcons (30 first downs against the Saints) ... Douglas will never draw double coverage and will be very dangerous on medium-range and deep crossing routes. Bottom line: In auction leagues, Douglas is worth up to 50 percent of your remaining bidding bucks for free-agent waivers -- especially in PPRs.
Revelations, Book II
7. Larry Fitzgerald is Exhibit A as to why fantasy owners should never bench healthy studs. Let's keep this one short and sweet: Unless Ed Asner or Mickey Rooney are under center for the Cardinals, you don't sit supremely talented, eminently bankable talents like Fitzgerald (7 catches, 146 yards, 2 TDs; team-high 13 targets) -- on the road, in a snowstorm, on a cement playground or against top-notch cornerbacks like Nnamdi Asomugha, Asante Samuel, Dominique Rodgers-Cromartie. You're simply wasting 20 points on the proverbial bench every week. Obviously, Fitzgerald is prone to the occasional bad day at the office; but even then, it's up to random QBs like John Skelton (310 yards passing, 3 TDs, 2 INTs vs. Philly) to continually feed the bulldog, in hopes that a fortuitous tipped pass at the goal line will result in a crazy Fitzgerald touchdown. On the flip side, non-Fitz owners should feel emboldened to take a trade risk on him, as well. He's a lock for 100 total yards/1 TD three times in the next six weeks.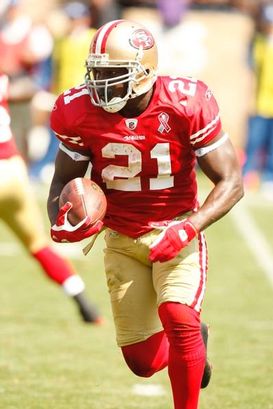 ICONWith Frank Gore (above) banged up, Kendall Hunter will become a hot commodity on waivers this week.
8. Kendall Hunter may be the most coveted free agent this week. Seriously. Even if Frank Gore's early exit from a twisted knee was a precautionary move -- have you heard the 49ers can clinch the NFC West before Thanksgiving? -- it still feeds the perception that Fragile Frank will struggle to finish the season in one piece. Enter Hunter (1 TD on Sunday), whose future value goes deeper than a pedestrian 44 yards against the Giants: If Gore should miss any games down the stretch, Hunter could step right in and be a threat for 90 total yards and/or one TD every week -- with big-time numbers slotted for Week 14 against Arizona. You know who's not a threat for 90 yards every Sunday? Tight end Delanie Walker (6 catches, 69 yards; team-high 7 targets) ... but only because Vernon Davis (3 catches, 40 yards, 1 TD) roams the turf at Candlestick Park and the ultra-conservative 49ers have yet to entrust QB Alex Smith (269 total yards, 1 TD, 1 INT) with 35 passes in a game this year -- a smart move, considering Braylon Edwards, Ted Ginn, Jr. and Michael Crabtree combined for seven catches and 105 yards against New York.
9. Not even LeSean McCoy can save the Eagles' sinking ship. If Vince Young had never dropped an ill-advised 'Dream Team' tag on the Eagles wayyyyyyyyy back in August, would the national media still cover Philly's implosion with the dogged spirit of a title contender? Or would McCoy's 9-game TD streak be enough to overshadow a soul-crushing season? While the fantasy world looks to Arian Foster, Adrian Peterson, Calvin Johnson and Aaron Rodgers for salvation -- and rightfully so -- McCoy (1,102 total yards, 12 TDs) might hold the most reasonable trade value for GMs who need a blockbuster deal to make the playoffs or complete their championship puzzle. Yes, McCoy has been a consistent force in PPR and standard-scoring leagues, but he also has to fight (figuratively speaking) Jeremy Maclin, DeSean Jackson, Steve Smith, Brent Celek and Michael Vick (207 total yards, zero TDs) for touches -- although Maclin (injury) and Jackson (DNP - coach's decision) weren't factors against the Cardinals. With the Week 12 trade deadline looming large, Sunday's comparatively modest showing might serve as a teeny-tiny window to make a stealth play for McCoy -- something in the 2-for-1 neighborhood of Rashard Mendenhall/Greg Jennings or Vincent Jackson/Michael Turner for McCoy.
10. Tim Tebow will neither be celebrated nor disparaged in this column -- all season. Is there a right or wrong way to address this, ahem, classic? In one respect, the Broncos should be commended for sticking to their run-heavy game plan and walking out of Arrowhead Stadium with their third victory in four games -- all Tebow starts. But on the flip side, there's nothing positive to glean from Tebow's 0-for-4 production at halftime, two total completions or 69 yards passing ... other than saying the 56-yard TD strike to Eric Decker was a surprising thing of beauty, especially with Knowshon Moreno and Willis McGahee sidelined to injury then. Which brings us to this: Third-string running back Lance Ball (96 rushing yards) will be a hot commodity on next week's waiver wire, but do you really want to start a guy who needs Tebow and Decker (team-high 3 targets!) to take pressure off the running attack? The best course of action: Upon grabbing Ball off waivers, immediately flip him into a sizable blockbuster that helps a RB-needy contender ... who just happens to be knee-deep in quality receivers.
11. 'Tis better to remember the versatile excellence of Ray Rice and Marshawn Lynch before the trade deadline ... but that's not necessarily the case with Ed Dickson. The bolded intro is not a referendum on Dickson's Sunday production (10 catches, 79 yards, 2 TDs; team-high 14 targets) or imposing stature within the red zone (6-foot-4); it's based off our skepticism that Dickson (an Oregon alum) was given a sort-of-homecoming gift by the Ravens coaches in the midweek game plan. After all, what are the chances that Rice (82 total yards, 1 TD; 8 catches) would throw as many touchdowns (1) as QB Joe Flacco (263 total yards) ... or that TE Dennis Pitta (4 catches, 49 yards), WR Torrey Smith (3 catches, 28 yards) or Ricky Freaking Williams (3 catches, 24 yards) would tally more receiving yards than Anquan Boldin (2 catches, 22 yards on 9 targets)? It was a surreal day in defeat for Baltimore, which became the latest team to fall prey to the alluring talents of Marshawn Lynch (167 total yards, 1 TD).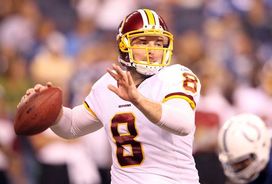 Whether it be John Beck or Rex Grossman (above), the 'Skins offense continues to struggle in the points department.
12. The Redskins are only an offensive line and quarterback away from being fantasy-relevant. If we've learned anything from the Redskins' revolving-door competition between Rex Grossman (215 yards passing, zero TDs, 2 INTs on Sunday) and John Beck this season ... it's that both quarterbacks enjoyed mentoring rookies during scout-team practices: Beck loves connecting with Roy Helu (14 catches/17 targets last week) in real-world situations, and Grossman revels in hitting Leonard Hankerson (8 catches, 106 yards) in key spots. So, when choosing whether to ride Helu or Hankerson in the flex spot for Weeks 11 and beyond ... look no further than Washington's starting QB for that particular Sunday. Luckily for Fred Davis (3 catches, 28 yards), he's a rock-solid safety valve for either Grossman or Beck -- although it's fair to wonder if he'll be punished for this apparent misstep during the lockout. With Santana Moss out and Tim Hightower/Chris Cooley shelved for the year, Davis is the only 'Skins veteran worth starting in 12- or 14-team leagues. Sure, you'll want to roster Jabar Gaffney (3 catches, 37 yards) or Ryan Torain (24 total yards) ... but that's where the experimentation ends. (Editor's Note: Leonard Hankerson is reportedly done for the year with a torn labrum.)
Revelations, Book III
13. So, this is why Pizza Hut staked its marketing reputation on a horse named Bush. When healthy and not clumsily distancing himself from the Dolphins' previous failures, Reggie Bush (51 total yards, 2 TDs vs. Washington) is an ideal complement to Brandon Marshall (7 catches, 98 yards; team-high 9 targets) and QB Matt Moore (223 total yards, zero TDs). He's also a prime example of why fantasy owners should move past RB Daniel Thomas (42 total yards) in any pre-deadline trades. Verdict: Miami may not win any beauty pageants with supporting playmakers like Anthony Fasano (3 catches, 60 yards) or Davone Bess (4 catches, 37 yards) ... but the club is savvy enough to maximize Marshall and Bush at every turn -- even if their expanded roles in victory don't pave the way for Andrew Luck or Justin Blackmon becoming franchise game-changers in 2012. The coaches are also sage enough to recognize that Bush (293 total yards, 3 TDs since Week 8) just completed the best three-game statistical run since his rookie year (2006). Respect the hot streak ... even the modest ones.
14. A certain fantasy guru might have been too quick to dismiss Marques Colston's effectiveness after breaking his collarbone. So much for the half-baked thinking that Colston (8 catches, 113 yards vs. Atlanta) would be reluctant to mix it up with opposing defenses just weeks after recovering from a clavicle fracture. Not only is Colston a dynamo in PPR leagues, he's also the perfect flex option in standards, while allowing for TE Jimmy Graham (7 catches, 82 yards, 1 TD) to flirt with 1,400 receiving yards -- the prospective NFL/tight-end equivalent to breaking the sound barrier. Of course, all this glory stems from the ho-hum brilliance of QB Drew Brees (322 yards passing, 2 TDs), who engineered the Saints' most crucial win of the year on a day when Mark Ingram (14 yards), Pierre Thomas (38 yards) and Darren Sproles combined for only 55 total yards. Speaking of Sproles, let's throw out his 3-yard performance from Sunday ... just like we're inclined to erase his 107-yard, 2-TD performance from Week 7. By removing his best and worst outings, it's easier to label Sproles as a RB2 in PPR leagues ... but flex-only option in 12-team standard leagues.
Big Ben's recent TD slump is no reason to panic.
15. Let's keep Ben Roethlisberger's recent TD slump in perspective. As viewers of NFL Red Zone can attest, Roethlisberger (245 yards passing, 1 TD, 1 INT vs. Cincy) barely missed on two passing touchdowns against the Bengals -- one because Jerricho Cotchery (2 catches, 29 yards, 1 TD) momentarily paused on a route and one from a behind-the-defense overthrow that Mike Wallace (85 total yards; team-high 10 targets) nearly corralled anyway. So, it's not like Big Ben (12 outings of zero or one passing TDs in his last 16 games) isn't close to recapturing his greatness from Week 5 against the Titans (5 TDs); he's merely playing a secondary role in the red zone to Rashard Mendenhall (70 total yards, 2 TDs), who notched his first multi-TD game this season. Looking ahead to Weeks 15 (@ SF) and 16 (vs. STL), only injuries or blustery winter weather can preclude Roethlisberger from reaching 300 yards and riding athletic gems like Wallace and Antonio Brown (5 catches, 86 yards) to fantasy greatness in December.
16. Maurice Jones-Drew must have a sore back from carrying Jacksonville. It's not hard to figure out why the Jaguars must scramble to avoid a local TV blackout for 7-8 Sundays every year. Yes, the club has the indomitable Jones-Drew (147 total yards, 1 TD vs. Indy) and a down-the-road potential franchise QB in Blaine Gabbert (118 yards passing, 1 TD, 1 INT); but what's the excuse for fielding an eminently forgettable receiving corps? Chastin West (3 catches, 39 yards)? Mike Thomas (1 catch)? Jarett Dillard (2 catches, 30 yards)? Jason Hill (zero catches)? Would any of these wideouts start at Oklahoma State or USC? And how does one explain the disappearance of tight end Marcedes Lewis (1 catch, minus-4 yards), who's only 35 fewer receptions and 10 touchdowns off last year's superb pace. Look, no one's questioning the coaching prowess of Jack Del Rio, who has a knack for making winners out of modestly talented squads. But there's nothing stopping him or GM Gene Smith from drafting NFL-quality playmakers who don't line up at nose tackle or defensive end. They're allowed to pick potential stars on offense, too.
17. Fred Jackson knows how to bring sunshine to a 37-point drubbing. Even if the once-mighty Bills are falling to earth at an alarming speed, it's good to know Jackson (115 total yards) could satisfy fantasy owners with solid stats ... although he must have been super-motivated to score at new Cowboys stadium, built on a plot of land that once served as the boyhood home of Jackson's family. (Raze The Roof?) Instead, the lone Buffalo touchdown went to WR David Nelson (4 catches, 31 yards, 1 TD), whose ties to Dallas came in the game-ball form of dating one of the Cowboys cheerleaders -- a notable accomplishment on its own. In terms of stars for the fantasy-playoff period of Weeks 13-16, Jackson stands alone as the Bills' big cheese. At this point, it's hard to view QB Ryan Fitzpatrick (146 yards passing, 1 TD, 3 INTs), WR Steve Johnson (2 catches, 8 yards) or WR Scott Chandler (3 catches, 34 yards) as anything more than flex starters in deeper leagues ... although it'd behoove Fitzpatrick to embrace the sneaky-good skill set of WR Donald Jones (6 catches, 51 yards; team-high 10 targets). Jones could be an out-of-nowhere difference-maker for the stretch run, not unlike how Steve Johnson burst onto the scene last year.
18. It's tough to nitpick the Giants, fantasy-wise. OK, so maybe Brandon Jacobs (72 total yards) could have been a bigger factor in the running game Sunday (even though San Francisco hasn't allowed a 100-yard rusher since Gale Sayers -- or something like that); and maybe WR Hakeem Nicks (2 catches, 32 yards, 1 TD) could have drawn more than four targets in such a crucial game. But even with the Schedule From Hell in the season's latter half, Jacobs, Nicks, QB Eli Manning (311 yards passing, 2 TDs, 2 INTs), WR Victor Cruz (6 catches, 84 yards; team-high 11 targets) and WR Mario Manningham (6 catches, 77 yards, 1 TD; 10 targets) all deserve weekly starting consideration in 12- and 14-team leagues -- at least until Ahmad Bradshaw returns from a foot injury. Interestingly enough, I cannot find one trade suitor for Manning (four 300-yard games in 2011) in the 16-team Fantasy Philanthropist & Friends League ... where QBs who complete two passes in a 60-minute window curiously hold greater starting cach