November 21, 2011 -
Barry Dorey
Week 11 Revelations
Week 11 Revelations
1. Kevin Smith's rags-to-riches comeback story makes for great holiday-week media copy -- even if it won't necessarily boost his long-term fantasy stock. If the Lions weren't such a pass-heavy outfit (Exhibit A: Matthew Stafford's 335 yards/5 TDs against Carolina), if RB Jahvid Best (concussion) wasn't a good bet to return for Week 13, perhaps Smith's Sunday shakedown against the Panthers (201 total yards, 3 TDs) would be viewed in a different light. But it's hard to envision this street free agent (in 2010 and 2011) catching opposing defenses off guard for Weeks 12-16 ... to the tune of 150 yards and/or multiple touchdowns. Detroit has pass-catching obligations to fill with Calvin Johnson (5 catches, 89 yards; team-high 8 targets), Nate Burleson (7 catches, 63 yards, 1 TD) and TE Brandon Pettigrew (4 catches, 37 yards, 1 TD) before promising 20-plus touches to Smith or Maurice Morris (37 total yards). But that still won't stop owners from making Smith the No. 1 waiver-wire pickup this week ... on the hopes that he'll become the next out-of-nowhere asset to carry flawed teams to a fantasy title. Just like Jerome Harrison did with Cleveland in 2009 (561 rushing yards, 5 TDs in three games) -- the same Harrison whose unplanned absence from the Lions' active roster last month (brain tumor) paved the way for Smith's second tour-of-duty with Detroit.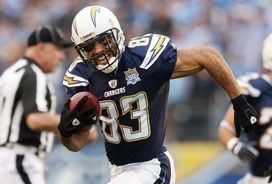 Vincent Jackson exploded against the Bears on Sunday.
2. If only fantasy owners had the chutzpah to start Vincent Jackson every other week. It has been since December 2009 -- spanning 16 games -- when Jackson (7 catches, 165 yards, 1 TD; team-high 9 targets vs. Chicago) last registered back-to-back 100-yard games; and yet, no one seems to question his status as a permanent starter in 12-team leagues or semi-regular lock for the minimum star threshold of 110 yards and/or one touchdown. Along those lines, no one seems concerned about the Chargers' real-world tailspin (five straight losses) and its fantasy effect on QB Philip Rivers (280 yards passing, 2 TDs, 2 INTs). Here's why: For every ill-advised San Diego punt/kick to Devin Hester, giving Chicago excellent field position ... for every baffling Rivers interception that sets up opposing teams for a quick score, it serves as yet another chance for the Chargers offense to right a previous wrong and pile up the yardage. That's why, during the fantasy-playoff period of Weeks 13-16, GMs must believe that RB Ryan Mathews (51 total yards), RB Mike Tolbert (38 total yards), WR Vincent Brown (1 catch, 8 yards) and TE Antonio Gates (4 catches, 63 yards, 1 TD) will bring the wood in December. With four fair-weather games during that time (three in warm climates, one indoors) ... it's a low-risk leap of faith for everyone involved.
3. Torrey Smith will be a November-December handful for any NFL defense that doesn't deploy bump-and-run coverage. Officially, Smith may not be the fastest player in the league (Chris Johnson?), but try rationalizing that to the helpless defenders of the Bengals secondary after Torrey's lightning-fast devastation (6 catches, 165 yards, 1 TD). Not bad for a kid who routinely plays the role of Option #3 when RB Ray Rice (147 total yards, 2 TDs) and WR Anquan Boldin (1 TD) are actively involved in the offensive game plan. It also speaks to the substantial improvement of QB Joe Flacco (270 yards passing, 2 TDs), in the wake of his Week 7 meltdown against the Jags. In a short period of time, Flacco has helped make Smith a weekly flex consideration in 12-team leagues (regardless of scoring) and a stealth home-run pick for owners who desperately need upside on a particular Sunday. Looking at the calendar, Smith's next day of fantasy reckoning (something like 120 yards/2 TDs) could come at Week 14 against the feckless Colts.
4. There may be no stopping the Victor Cruz Fantasy Train To Unheralded Success. It blows the mind to think of the fantasy all-star team one could have acquired without the use of a single draft pick from Rounds 1-10: Cam Newton, DeMarco Murray, Willis McGahee, Ben Tate, Jordy Nelson, Eric Decker, Jake Ballard and of course Cruz, whose 44 catches, 783 yards, 72 targets and five TDs since Week 3 merit a top-10 ranking amongst receivers. And while it helps his case that RB Ahmad Bradshaw (foot) and WR Hakeem Nicks (3 catches, 69 yards vs. Philly) have been battling injuries all season, Cruz (6 catches, 128 yards, 1 TD on Sunday) has easily morphed into one of football's best WR2s and arguably Eli Manning's favorite target during crunch time -- two observation-based facts that shall be noted before Wednesday's trade deadlines. Here's another thing to remember before the wheeling-and-dealing madness begins: If Brandon Jacobs (32 total yards) was such a perfect fit against the Eagles' suspect run defense, how did he garner only 15 touches on the night, sans Bradshaw? It's enough for fantasy GMs to wonder if rookie runner Da'Rel Scott is in line for sizable reps in the coming weeks.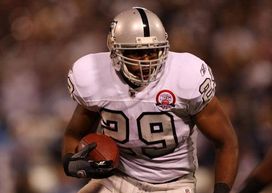 Michael Bush has been one of the fantasy world's top producers since Darren McFadden went down.
5. Darren McFadden owners should move heaven and earth to acquire Michael Bush this week. I'm not a doctor, nor do I play one on the Web. But is it possible that McFadden incurred a mid-foot sprain in Week 7 (Lisfranc injury?) and serves as a prime candidate for season-ending surgery? Is it possible the Raiders are squatting on an atomic bomb of big news until January? If not, what other explanation could be given for a star runner who didn't break his foot (or toe) being sidelined for the last four weeks ... with no timetable for return in the offing? The above worry-rant is precisely why any owner connected to Bush (129 total yards, 1 TD vs. Minnesota) would be crazy to trade him, without getting a star-laden haul in return. Bush is a top-10 back in standard-scoring and Points Per Reception leagues in McFadden's stead -- especially with QB Carson Palmer (164 yards passing, 1 TD) having no go-to receiver in a pinch. Do you know how many ankles have been broken in recent weeks with people jumping off the bandwagons of Darrius Heyward-Bey (4 catches, 43 yards), Chaz Schilens (1 catch, 11 yards, 1 TD) and now Denarius Moore (1 catch, 14 yards; only 2 targets)? Here's a reminder of something we already knew: Oakland is a run-first, run-second club; hence, your desire to keep (or trade for) Bush at (essentially) any cost.
6. Cam Newton is the fantasy gift that keeps on giving -- even on sour days. OK, so maybe Newton (317 total yards, 3 TDs, 4 INTs vs. Detroit) threw for only one score and posted a career-high in interceptions; and maybe he played a prominent role in Carolina surrendering a 17-point half lead and not earning its first road victory of the season. But on the bright side -- the fantasy side (duh) -- Newton helped both Jonathan Stewart (109 total yards) and DeAngelo Williams (105 total yards) crack the century mark in yards ... and guided four different pass-catchers -- Stewart, Steve Smith, Brandon LaFell, Legedu Naanee -- to 40-plus receiving yards. Bottom line: Slowly but surely, and sometimes painfully, the Panthers are evolving into a balanced attack, one that maximizes Smith/Stewart/Williams' diverse talents between the 20s and then feeds off Newton's uncanny nose for the end zone to finish drives. Through 10 games, Newton (9 rushing TDs) has eclipsed the minimum star threshold of 275 total yards and/or three TDs eight times, clinching his top-7 standing among quarterbacks. In other words, there will likely be no 'Rookie Wall' for this no-brainer starter in 10- or 12-team leagues.
Revelations, Book II
7. The Caleb Hanie era has started in Chicago -- like it or not. The news of Jay Cutler's broken thumb and likely need for surgery was a crushing blow to Cutler and Matt Forte owners, so much that Forte (81 total yards vs. San Diego) is no longer an automatic lock for the minimum star threshold of 120 total yards and/or two TDs; and whatever mojo that Johnny Knox (3 catches, 97 yards, 1 TD) and Earl Bennett (3 catches, 75 yards; team-high 9 targets) accrued on Sunday has been washed away, as well. With Hanie (66 career passing yards in two-plus seasons) running the offense, everything essentially starts from scratch. Yes, Forte and Marion Barber (23 rushing yards, 1 TD) should get more looks, and maybe backup receiver Dane Sanzenbacher incurs a scout-team fantasy bump from the Cutler-to-Hanie transition ... but there's no guarantee that Hanie (a hero of sorts in last year's NFC title game) will be on commensurate fantasy levels of Alex Smith or even Tyler Palko.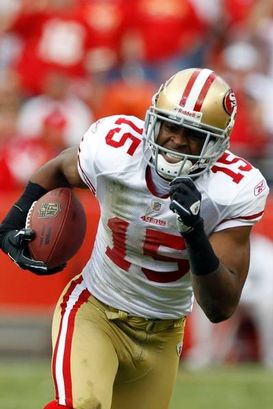 ICONHere comes Michael Crabtree.
8. Michael Crabtree's maturation as a bankable fantasy asset is nearly complete. It's common knowledge that Crabtree (7 catches, 120 yards vs. Arizona) sits third on the 49ers' fantasy food chain, behind RB Frank Gore (94 total yards) and TE Vernon Davis (6 catches, 57 yards, 1 TD); but no one knows if Crabtree is actually OK with that arrangement. Yes, the kid has demonstrated some diva tendencies in previous years, and yes, clunkers like last week's 1-catch outing against the Giants remain fresh in the mind; but from a mental and physical standpoint, Crabtree might have reached the point where 100-yard games and 10 weekly targets are demanded. Perhaps he's finally ready to dominate the scene. After all, it's not like the Niners are going to lean on Braylon Edwards (zero catches) or Kyle Williams (5 catches, 54 yards, 1 TD) during the fantasy-playoff period of Weeks 13-16 -- even if San Francisco has three easy clashes with St. Louis, Arizona and Seattle. It's Gore, Crabtree, Davis (10 targets), QB Alex Smith (284 total yards, 2 TDs) and nothing more ... which is weird to say about a viable Super Bowl contender.
9. Only Ice Bowl-like conditions at Lambeau can stop Jordy Nelson from killing it during the fantasy playoffs. We could chalk up Greg Jennings' Sunday disappearance (2 catches, 7 yards) to the Aqib Talib Effect or the Packers' willingness to jump-start a middling running game (James Starks racked up 91 total yards before spraining a knee). But the most plausible answer might be one that seemed inconceivable just six weeks ago: Jordy Nelson is Green Bay's best non-QB playmaker. In his last five games, Nelson (6 catches, 123 yards, 2 TDs vs. Tampa Bay) has amassed 22 catches, 457 yards and six TDs -- numbers that surpass Calvin Johnson, Mike Wallace, Wes Welker in that span and re-confirm Aaron Rodgers' brilliance in any kind of weather. Speaking of which, a certain fantasy guru needs to stop discounting Rodgers' potential during the blustery-weather period of Thanksgiving to the first Sunday of 2012. There's a reason why Rodgers (327 total yards, 3 TDs, 1 INT) is a lock for NFL MVP; there's a reason why the Packers are cruising at 10-0 (and 16 straight overall); and there's a reason why Rodgers will be the No. 1 pick for NFL-playoff fantasy leagues come January. He's the rare fantasy Godzilla who meets or exceeds the hype every single week.
10. Who needs Manning, Brady or Vick for the fantasy playoffs when Andy Dalton can bring home a title, too? The bolded proclamation has less to do with Dalton's ambitious outing against the Ravens (405 total yards, 1 TD, 3 INTs) ... and everything to do with the Bengals' fortuitous schedule for Weeks 15 (@ STL) and 16 (vs. ARI). How can a high-end rookie who racked up 373 passing yards against one of the NFL's best defenses, without A.J. Green, possibly fail against two NFC West pretenders? It's the type of easy-cheesy slate that should motivate risk-taking GMs to deal Eli Manning or Ben Roethlisberger before the trade deadline -- getting an elite back or receiver in return -- and put all their championship stock into Dalton's capable hands. Of course, it remains to be seen if WR Jerome Simpson's monster day (8 catches, 152 yards; team-high 13 targets) was the result of Green's one-game absence (knee), or the red-zone viability of RB Cedric Benson (41 rushing yards, 2 TDs)? Or both. Or maybe Simpson (either 100 yards receiving or 1 TD in his last four games) just grew weary of being lauded one week ... and a huge disappointment the next.
11. Sunday's Jags-Browns clash was a study in fantasy roadkill ... and one more example of NFL Red Zone's versatility. If we could get Factory of Sadness Guy to stand outside Jacksonville's EverBank Field and replicate his Browns rant from two weeks ago ... then we'd have all the bases covered with the two worst teams in fantasyland. Outside of Maurice Jones-Drew (118 total yards, 1 TD), there's not one speck of usefulness with the Jags -- including Blaine Gabbert (210 yards passing, zero TDs), WR Jason Hill (3 catches, 49 yards), WR Mike Thomas (3 catches, 23 yards; 11 targets) and even TE Marcedes Lewis, who established season-highs in catches (7) and receiving yards (64) on Sunday. (Ouch.) The same holds true for the Browns, especially if Montario Hardesty and Peyton Hillis (possible Week 12 returnees) can successfully cut into the touches of third-string RB Chris Ogbonnaya (134 total yards, 1 TD vs. Jacksonville). At this point, perhaps Cleveland should run the ball 50 times a game -- splitting carries amongst Hillis, Hardesty and Ogbonnaya -- before letting the goal-line defense seal the victory.
12. Let's keep the Dolphins' 35-point explosion against the Bills in perspective. Not to be the cousin of Debbie Downer here, but how did Miami roll for 35 points and a 27-point spread on only 242 total yards ... and one catch for Brandon Marshall (5 yards)? It's almost like the imploding Bills were waiting for the first sign of trouble before packing it in against the Dolphins, who saw modest gains from QB Matt Moore (160 yards passing, 3 TDs), Reggie Bush (66 total yards, 1 TD), RB Daniel Thomas (50 total yards), WR Davone Bess (2 catches, 25 yards, 1 TD) and fullback Charles Clay (4 catches, 69 yards, 1 TD) in their third straight win. But since this is a fantasy column, it's best to focus on Marshall's prospects for the stretch run: Sunday's 1-catch, 3-target snoozefest may have come at a perfect time, as savvy owners now have wiggle room to acquire Marshall (54 catches, 747 yards, 2 TDs in 2011) for pennies on the dollar ... even though he was the fantasy equal to Anquan Boldin, Jeremy Maclin, Roddy White and Vincent Jackson heading into Week 11.
Head to Page 2 for more Revelations!