November 28, 2011 -
Jay Clemons
Week 12 Revelations
Week 12 Revelations
1. It's hard to feign surprise with Chris Johnson's recent run of fantasy success. We'll kick off today's Revelations with a simple, but memorable premise for handling Johnson at this point: He's too good and too fast and too necessary to Tennessee's playoff chances to be benched in 10- or 12-team leagues ... so why even flirt with the possibility of missing out on 190 yards rushing from week to week? OK, so maybe Johnson (193 total yards vs. Tampa Bay) had the luxury of playing in near-monsoon conditions Sunday -- essentially de-emphasizing the Titans' passing attack -- and maybe the offensive linemen were highly motivated to reverse head coach Mike Munchak's candid thoughts about their blocking acumen; but whatever struggles Johnson endured in the season's first half have long been replaced by realistic thoughts of 120 total yards and 1 TD for Weeks 13-16. With dates against Buffalo, New Orleans, Indianapolis and Jacksonville on the horizon, Johnson (110-plus yards in three of his last four games) is a good bet for 530 total yards and four TDs in the next 26 days -- even if Titans QB Matt Hasselbeck fires off a few more scoring beauties like this.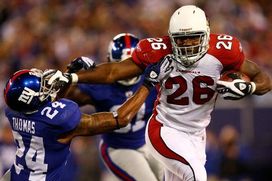 Beanie Wells went to work on Sunday and put up some monster numbers.
2. Beanie Wells would like the fantasy universe to know his once-balky knee is A-OK. Short of the NFL granting a third Cardinals-Rams clash for the regular season (not going to happen), Wells likely won't repeat his franchise-record 228 rushing yards again this year. But that shouldn't be a concern in fantasyland: For the GMs whose trade deadlines have yet to pass, there will never be a better time to sell-high on Wells (just 300 rushing yards from Weeks 5-11); and for Beanie's prospective owners, a fantasy back is only as good as his last outing. (How's that for rationalization?) Simply put, everyone should be excited about Wells' prospects for the next four weeks -- three straight home games against Dallas, San Francisco, Cleveland and one trek to Cincinnati -- especially if QB Kevin Kolb returns to the lineup and adds value to WR Larry Fitzgerald (3 catches, 55 yards; team-high 9 targets). Which brings us to this: In the wake of John Skelton's brutal Sunday performance (132 total yards, zero TDs, 2 INTs), why didn't the Rams continually put eight or nine defenders in the proverbial 'box'? Were they fearing a breakout from Early Doucet (1 catch, 14 yards) and Andre Roberts (2 catches, 14 yards) ... or just another twice-deflected TD reception for Fitzgerald?
3. Reports of Roddy White's fantasy demise have been greatly exaggerated. On a day when Michael Turner (64 total yards) and rookie WR Julio Jones (zero catches) were mere mortals, in a game where the Falcons raced to a quick 17-0 lead and could have easily gone ultra-conservative in the second half, White (10 catches, 120 yards, 1 TD; team-high 13 targets vs. Minnesota) still dominated the competition and justified his standing as a high Round 2 pick in August. Is it too late for White (back-to-back 100-yard games) to reclaim his status as a top-5 receiver by season's end? Probably. But it's also reasonable to say that Roddy should average 7 catches/85 yards/0.5 TDs in the next four weeks (Houston, Carolina, Jacksonville, New Orleans) -- with only one of the games played outdoors. A few reasons to believe: QB Matt Ryan (262 yards passing, 3 TDs) has racked up 300 yards or multiple TDs in his last four games and TE Tony Gonzalez (9 catches, 69 yards) and WR Harry Douglas (2 catches, 45 yards, 1 TD) are wreaking enough havoc to discourage any White double teams or many 8-men-in-the-box fronts to combat Turner.
4. If only the Redskins could commit to Roy Helu on a week-in, week-out basis. Head coach Mike Shanahan and offensive coordinator Kyle Shanahan have a real opportunity for growth in Week 13 ... even if it belies their reputation for over-thinking and outsmarting themselves when preparing a game plan: Ride Helu (162 total yards, 1 TD vs. Seattle) when running the ball, target TE Fred Davis (4 catches, 58 yards, 1 TD) as much as possible in the red zone ... and everything else will seamlessly fall into place. For a club that employs QB Rex Grossman (314 yards passing, 2 TDs, 2 INTs) and WR Jabar Gaffney (5 catches, 72 yards) on a regular basis, the Redskins should feel obligated to feature Helu and Davis at every turn; and yet, we're left to wonder if Helu or Ryan Torain or Evan Royster will log the most tailback touches against the Jets next week? It's this kind of uncertainty that relegates Helu to the fantasy bench ... even if he's a more explosive option than Indy's Donald Brown -- or the New England back who rode Tom Brady's coattails to two gift-wrapped TDs near the goal line.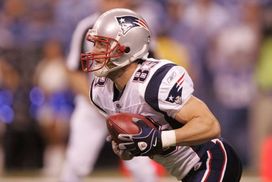 ICONAfter a quiet few weeks, Wes Welker exploded against the Eagles.
5. It's hard to get a read on the Patriots' expansive fantasy potential for Weeks 14-16. Under no circumstances would anyone bench Brady (389 total yards, 3 TDs vs. Philly), TE Rob Gronkowski (4 catches, 59 yards, 1 TD) or Wes Welker (8 catches, 115 yards, 2 TDs; team-high 12 targets) during the fantasy playoffs; but it is fair to wonder if RB BenJarvus Green-Ellis (44 total yards, 2 TDs), WR Deion Branch (6 catches, 125 yards; 10 targets) or TE Aaron Hernandez (6 catches, 62 yards) warrant a similar courtesy during that crucial stretch (@ WSH, @ DEN, vs. MIA)? All three games will be played outdoors -- perhaps in blustery winter weather -- and the Broncos and Dolphins have been particularly stingy on defense since Week 8 (less than 16 points allowed per game). Perhaps we'll spend another week chewing on that question, as the Patriots prepare to bludgeon the winless Colts ... while titillating Vegas with a point spread that could exceed 20. Whoa!
Revelations, Book II
6. Thank goodness this is a fantasy column ... and not a forum for mocking Steve Johnson's immaturity. It was never my intention to lecture or degrade Johnson (7 catches, 85 yards, 1 TD) for his inappropriate TD dance or deflating drop of a likely TD pass in the fourth quarter of the Bills' tough loss to the Jets. (NBC's Bob Costas already took care of that.) But it also bears noting that, prior to Sunday, Johnson had pulled down only seven catches for 291 yards in his previous seven games -- an eminently forgettable stretch that should have humbled Johnson enough to prevent an ill-advised (and spontaneous?) mimicry of Plaxico Burress's gun-arrest incident from 2008 ... resulting in a crucial 15-yard penalty on the subsequent kickoff (fueling a Jets TD). In the course of Buffalo's four-game losing skid, QB Ryan Fitzpatrick (297 total yards, 3 TDs vs. the Jets) has also taken his lumps; but fantasy owners should also be heartened by Fitzpatrick's efforts to pull off Sunday's near-upset ... and willingness to rely on RB C.J. Spiller (70 total yards), TE Scott Chandler (6 catches, 50 yards), WR David Nelson (5 catches, 47 yards, 1 TD) and Brad Smith (4 catches, 77 yards, 1 TD) during crunch time. Verdict: Fitzpatrick would be a sneaky-good starter for Weeks 13 (vs. Tennessee) or 14 (@ San Diego).
7. There is no excuse for benching Brandon Lloyd in PPR leagues. Think of all the love Lloyd (5 catches, 74 yards, 1 TD vs. Arizona) would be getting if he played on a pass-happy playoff contender ... or if the Rams had a quarterback who wasn't worthy of the curiously apropos moniker, Binary Code. For Lloyd to amass 71 targets in six games (tops in the NFL) and four TDs in his last five games (ranking 3rd among wideouts during that span) has been nothing short of spectacular, and yet, I'm still flooded with Twitter questions of whether Lloyd deserves a flex-starter slot over Shonn Greene, Denarius Moore, James Starks or Earl Bennett. The short answer is, of course, yes. The more definitive answer is this: As long as Steven Jackson (78 total yards) is operating at full capacity and Sam Bradford (203 yards passing, 1 TD) has complete use of his right arm/shoulder, Lloyd will remain a threat for 8 catches/90 yards/1 TD in a Josh McDaniels offense -- regardless of the opponent or how replaceable Austin Pettis (3 catches, 45 yards), Lance Kendricks (3 catches, 37 yards) or Brandon Gibson (2 catches, 30 yards) may seem at this stage of their development. Which brings us back to Bradford: He'll undoubtedly be a stud someday; but there's no rhyme or reason to the current 14-game malaise of zero or one touchdowns. As a result, there is just cause for keeping him on the fantasy bench for Weeks 13-16.
8. Tim Tebow will neither be celebrated nor disparaged in this column ... even if he leads the Broncos out of the doldrums and into the playoffs. As stated in previous Revelations, Tebow (210 total yards, 1 TD vs. San Diego) is essentially a lock for 180-230 total yards and 1.5 TDs every Sunday -- numbers befitting of a fantasy backup and usually not a potential real-world MVP IF Denver rallies from a 1-4 start to capture the AFC West title. But that's the confounding nature of this unwavering energy source: Tebow may struggle to notch 10 completions in a game, but he's also responsible for the ascension of RB Willis McGahee (117 rushing yards) in recent weeks. Tebow may have unwittingly devalued the prospects of wideouts Demaryius Thomas and Eddie Royal (zero catches for both), but his favorite target, Eric Decker (3 catches, 65 yards, 1 TD), has morphed into a flex-start consideration in 12- and 14-team leagues for Weeks 13-16 -- since we already know that Decker (8 TDs in 2011) is the primary beneficiary to Tebow's lone scoring pass for the week.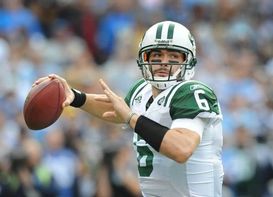 ICONSanchez quieted some of his critics on Sunday, throwing four touchdown passes.
9. Mark Sanchez deserves more fantasy respect by the day. While it's true that Plaxico Burress and Santonio Holmes both hit end-zone paydirt against the Bills and Shonn Greene played admirably without LaDainian Tomlinson (knee) sharing the touches ... one can't shake the feeling of, Are these big names dependable contributors in the fantasy realm? Dustin Keller (4 catches, 61 yards, 2 TDs), a notorious feast-or-famine asset at tight end, hadn't scored since Week 2 (prior to Sunday) and already has four games of two or less catches. Plax and Holmes combined for only six catches and 76 yards on Sunday ... and Greene (90 total yards) produced just his third-best yardage day of the season. Which brings us to Sanchez (180 yards passing, 4 TDs): Yes, he's thrown some horrible INTs this year -- last week's game-changing pick-six comes against Denver comes to mind -- but he also ranks in the top half of signal-callers throughout the league. Looking for a stealth QB during the playoffs? Sanchez (21 TDs in 2011) is a good bet to dissect the Chiefs, Eagles and Giants in Weeks 14-16 ... even if Burress, Holmes, Greene and Keller are merely complementary pieces along the fantasy bench.
10. Don't fall asleep on Mike Williams during the fantasy playoffs. As detailed in the Brandon Lloyd stanza, targets are everything to gurus who make a living predicting the future; and by subtracting Weeks 2 and 10, Williams (6 catches, 84 yards, 1 TD vs. Tennessee) has attracted at least eight targets in every other game -- including 22 the last two weeks. Bottom line: The Bucs (4-game losing skid) may be headed for a desultory finish to the season, but Williams, RB LeGarrette Blount (159 total yards) and QB Josh Freeman (209 total yards, 1 TD) shouldn't be taken lightly down the stretch. The same holds true for Kellen Winslow (5 catches, 52 yards) in a top-heavy, middle-soft tight end class. Each playmaker is capable of posting monster numbers at some point in the next four weeks -- particularly the two dates with the Panthers ... a defense that's surrendered rushing TDs at a noticeable rate and boosting duds like Curtis Painter on gray November afternoons.
11. Let's keep a little perspective on Reggie Wayne and DeAngelo Williams. There's a reason why Wayne (5 catches, 122 yards, 1 TD vs. Carolina) currently resides on waivers in my 14-team PPR experts' league for Yahoo! Sports (although that will change on Wednesday) ... and there's a reason why Williams (69 total yards, 2 TDs vs. Indy) has been running a distant third with the Panthers' ground attack this season. Neither star has enough power to reverse the trends of the first 11 weeks ... and one stellar Sunday in Indy probably won't bring substantial change to their overall situations. After all, Wayne only has one double-digit targets effort since Week 3 -- the time when Painter (226 yards, 1 TD, 2 INTs) took command of the Colts offense -- and Williams must continually wrangle for touches with QB Cam Newton (261 total yards, 1 TD) and RB Jonathan Stewart (82 total yards). That aside, Wayne and Williams are cer tainly roster-worthy from this point forward; and who knows ... perhaps Wayne will notch a TD or two against the Patriots next weekend -- given the seemingly plentiful opportunities for garbage-time scoring in the second half.
Check out more Week 12 Revelations on Page 2!