December 05, 2011 -
Jay Clemons
Week 13 Revelations
Week 13 Revelations
1. Let the good times roll for Chris Johnson all the way through Christmas. The NFL talking heads must be racking their brains today, trying to find a viable reason -- separate from Johnson's recent explosion -- for the Titans' 7-5 mark and prominent place in the AFC playoff push. Matt Hasselbeck throwing for only 140 yards and zero touchdowns? Damian Williams leading receivers with just four catches and 62 yards? Tennessee's offense converting on just 2-of-11 third-down opportunities ... and the defense surrendering 397 net yards to a Buffalo team that doesn't have Fred Jackson? Lucky for us, this stanza begins and ends with Johnson (157 total yards, 2 TDs), whose per-game average of 133 total yards since Week 9 (including a 28-yard debacle against Atlanta) represents a fair baseline of expectations for Weeks 14 (vs. New Orleans), 15 (@ Indy) and 16 (vs. Jacksonville). In other words, with all apologies to Ray Rice, LeSean McCoy and Arian Foster, Johnson will be the most devastating rushing talent during the fantasy playoffs -- bar none. How's that for a reward to every fantasy owner who stuck by Johnson during the lean months of September/October ... or stealthily traded for him just seconds after Tennessee's Week 5 loss to Pittsburgh?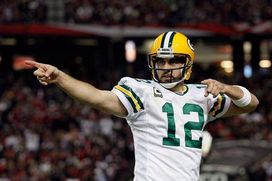 At this point, what more can we say about Aaron Rodgers?
2. We're running out of superlatives to describe Aaron Rodgers ... and the Giants' triumvirate of Manning, Cruz and Nicks. Before we dive into the fantasy aspect of Sunday's classic at MetLife Stadium, let's acknowledge the following: With Oakland, Kansas City, Chicago and Detroit left on the docket, 12-0 Green Bay is a 100-percent lock to finish the regular season undefeated ... even if head coach Mike McCarthy sits Rodgers (401 total yards, 4 TDs vs. New York) after three quarters of every game. The Packers are simply too good and too deep to fall against four clubs that aren't necessarily finishing with a bang. But since this is a fantasy column, we won't debate the pros/cons of Green Bay pulling an Indy, circa 2009, and depriving its fan base of the rare opportunity to become the NFL's second perfect club in the Super Bowl era; instead, we'll happily report that Rodgers, WR Greg Jennings (7 catches, 94 yards, 1 TD; team-high 14 targets), WR Jordy Nelson (4 catches, 94 yards), TE Jermichael Finley (6 catches, 87 yards, 1 TD; 11 targets) and even venerable wideout Donald Driver (4 catches, 34 yards, 2 TDs) are excellent plays for Weeks 14-16. (Rodgers, by the way, led the Packers in rushing Sunday -- 32 yards.) As for the Giants ... Eli Manning (347 yards, 3 TDs, one ill-advised pick-six), WR Victor Cruz (7 catches, 119 yards) and WR Hakeem Nicks (7 catches, 88 yards, 2 TDs) are automatic starters -- regardless of scoring format. The same may hold true for RB Ahmad Bradshaw (47 total yards), who played admirably in his first game back from a nasty foot injury. Assuming there are no setbacks leading up to the Week 14 clash with the Cowboys, Bradshaw should fare markedly better the second time around.
3. You better have a darn good reason for benching Percy Harvin during the fantasy playoffs. Here's a simple message for anxious GMs who put wayyyyyyyyyyy too much stock into players missing a midweek practice in December: Specific to Harvin's case, stop reading the injury reports on Wednesday ... or Thursday ... or Friday! At this point in the season, especially with Adrian Peterson out with an ankle injury, no bout with the flu or tweaked rib cage or general soreness can prevent Harvin (175 total yards, 2 TDs vs. Denver) from being a reliable fixture in the Vikings offense. Harvin's simply too good, too fast and too focused to be slowed by anything that doesn't rhyme with schmigraine; and as a result, fantasy owners would be foolish to sideline him for Round 1 of the playoffs. In fact, with upcoming games against Detroit, New Orleans and Washington, Harvin (9 targets on Sunday) should be a no-brainer starter in all scoring formats. Unfortunately, the same stance doesn't apply to RB Toby Gerhart (133 total yards), QB Christian Ponder (393 total yards, 3 TDs, 2 INTs) or WR Devin Aromashodu (6 catches, 90 yards; team-high 15 targets). Yes, they're making noticeable strides at such a crucial juncture, but none of the trio has cultivated a sustainable level of excellence and should only be considered emergency starters in deeper leagues.
4. Fantasy owners could do worse than Tim Tebow at QB; they could also do a lot better. The following comments have nothing to do with Tebow's 6-1 record as a starter, Denver's first five-game road winning streak in ages, Tebow's beautiful sideline pass to Demaryius Thomas late in the fourth quarter, or that the Broncos are tied for first in the AFC West. From a fantasy perspective, Tebow's upside for this season doesn't extend much beyond Sunday's production against the Vikings (215 total yards, 2 TDs) -- respectable numbers, but none that should hold great value when choosing starting lineups for Weeks 14 (vs. Chicago), 15 (vs. New England) or 16 (@ Buffalo) ... unless Rex Grossman, Caleb Hanie, Tarvaris Jackson or Kevin Kolb are entrenched starters. Bottom line: Tebow may have located another weapon outside of Eric Decker for one three-hour stretch -- namely Thomas (4 catches, 144 yards, 2 TDs; team-high 7 targets) -- but it's far too late to develop a man-crush on a talented, but still-erratic receiver for the fantasy playoffs. Especially with offenses that boast only 10 completions over 60 minutes. Right now, a healthy Willis McGahee (111 total yards, 1 TD) is the only fantasy must-start against the Bears and Patriots.
5. And now for the Masters Of The Obvious portion of today's Revelations ... when discussing Lions-Saints. Do we even need to assess the fantasy planes of QBs Drew Brees (342 yards passing, 3 TDs vs. Detroit) or Matthew Stafford (408 yards passing, 1 TD, 1 INT) after Sunday's air assault? Each star has the capacity to singlehandedly advance teams in next week's playoffs ... which should frighten their Week 14 fantasy foes. Here's another scary thought: Calvin Johnson (6 catches, 69 yards) and Marques Colston (6 catches, 54 yards) have gone a combined 13 straight weeks without recording multiple touchdowns -- suggesting a monster effort can't be too far away. On a relative scale, the same holds true for tight ends Jimmy Graham (8 catches, 89 yards) and Brandon Pettigrew (2 catches, 13 yards): Assuming Pettigrew doesn't get suspended for illegally touching an official ... both pass-catchers should collect scores against the Titans and Vikings in Week 14, respectively. Speaking of improper contact, it's probably best for fantasy owners to focus on Nate Burleson (5 catches, 93 yards) making nifty receptions on all three calls for offensive pass interference -- and not the senseless infractions. That level of concentration has some value, right?
Revelations, Book II
6. Hmmmm ... perhaps Ray Rice will fulfill my summertime prophecy of 2,000 total yards after all. You know we're having a superb Revelations when Rice rolls for 214 total yards against Cleveland ... and only gets to bat leadoff in Book II. But then again, it's not like his 204 yards on the ground came as a complete surprise. Prior to Sunday, the Browns ranked 29th against the run; and Rice's next two opponents (Colts, Chargers) rank 31st and 25th in the same category. That's essentially a license to steal chunks of yards at a time for Rice (11 TDs in 2011) and the conservative Ravens, who have a knack for morphing into a run-first, run-second superpower when the calendar hits December. That isn't to say QB Joe Flacco (158 yards passing, zero TDs), WR Anquan Boldin (2 catches, 32 yards; only 4 targets), WR Torrey Smith (1 catch, 32 yards) or even TE Ed Dickson (3 catches, 47 yards) won't be starting considerations during the fantasy playoffs ... it just means they'll be taking a backseat to Rice (and maybe Ricky Williams) during the money-time phase of the season. There's no more bankable asset than Rice.
7. Roy Helu is the Redskins' only fantasy hope if Fred Davis waves bye-bye to the final four games. That bolded introduction isn't necessarily a death blow to WR Santana Moss's chances for sneaky-good success during the fantasy playoffs; after all, Moss (5 catches, 42 yards) drew 12 targets against the Jets and will likely serve as Rex Grossman's favorite wideout for Weeks 14-17. But let's be honest: Neither Moss nor Jabar GaffneyMike Shanahan acknowledge that Helu should average 22-25 touches during that span. Assuming that occurs, Helu is a must-start in all scoring formats -- especially Points Per Reception leagues.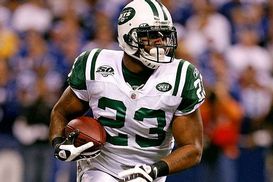 Shonne Greene ripped off a monster on Sunday.
8. Our thumbs-up endorsement of Shonn Greene for the fantasy playoffs has little to do with his 3-TD explosion against the 'Skins. Frankly, I'm surprised the Jets notched 34 points against a respectable Washington defense, including 21 in the final quarter. It's a confounding breakout for a big-name club that really doesn't have a glut of bankable fantasy assets (aside from the defense). Sure, Santonio Holmes (4 catches, 58 yards, 1 TD; team-high 8 targets vs. Washington) is rock-solid in clutch situations and QB Mark Sanchez can never be counted out for three or four touchdowns on a given Sunday; but there's just too much sporadic production from WR Plaxico Burress (3 catches, 33 yards) or TE Dustin Keller (3 catches, 12 yards) to warrant starting consideration for Weeks 14-16. Which brings us to Greene (114 total yards on Sunday) ... who has posted respectable-to-stellar numbers in seven of his last eight games and serves as a poor man's Chris Johnson from this point forward. Bottom line: Forget about Greene's September/October malaise and focus on his capacity for 90 total yards/1 TD against the Chiefs, Eagles and Giants.
9. The Colts may have found their quarterback of the future -- as in the next four weeks. There are many positives to derive from Indy's performance against New England ... without even detailing how easily the Colts covered the Vegas betting line of 20.5 points. Not only did Indy tally better numbers in total yards (437-362) and first downs (26-24), but QB Dan Orlovsky (353 passing yards, 2 TDs -- only seven incompletions) likely clinched a spot on an NFL roster next year, a significant assumption since the Colts probably won't have room for an expensive third-string quarterback in 2012, when both Peyton Manning and Andrew Luck come into play. But that's a conversation for February. Right now, fantasy owners are only worried about whether Orlovsky, RB Donald Brown (56 total yards, 1 TD), Pierre Garcon (9 catches, 150 yards, 2 TDs), Reggie Wayne (5 catches, 55 yards), Austin Collie (7 catches, 70 yards) or even TE Jacob Tamme (5 catches, 49 yards) are starter-worthy assets in the next few weeks. The across-the-board answer for Weeks 14 (@ Baltimore) and 16 (vs. Houston) is no. But for Week 15 against the Titans, feel free to start Garcon, Brown or Wayne in the flex spot for 12-, 14 and 16-team leagues. That game has scoring aplenty written all over it.
10. There are no easy answers for Steven Jackson's recent vanishing act. OK, so no one expected Jackson (583 rushing yards, 3 TDS from Weeks 6-10) to break the century mark in rushing yards against the 49ers, the NFL's stingiest defense; but 30 total yards ... on a day where QB A.J. Feeley (156 yards, zero TDs, 1 INT) and the Rams absolutely needed a running game to be competitive? If Jackson's not injured, and offensive coordinator Josh McDaniels hasn't been incapacitated when calling plays, then how does S-Jax only have 173 total yards since Week 11 (on 49 touches)? Before this slump, he was a lock for the RB2 or flex spots in 12-team leagues -- no questions asked; but now, it's fair to wonder if Jackson should even be a no-brainer starting consideration for the lucky owners who reach Rounds 2 and 3 (Weeks 15-16). In the meantime, start S-Jax against the Seahawks in Week 14 and pray for a rebound; and then start Brandon Lloyd (1 catches, 34 yards) ... once the sting of Sam Bradford's Sunday absence (ankle) and Lloyd's microscopic two targets against San Fran dissipate.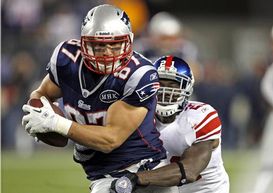 Another week, another big effort from Rob Gronkowski.
11. Thank goodness no one's losing sleep over the Patriots' running game. Let's keep this one short and sweet: Heading into the fantasy playoffs, it'd be criminal to bench QB Tom Brady (296 total yards, 2 TDs vs. Indy), WR Wes Welker (10 catches, 110 yards; team-high 11 targets) or TE Rob Gronkowski (5 catches, 64 yards, 3 total TDs) for any reason, shallow or substantive; and on the flip side, none of the New England tailbacks deserve you r full attention when contemplating the all-important starting lineups for 10- or 12-team leagues. Not BenJarvus Green-Ellis (14 total yards, 1 TD), not Shane Vereen (DNP on Sunday), not Stevan Ridley (team-high 33 rushing yards). On the surface, that seems like a harsh stance to take with Green-Ellis (3 TDs in two weeks) ... at least until we can view Gronkowski's rushing TD in the proper light: For those scoring at home, Gronkowski (65 catches, 928 yards, 13 TDs in 2011) is now a red-zone vulture for Deion Branch (3 catches, 37 yards), Aaron Hernandez (7 catches, 43 yards) ... and Green-Ellis.
Head over to Page 2 for more Revelations!