December 12, 2011 -
Barry Dorey
Week 14 Revelations
With roughly 60 percent of fantasy owners eliminated from championship contention on this Monday of Week 14 -- either from a disheartening Round 1 exit or missing the postseason altogether -- we're going to handle the season's final two Revelations in a slightly different manner.
Week 14 Revelations
1. The one-man wrecking crew of Maurice Jones-Drew either made -- or ruined -- your fantasy weekend. If only the bumbling Buccaneers had some advance warning that Jones-Drew (136 total yards, 4 TDs) was the Jaguars' best player and greatest week-to-week hope for victory ... perhaps this timely devastation could have been curtailed. But only team personnel equipped with newspapers, magazines, computers, Web capabilities, satellite sports radio or access to NFL Films highlight videos would have known that Jacksonville's supporting cast meekly comprises zero elite wideouts, an occasionally relevant tight end (Marcedes Lewis -- 2 catches, 77 yards) and embattled rookie quarterback (Blaine Gabbert), who's hardly a lock to be the opening-day starter next season, Sunday's decent effort notwithstanding (217 yards passing, 2 TDs, 2 INTs). Can you tell that I'm one of the hundreds directly scorned from MJD's monster afternoon against Tampa Bay (37 standard points, 43 Points Per Reception league points)? It goes without saying: Against Atlanta and Tennessee (Weeks 15/16), Jones-Drew is a potentially explosive asset for 10-, 12- and 14 team leagues.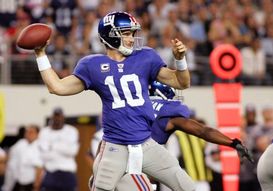 ICONEli Manning continues to pile up the points for savvy fantasy owners.
2. Eli Manning has earned the right to be drafted ahead of his famous brother next summer. Remember back in early October, when Eli had finally broken his seven-year drought of passing for 300 yards in consecutive games? Well, it has now gotten to the point where fantasy owners should be shocked if Manning (400 yards passing, 2 TDs vs. Dallas) isn't hitting the 330-mark every week, even if the Giants' three-headed rushing attack (Brandon Jacobs, Ahmad Bradshaw, Danny Ware) appears stronger than ever. That's the confounding thing about New York's offense: Head coach Tom Coughlin may look like the most conservative man in America ... but he also allows his coaches freedom to ride the golden arm of Manning and stellar hands of WR Hakeem Nicks (7 catches, 154 yards; team-high 10 targets), WR Victor Cruz (7 catches, 83 yards), WR Mario Manningham (2 catches, 62 yards, 1 TD) and TE Jake Ballard (4 catches, 52 yards, 1 TD) during crucial games. As for Eli (4,105 yards passing, 25 TDs in 2011), you already know he's a top-5 quarterback and automatic starter for the stretch run (even Week 16 vs. the Jets) ... but he's also a likely Round 4 gem next August -- roughly 12-18 picks ahead of Peyton Manning (perhaps the greatest QB of all time). How's that for progress?
3. Good luck slowing down the Saints for Weeks 15 and 16. Playing outside and on a notoriously uneven surface at LP Field in Nashville, neither QB Drew Brees (343 total yards, 2 TDs vs. Tennessee), WR Marques Colston (7 catches, 105 yards, 2 TDs) nor RB Darren Sproles (91 total yards; 16 PPR points) were expected to be high-end fantasy achievers this weekend; and yet, that's exactly how things broke for the Big Three, with tight end Jimmy Graham (5 catches, 55 yards; team-high 9 targets) and tailbacks Christopher Ivory (53 yards) and Pierre Thomas (57 total yards) assuming secondary roles against the Titans' formidable defense. The expectations for Weeks 15-17, in turn, have been restored to their typically ambitious levels: With three straight dome games to finish the season (@ Minnesota next week, two home games), fantasy owners should expect modest-to-monster numbers from the above Saints -- particularly Brees, as he approaches Dan Marino's NFL record for seasonal passing yards (5,084).
4. Rob Gronkowski has already cemented his standing as a Round 2 pick next August. Just like the Saints, there really isn't much mystery to the Patriots' fantasy travails: QB Tom Brady (357 passing yards, 3 TDs vs. Washington), WR Wes Welker (7 catches, 86 yards, 1 TD; 10 targets) and Gronkowski (6 catches, 160 yards, 2 TDs; 10 targets) are rubber-stamped starters regardless of opponent or weather ... with everyone else -- including RB BenJarvus Green-Ellis (19 total yards) -- serving as week-to-week considerations. But prior to Sunday, very few gurus had taken an official stance on Gronkowski (15 receiving TDs this season -- the most for a tight end in NFL history) and his 2012 stock: Forget loading up on running backs in Rounds 1-3 (usually an admirable strategy). If Gronkowski is available in the first 24 picks, you grab him and Brady (4,273 yards passing, 33 TDs) in consecutive rounds -- creating the perfect QB-TE handcuff -- and let everything else fall in place. Is Gronkowski a lock for 15 touchdowns every season? Of course not. He may collect 20 someday.
5. Faithfully ride Shonn Greene's hot streak for another two weeks -- even if no one can really explain it. Perhaps Greene (187 total yards, 1 TD vs. Kansas City) found the Poor Man's Chris Johnson label insulting (or flattering), or maybe the Chiefs are simply one of the NFL's most inept clubs. Either way, it was great to see Greene roll for season highs in rushing (129) and receiving (58) for Round 1 of the playoffs, while giving QB Mark Sanchez (185 total yards, 4 TDs) some wiggle room to flourish, as well. Which brings us to this: With games against the Eagles and Giants on the horizon, Greene is a healthy lock for 250 combined yards and one touchdown -- numbers befitting of a flex starter in 12-team leagues ... and RB2 in 14-teamers. Unlike TE Dustin Keller (4 catches, 34 yards; team-high 5 targets), RB LaDainian Tomlinson (64 total yards, 1 TD), WR Santonio Holmes (2 catches, 12 yards, 1 TD) or even the schizophrenic Sanchez, only Greene stands as the Jets' lone lock from this point forward.
6. You simply don't bench Larry Fitzgerald in a highly pressurized setting. Ever. There's a reason why Fitzgerald (7 catches, 149 yards, 1 TD vs. San Fran) is a surefire Hall of Famer and perhaps the greatest receiver of the new century. Regardless of whether Kevin Kolb (injury casualty) or John Skelton (307 total yards, 3 TDs, 2 INTs) sits behind center for Arizona, there's an excellent chance Fitzgerald (team-high 9 targets) will rise above it all to post stellar numbers. Similar to RB Beanie Wells (30 total yards), Fitzgerald isn't immune from the occasional clunker; but fickle fans and skeptical experts can really do damage by trying to guess when Fitzger ald will be a dud -- like when he ravaged the Eagles' all-world secondary (7 catches, 146 yards, 2 TDs) or mystified perhaps the NFL's best defense on Sunday. Bottom line: Fantasy GMs shouldn't outsmart themselves on Fitz ... even though they'll probably do it again next week for CB Joe Haden and the Browns' rock-solid pass defense.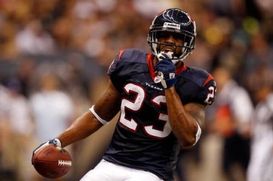 One questionable game does not a season make.
7. Let's not overreact to Arian Foster's so-so day against the Bengals. Yes, Foster (74 total yards vs. Cincy) didn't carry any fantasy owners to a Round 1 victory, but he didn't kill your team's chances for advancement, either. Since returning from injury in Week 4, Foster has notched at least 80 total yards in every game -- often going way above that arbitrary number of acceptance -- while collecting nine touchdowns. And on a day when third-string QB T.J. Yates (336 total yards, 2 TDs, 1 INT) and RB Ben Tate (97 total yards) were surprisingly immaculate ... 74 yards suddenly doesn't seem like a bad throwaway day. Verdict: Foster (1,500 total yards/10 TDs in 2011) absolutely cannot fail next week against the Panthers, the NFL's leader in rushing touchdowns allowed.
8. Roy Helu and Marion Barber will be difference-makers at the flex spot. Since this is a fantasy column, we'll conveniently ignore Barber's ill-advised method for draining the clock (running out of bounds) or game-changing fumble in overtime ... and focus on his 140 total yards and one TD against the Broncos. With Jay Cutler and Matt Forte out for the foreseeable future, Barber is now the Bears' only starting consideration in 12-team leagues. Expect him to roll for 120 yards/one score against the Seahawks next week. The same kind of optimistic thinking applies to Helu (132 total yards vs. New England), minus the fumble problems. With Rex Grossman as his shepherd, Helu will continue to be a standard-league stalwart and PPR menace for Weeks 15 (@ NYG) and 16 (vs. MIN) -- to the tune of 245 combined yards and two TDs during that span.
9. Tim Tebow will neither be celebrated nor disparaged in this column -- even if he has the Broncos on track for the AFC West title. To clarify, we're blissfully aware of Tebow's 7-1 record, five comeback victories and Denver's stunning worst-to-first transformation since mid-October; but that real-world turnaround holds little water in the stats-driven world of fantasy football. Sure, Tebow (285 total yards, 1 TD vs. Chicago) has been an emerging talent his last two games, and yes, he has singlehandedly boosted the stock of WR Demaryius Thomas (7 catches, 78 yards, 1 TD; team-high 13 targets) -- at the expense of Eric Decker (3 catches, 33 yards). But when choosing a can't-miss QB for Rounds 2 and 3 of the playoffs, Are you going to side with a guy who was 3-for-16 at one point against Chicago? Are you really leaning toward the quarterback who often flirts with the middling range of 190-230 total yards per game? On the bright side, Denver draws New England's horrible pass defense next week; but from our view in the bleachers, it's still not enough to covet Tebow over Philip Rivers, Carson Palmer, Matt Ryan or even a hobbled Ben Roethlisberger. When fully healthy, Willis McGahee (knee) remains the Broncos' strongest fantasy play.
Head over to Page 2 for more Revelations!