December 19, 2011 -
Jay Clemons
Week 15 Revelations
The Grand Introduction
With a large segment of the populace no longer contending for a fantasy championship -- either from a disheartening playoff exodus or substandard record during the regular season -- we'll simplify today's Revelations to include only the key events from Sunday. That comment isn't a referendum on the uniquely unheralded talents of Indy's Donald Brown or Arizona's Andre Roberts or an excuse-making venture for Aaron Rodgers and Adrian Peterson; it's more of the time-tested rationale that Brown and Roberts aren't consistent enough to start in your Fantasy Bowl lineup ... and Rodgers and Peterson should recapture their superstar form in Week 16. And now, our final Revelations of the 2011 season:
Week 15 Revelations
1. When I hailed Matthew Stafford as The Next John Elway back in 2006 (his freshman season at Georgia), it wasn't in the context that he would someday pull off 98-yard miracle TD drives in highly pressurized situations. Stafford deserves every last word of that long intro after amassing 391 yards passing and four touchdowns against Oakland and vaulting the 9-5 Lions (the No. 6 seed in the NFC playoff race) to the franchise's most thrilling comeback victory of my lifetime. For all we know, this game might have been Stafford's coming-of-age experience as a star quarterback, a signature event that launches the Lions' candidacy for the next six Super Bowls; but since this is a fantasy column ... let's stick to two primary proclamations: For standard-scoring, 12-team drafts in 2012, WR Calvin Johnson (9 catches, 214 yards, 2 TDs) is a surefire Round 1 pick and Stafford (4,145 yards/33 TDs) could be slotted ahead of Michael Vick, Eli Manning, Peyton Manning, Tony Romo -- leading the second wave of elite fantasy QBs after Rodgers, Brady and Brees. Speak of the devil ...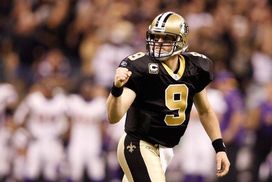 Drew Brees is headed for Dan Marino's passing record.
2. Drew Brees is clearly in a rush to obliterate Dan Marino's NFL record for seasonal passing yards. It wasn't enough for Brees (412 yards passing, 5 TDs vs. Minnesota) to modestly average 239 yards passing in his final three games to eclipse Marino's 27-year-old mark of 5,084 yards; apparently, he wants the full 717 yards in Weeks 15 and 16 ... with a possible chance to rest in Week 17. Assuming that's the case, Brees (37 TDs) is a no-brainer starter against the Falcons next week, with the same holding true for WR Marques Colston (8 catches, 91 yards), TE Jimmy Graham (7 catches, 70 yards, 1 TD; team-high 10 targets), RB Darren Sproles (112 total yards, 1 TD) and even RB Pierre Thomas (85 yards, 1 TD). Bottom line: If the Saints are a healthy lock to post 27-plus points against Atlanta, doesn't it stand to reason there will be plenty of fantasy juice for everyone above? There might even be some left for tailbacks Mark Ingram and Chris Ivory (74 yards) -- depending on Ingram's lingering toe injury.
3. LeSean McCoy should be the next No. 1 overall pick in standard-scoring drafts. It's a vicious cycle, for sure. Elite running back enjoys monster season right before he's eligible for a contract extension ... prompting a lengthy holdout the following summer and subsequent slow return to dominance in September, once the ink dries on the new deal. But with the 23-year-old McCoy (97 total yards, 3 TDs vs. the Jets), I have a feeling the Eagles will take care of business before training camp starts, enabling Shady to continue building a scintillating resume that, historically speaking, has few peers amongst running backs after three seasons. Now, is it reasonable to believe McCoy (1,579 total yards, 20 TDs in 2011) will easily roll for 20-plus TDs in the coming seasons? Uh, probably not. But that's hardly a deterrent: Adrian Peterson has rumbled for 18 touchdowns just once in his stellar career ... and he's usually the de facto choice for the top spot in August. Next summer, though, AP may have to settle for the 2-slot.
4. Expect Arian Foster to be the alpha male among running backs in Week 16. Thank god this is a fantasy column ... otherwise, we'd spend too much time lamenting how the 10-4 Texans could never reach the Super Bowl with T.J. Yates at quarterback or a painfully mediocre receiving corps when Andre Johnson's in street clothes. But we'll spare Yates (227 total yards, zero TDs, 2 INTs vs. Carolina) and WR Kevin Walter (2 catches, 26 yards) of any Monday mocking and simply revel in Foster's brilliance against the Panthers (167 total yards, 1 TD) ... and how he's a lead-pipe cinch to dominate the Colts next week. Especially now that Indy has little motivation -- professional pride aside -- to earn its second victory and miss out on drafting Stanford's Andrew Luck with the No. 1 pick in April. At this point, Foster (1,667 total yards, 9 TDs in 2011) is a solid bet for 155 total yards and one score on Christmas Eve. (Ho ho ho)
5. Fantasy GMs might have to erase all memories of Reggie Bush and C.J. Spiller from Sunday. Obviously, it will be difficult to forget Bush racking up a career-high 203 rushing yards (and one TD) against Buffalo or Spiller chalking up his finest day as a pro (167 total yards, 2 TDs). And yet, it's the prudent thing to do for a few reasons: In Bush's case, the Dolphins are searching for a new head coach, who may feature a bigger (and younger) back like Daniel Thomas (42 yards) next year; and with Spiller, the Bills are likely in no rush to end his highly productive timeshare with RB Fred Jackson (a fantasy MVP candidate before his season-ending injury). If this dilemma sounds familiar, it's the same gut-wrenching assessment/projection that owners had to make with Carolina's DeAngelo Williams and Jonathan Stewart after both backs rushed for 1,000 yards in 2009 -- and Stewart punctuated the Week 16 championship round with 206 rushing yards and one TD against the Giants. Regarding the situations in Miami and Buffalo, it's best to embrace the RB handcuff next August ... or ignore it in the early rounds.
6. Don't be surprised if Greg Little takes a Greg Jennings-esque fantasy leap in Year 2. To be fair, Jennings had Brett Favre and Aaron Rodgers as his quarterbacks for that 2007 breakout campaign (53 catches, 920 yards, 12 TDs) ... whereas Little (5 catches, 131 yards, 1 TD vs. Arizona) currently fields passes from Colt McCoy (DNP in Week 15) and Seneca Wallace (247 total yards, 1 TD). But there's a reason why Browns personnel czar Mike Holmgren tapped Pat Shurmur as the franchise's head coach: Shurmur has a track record of developing QBs in progressive offenses, indicating that either McCoy or a high-end rookie (Andrew Luck, Matt Barkley, Robert Griffin III, Landry Jones) will help Little (87 targets in his last 10 games) become a top-15 receiver next season. Clip and save: If you're looking for Round 3 value at a Round 8-or-later price in the preseason, Little serves as the perfect low-risk, high-yield commodity.
Revelations, Book II
7. In the curious case of Ryan Mathews ... are you not being entertained? OK, so maybe Mathews (119 total yards, 2 TDs vs. Baltimore) didn't possess a Toucan Sam-like nose for the end zone prior to the Ravens game, scoring just four times from Weeks 1-14. But that really shouldn't hinder his preseason standing for next year (or the foreseeable future): Simply put, is it possible to hold a grudge against an explosive back who could flirt with 1,800 total yards for the next six seasons ... if he only hits end-zone paydirt 6-7 times a year? (Rhetorical question ... no need to answer.) Of course, it helps that Mathews has WR Vincent Jackson (93 total yards), WR Malcom Floyd (5 catches, 96 yards, 1 TD), TE Antonio Gates and QB Philip Rivers (270 yards passing, 1 TD) as true-blue/powder-blue allies; but regardless of whether coach Norv Turner stays in San Diego beyond this season ... Mathews holds the key to the club's future production. Even if Mike Tolbert (58 total yards, 1 TD) remains one of fantasyland's most effective goal-line vultures.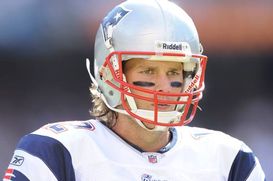 Tom Brady got the best of Tim Tebow in their first-ever showdown.
8. Tim Tebow will neither be celebrated nor disparaged in Revelations this season ... despite his uncanny knack for making (only) one receiver very happy every Sunday. Sure, we could handle Tebow's spirited day against the Patriots (287 total yards, 2 TDs) in a variety of ways, but let's focus on seven of his 11 completions going to WR Demaryius Thomas (116 yards; team-high 13 targets). How is that possible? Not even Jerry Rice, Randy Moss or Andre Johnson commanded such a huge market share of a quarterback's success in their prime. For what it's worth, Thomas is close to earning a top-12 ranking in receiving targets, yards and touchdowns for the season's latter half; and with that metamorphosis, WR Eric Decker (1 catch, 22 yards vs. New England) has essentially become an afterthought in the Broncos' charmingly archaic offense. Without a doubt, Tebow has made some interesting fantasy strides in the last six weeks, exceeding 220 total yards at nearly every turn. But in 12-team leagues, he's still a preferred-status backup. As far as Denver runners go, Willis McGahee (70 total yards) remains the best starting option -- when toting the rock more than seven times a game.
9. Don't sleep on Aaron Hernandez as a Round 5/6 pick next year. The assumption goes that if Hernandez (9 catches, 129 yards, 1 TD; team-high 11 targets vs. Denver) wasn't playing second fiddle to Rob Gronkowski, he'd be an elite fantasy asset at his position. But a closer look at his portfolio reveals that Hernandez (68 catches, 736 yards, 6 TDs) already merits supreme mention with the likes of Gronkowski, Jimmy Graham, Jason Witten, Antonio Gates, Tony Gonzalez, Vernon Davis, Fred Davis (when he's not suspended) and Jermichael Finley. In fact, Hernandez could be the third tight end taken in standard-scoring drafts for 2012 ... and fourth in Points Per Reception leagues (behind Gronkowski, Graham, Witten). This out-of-the-box thinking has everything to do with Tom Brady (320 yards passing, 2 TDs) and that New England will likely devote its draft/free-agent resources to rebuilding the defense this spring -- allowing for Hernandez to be the Patriots' No. 3 playmaker (behind Gronk and Wes Welker).
10. Let's accentuate the positives from the Titans' desultory loss to the previously winless Colts. OK, so this exercise may be a tough pill to swallow for every fan who assumed Tennessee would coast to victory; but from a numbers perspective, it's hard to complain about Chris Johnson (109 total yards, 18 PPR points), QB Jake Locker's sneaky-good relief appearance (117 total yards, 1 TD) or that CJ2K, TE Jared Cook (9 catches, 103 yards), WR Nate Washington (7 catches, 62 yards, 1 TD) and WR Lavelle Hawkins (8 catches, 88 yards) combined for 44 targets on Sunday -- a sign the Titans' passing game (presumably under Locker) will garner much fantasy respect in 2012, particularly when Kenny Britt returns. As for next week, start Johnson in all scoring formats ... and expect something in the ballpark of 125 total yards and one TD against the Jaguars.
11. Darrius Heyward-Bey is closer to becoming a top-20 receiver than you think. Heyward-Bey (8 catches, 155 yards, 1 TD; team-high 8 targets vs. Detroit) has posted admirable numbers in two four-game spurts this season -- 22 catches, 39 targets, 385 yards, 1 TD from Weeks 4-7 and 20 catches, 38 targets, 298 yards, 2 TDs from Weeks 12-15. For a full 16-game slate, we're potentially talking about 84 catches, 154 targets, 1,376 yards and six TDs -- stats befitting of a top-10 wideout and Round 3/4 pick. Now comes the reality check: Given the futile production of his first two years in Oakland, Heyward-Bey will surely encounter one more offseason of fantasy indifference, as GMs adopt a Prove It Again philosophy before buying into the hype of ANY Raiders wideout evolving into a week-in, week-out dynamo for QB Carson Palmer (367 yards passing, 1 TD). Plus, running backs Darren McFadden and Michael Bush (135 total yards) are still Options 1 and 1a. One last thing: Before anyone asks ... yes, I plan on drafting DHB slightly higher than Michael Crabtree next summer.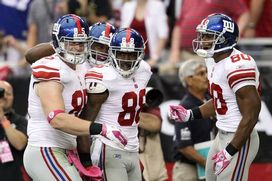 Hakeem Nicks and the Giants put up a stinker on Sunday.
12. Blame ESPN for jinxing Hakeem Nicks against the Redskins. By now, you've probably seen Nicks' unfortunate drop of an easy TD from Eli Manning in the first half, perilously setting the tone for the Giants' shocking home defeat. But perhaps you missed the ESPN Sunday Countdown feature decrying that Nicks (5 catches, 73 yards; team-high 12 targets vs. Washington) possesses the NFL's best pair of hands -- in the company of Hall of Famer-to-be Cris Carter. Lucky for Nicks, we're not going to equate one blown touchdown to getting suspended in the first half of a crucial intra-division game (ahem, Ahmad Bradshaw) or throwing three ugly interceptions against a 4-win team (Manning). As for the Christmas Eve clash with the Jets, we 9;re guaranteeing 110 yards and/or one TD for Nicks -- without or without Darrelle Revis tracking his every move.
13. Steven Jackson is a victim of circumstance ... on so many levels. Let us count the ways in which Jackson (143 total yards, 23 PPR points vs. Cincinnati) is wasting the best years of his professional life in St. Louis: The Rams have won only 13 of 75 games since 2007. Their franchise QB (the injured Sam Bradford) will apparently be on the trading block in the spring (ESPN speculation). Head coach Steve Spagnuolo and GM Billy Devaney may be sent packing by season's end. The pass-catchers -- Brandon Lloyd aside -- are a hot mess (although Danario Alexander deserves kudos for an amazing TD reception). And when presented with the option of starting Tom Brandstater, A.J. Feeley or Kellen Clemens against the Bengals ... the Rams chose the QB who had been with the club for 11 days and hadn't thrown a TD pass since 2007 (with the Jets). Back to Jackson: If the above indignities weren't punishment enough for the all-star back, S-Jax has the untimely misfortune of facing two of the NFL's stingiest run defenses (Steelers, 49ers) in Week 16 and 17. It goes without saying: Jackson should only be a flex-starting consideration next week.
An award-winning fantasy writer with Sports Illustrated (2008-2010) before joining the National Football Post, Jay Clemons' Fantasy Philanthropist Blog can be found here every Monday and Thursday of the fantasy season (Weeks 1-16). Clemons can be reached, day or night, via Twitter.