September 19, 2011 -
Jay Clemons
Week 2 Revelations
Week 2 Revelations
1. Cam Newton has earned the right to start in 12-team leagues. Holy ... freaking ... crap! That was my exact quote immediately after seeing Newton throw for a career-high 432 yards against the Packers -- topping last week's, ahem, modest NFL debut of 422 yards; and that didn't even cover my appreciation for his 53 rushing yards and two touchdowns. In two short games, the supremely gifted Newton has successfully re-branded the Panthers from a staid, run-oriented group into a pass-happy offensive force, one that suddenly deserves special treatment from the TV networks ... and fantasy owners everywhere. Worried that NFL defenses will eventually adjust to Newton? Concerned that 0-2 Carolina will re-emphasize the running attack to improve the team's chances for victory? Well, don't be ... because Newton has arguably accrued more goodwill with Panthers fans in seven days and two losses than Jake Delhomme racked up in seven years and three NFC South titles. He's that good! As a result, Newton has leapfrogged the likes of Josh Freeman, Joe Flacco, Eli Manning, Ben Roethlisberger, Matt Schaub and dare I say Tony Romo to become an entrenched fantasy starter -- regardless of opponent. Unless you're waiting for one more 400-yard outing?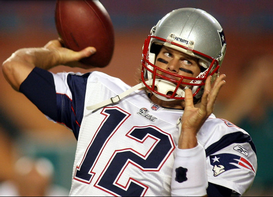 Brady is just 60 yards shy of 1,000 passing yards for the season...and he's only played two games.
2. The Chargers and Patriots delivered on all their ambitious fantasy promises. From Tom Brady (423 yards passing, 3 TDs), Philip Rivers (378 yards passing, 2 TDs), Ryan Mathews (126 total yards, 1 TD), Mike Tolbert (83 total yards), BenJarvus Green-Ellis (75 total yards, 1 TD) ... to pass-catchers Vincent Jackson (10 catches, 172 yards, 2 TDs), Malcom Floyd (2 catches, 59 yards), Wes Welker (7 catches, 81 yards), Rob Gronkowski (4 catches, 86 yards, 2 TDs), Aaron Hernandez (7 catches, 62 yards, 1 TD) and Deion Branch (8 catches, 129 yards), fantasy owners everywhere could have won their Week 2 matchups with the principals from this game alone. How great was this made-for-TV showdown? We don't have time to lament the combined three targets for Antonio Gates and Chad Ochocinco or castigate the legions of haters who are blind to Mathews' sublime fantasy talents.
3. A certain fantasy guru might have undersold Darren McFadden as a top-8 tailback. Can you imagine how dynamic McFadden (143 total yards, 2 TDs) might be if Michael Bush (23 yards, 1 TD) wasn't one of the fantasy realm's most effective goal-line vultures? In his last 15 games, McFadden has eclipsed the 100-yard mark 12 times, while amassing 1,963 total yards and 12 touchdowns -- the kind of prodigious numbers that would make Arian Foster, Chris Johnson or Ray Rice blush. As a byproduct of D-Mac's otherworldly success, Raiders QB Jason Campbell (326 total yards, 3 TDs) had the Sunday confidence to pursue a new favorite target in rookie WR Denarius Moore (5 catches, 146 yards, 1 TD; one 25-yard run), whose Swann-like touchdown grab -- over two Buffalo defenders -- may stand out as Week 2's most thrilling highlight. Moving forward ... I expect Moore to be the most coveted receiver in free agency this week. Just know that most rookies aren't locks for consistent fantasy success.
4. A.J. Green's NFL learning curve apparently isn't that steep. There's no substitute for opportunity in fantasyland -- especially with freakishly athletic rookies like Green (10 catches, 124 yards, 1 TD). Fourteen targets in his second pro game? Who does that? In the real world, the Bengals are probably nothing more than an 8-8 club; but the fantasy upsides of Green, Andy Dalton (332 yards passing, 2 TDs), RB Cedric Benson (76 total yards), WR Jerome Simpson (4 catches, 136 yards) and TE Jermaine Gresham are off the charts ... primarily because Cincinnati (one of the NFL's youngest teams) needs the above quintet to be consistently great. And this, in a nutshell, details why the Green vs. Julio Jones debate from August held little water: As the Bengals' best receiving option, Green will likely draw 9 or more targets each week, whereas Jones is a highly paid decoy for Roddy White, Michael Turner, Tony Gonzalez in Atlanta -- and won't be required to carry the Falcons at any point this season. Viva la difference!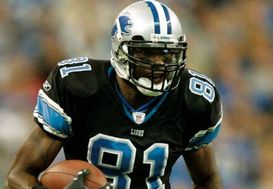 Megatron and the Lions are 2-0.
5. It's hard to glean much from the Lions' 45-point rout of the Chiefs. Seriously. Perhaps I should explain the context of that bolded comment: I'm thrilled that Matthew Stafford (294 yards passing, 4 TDs), Calvin Johnson (3 catches, 29 yards, 2 TDs), Nate Burleson (7 catches, 93 yards), WR Titus Young (5 catches, 89 yards) and RB Jahvid Best (123 total yards, 2 TDs) had seismic fantasy outings in Week 2. But at this point, I'm left to wonder if every opponent on Kansas City's schedule will post similarly stellar numbers, as the Chiefs make a surprising run at Andrew Luck (more on that later). Stafford and Johnson (on pace for 32 touchdowns in 2011) are obviously rubber-stamp starters in 12-team leagues; but is Best really on the level of Ray Rice, LeSean McCoy, Peyton Hillis, and can Burleson be PPR gold into the latter half of the season? My Detroit-native head screams "Yes" ... but my cold fantasy heart says, "Eh, maybe."
6. Fantasy owners will continue to be hamstrung by hamstring injuries. The owners of Arian Foster and Miles Austin face two potentially season-defining choices this week: Keep Foster (40 total yards and 12 touches) and Austin (9 catches, 143 yards, 3 TDs) and hope their respective hamstring woes only serve as minor inconveniences for the rest of the season ... OR attempt to sell the commodities at the top of the trade market -- Foster on reputation/expectations and Austin on reputation/expectations/actual production. At this point, I can't decide if the emergence of backup RB Ben Tate (135 total yards) is a good or bad thing for Foster: On one hand, the Texans aren't compelled to rush him back onto the field -- maximizing his effectiveness for October/November/December -- and yet, it's quite clear that a healthy Tate is more prolific than a nicked-up Foster (likely to play in Week 3). Unfortunately for the Cowboys, there is no reasonable wideout facsimile of Austin roaming the Dallas sidelines -- excluding TE Jason Witten (10 catches, 102 yards) from the conversation ... and including Dez Bryant (thigh injury), the enigmatic wideout with one nine-catch game, one 100-yard game and zero three-touchdown games on his career resume.
Revelations, Book II
7. LeSean McCoy remains the Eagles' greatest -- and most reliable -- fantasy draw. Yes, Jeremy Maclin (13 catches, 171 yards, 2 TDs) looked phenomenal in his unofficial season debut, and QB (242 yards passing, 2 TDs) could have cleared 360 total yards if he hadn't suffered a concussion in the third quarter against the Falcons. But aside from McCoy (116 total yards, 2 TDs), it's very difficult to project another Philly star for greatness on any given Sunday -- especially when Vick doesn't take the field. Is DeSean Jackson (21 yards; 3 targets) a top-20 receiver? Without a doubt. Is TE Brent Celek (4 catches, 43 yards) an occasional threat for 10 catches or 90-plus yards? Probably. Can backup QB Mike Kafka (79 yards passing in relief duty) produce Kevin-Kolb-in-2009-like numbers against the Giants in Week 3 -- if Vick doesn't play? Yes. But none of these question marks apply to McCoy, who has averaged 113 total yards and .75 TDs in his last 12 games. He's pure fantasy gold!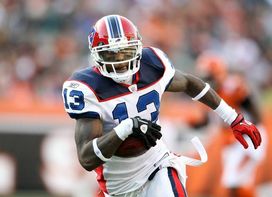 Stevie Johnson had another big game on Sunday.
8. It's time to eat a little crow on the Bills. Immediately after the team's Week 1 road rout of the Chiefs, I strongly urged fantasy owners to exercise patience with every Buffalo playmaker NOT named Fred Jackson (140 total yards, 2 TDs vs. Oakland) or Stevie Johnson (8 catches, 96 yards, 1 TD) on the waiver wire. I even made a joke about how David Nelson and Scott Chandler wouldn't get recognized at a Buffalo-area supermarket ... if you told store patrons that two Bills stars were on the premises. Well, I'm not too proud (or obnoxious) to do a full-blown mea culpa on Nelson (10 catches, 83 yards, 1 TD), Chandler (2 catches, 16 yards, 1 TD), C.J. Spiller (69 yards on only five touches) and especially QB Ryan Fitzpatrick (287 total yards, 3 TDs), whose flair for leading the very-young Bills to an impressive 2-0 mark cannot be understated. Even if he universally can't crack the starting lineup in standard 12-team leagues. (Too many great QBs.)
9. There is nothing flukish about Kenny Britt's recent run of fantasy greatness. In his last 11 games, Britt has collected either 120 receiving yards or one touchdown in 10 of the outings -- a mind-blowing occurrence that leaves one to ask, How did he universally slide all the way to Round 8 in standard-scoring drafts? OK, so Britt's well-chronicled personal problems played a key role in his predraft minimization ... but as long as the kid keeps his nose clean and head on straight, he has the goods to carry teams to a fantasy title -- with or without Chris Johnson's rushing glory. Speaking of which, there may not be a better buy-low trade candidate than Johnson (65 yards) ... whose belated breakout will occur next week in Denver. My CJ2K promise to you: 148 total yards and one touchdown against the Broncos -- if not more -- and that's factoring in Britt's expected brilliance.
10. Matt Forte is the PPR gift that keeps on giving. If it wasn't for Forte's rushing/receiving greatness on Sunday (166 total yards; 10 catches for 117), I'd be left with the uncomfortable task of explaining Devin Hester's shockingly inefficient one catch out of nine targets. Obviously, some of the blame lies at the happy feet of QB Jay Cutler (19-of-45 passing for 244 yards, 1 TD) ... but how does Hester leave the Superdome with only one reception? On the flip side, fantasy owners should no longer be in the dark about the prospects for receivers Johnny Knox (2 catches, 45 yards), Earl Bennett (1 catch, 9 yards), Sam Hurd (1 catch, 13 yards), Roy Williams (inactive vs. New Orleans) and, of course, Hester. Verdict: None are roster-worthy at this point ... thus identifying the magnetized Forte (14 targets) as the passing game's singular hope for fantasy success.
11. There's nothing Kardiac about the kids in Cleveland. Similar to Forte with the Bears, the Browns would be irrelevant in fantasyland if not for the all-world exploits of RB Peyton Hillis (117 total yards, 2 TDs), likely the AFC North's most indispensable playmaker and certainly the best friend to QB Colt McCoy (221 total yards, 1 TD). From a real-world perspective, McCoy may have the ideal temperament to guide the green Browns through their most recent youth movement; but in the fantasy realm, he's barely roster-worthy in 12- or 14-team leagues. At least until Mohammed Massaquoi can break through that 3-catch-per-game glass ceiling ... or WR Greg Little (4 catches, 38 yards) and RB Montario Hardesty (1 measly yard) can adjust to the speed and intensity of NFL life. Yikes! That may take a while.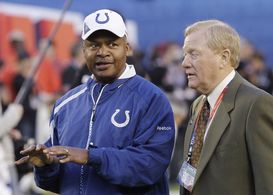 The Colts are off to an 0-2 start...and have looked terrible in the process.
12. The Colts offense should be close to bottoming out. Is it just me, or is Peyton Manning steadily collecting more votes for the "NFL's Greatest QB of All Time" in absentia ... compared to his previous 13 seasons of bankable excellence? Apparently, Dallas Clark (4 catches, 32 yards, 1 TD), Pierre Garcon (3 catches, 28 yards), Austin Collie (3 catches, 24 yards) are mere mortals when No. 18 isn't under center -- not unlike the evil troika's drastic reduction of superpowers AFTER Clark Kentfamed power-crystal switcheroo in Superman II -- and WR Reggie Wayne (4 catches, 66 yards) and RB Joseph Addai (91 total yards) may not yield full return on the trade market. But as stated last week, I refuse to believe that Indy's offense will remain stuck in neutral for much longer -- once Kerry Collins (191 yards passing, 1 TD) finds his groove or if/when the Colts entertain the seemingly unconscionable notion of giving Brett Favre an extended gander for the final 14 games. For owners with deep benches, I beg you to consider Indy's playmakers at rock-bottom prices.
Revelations, Book III
13. The Jaguars' black hole at quarterback may be an anchor on Maurice Jones-Drew's trade value. The fact that MJD racked up 107 total yards against the ball-hawking Jets defense is one thing ... but to be that proficient with Luke McCown (59 yards passing, 4 INTs) running the Jags offense into the ground is a miracle of near-biblical proportions. Seriou sly, how is McCown collecting an NFL paycheck ... while David Garrard watches his DirecTV 'Sunday Ticket' package from home and waits for a phone call that may never come? If coach Jack Del Rio and GM Gene Smith were truthful in declaring that McCown earned the starting nod for Weeks 1 and 2 (for reasons completely separate from money) ... how bad must Garrard have appeared during training camp? (deep sigh) But hey, at least fantasy owners can boldly pursue Blaine Gabbert on waivers this week, knowing the touted rookie's starting debut will likely come in Week 3. And while Gabbert will have limited playmaking options -- MJD and Marcedes Lewis aside -- he might not face a more daunting defense than the Jets from this point forward. Speaking of the Jets, I have a question for the stat geniuses at the Elias Sports Bureau: Has an NFL team ever won a game by 29 points or more with only 15 first downs?
14. The Redskins are the on the cusp of having five bankable stars in fantasyland. Washington's brain trust could not have had better timing with the transfer-of-power of Chris Cooley -- perhaps the greatest tight end in franchise history -- to Fred Davis, one of the league's most athletic talents at his position. Of course, it helps that Cooley (zero catches) has not fully recovered from offseason knee surgery ... and that the 'Skins have RB Tim Hightower (106 total yards) and WR Santana Moss (5 catches, 61 yards, 1 TD) to secondarily create unobstructed route/passing lanes for Davis (6 catches, 86 yards, 1 TD) and QB Rex Grossman (291 yards passing, 2 TDs). And if that weren't enough good news for Grossman, there's the arrival of RB Roy Helu, whose 112 total yards on 13 touches served as an unplanned gift for fantasy owners who steadfastly refuse to drop the rookie from their roster.
15. Proceed with caution when assessing the values of Willis McGahee and Eric Decker in standard leagues. Without a doubt, McGahee (106 total yards, 1 TD) and Decker (5 catches, 113 yards, 2 TDs) can be terrific assets in short-term bursts; but their fantasy greatness for future Sundays is inexorably tied to the health of RB Knowshon Moreno (hamstring) and WR Brandon Lloyd (groin) -- both of whom missed the Cincinnati game. If/when Moreno and Lloyd take the field, McGahee and Decker shouldn't merit starting consideration in 12-team leagues.
16. Devery Henderson made a little history on Sunday afternoon. Just nine days after yours truly warned fantasy owners that -- in the wake of Marques Colston's indefinite stay on injured reserve (broken collarbone) -- the mercurial Henderson (3 catches, 103 yards, 1 TD) had never registered touchdowns in back-to-back regular season games ... BOOM! the kid hits paydirt again in the Saints' big win over the Bears, while racking up a team-high amount of yards. So, now that we have that annoying 'consistency' knock out of the way, what new frontier will Hendo conquer next week? How about the franchise's single-game records for receptions (14, Tony Galbreath) or receiving yards (205, Wes Chandler)? Hmmm, maybe Henderson will break Chandler's mark against Houston in Week 3 ... and RB Darren Sproles (8 catches vs. Chicago) will threaten Galbreath's 33-year old stronghold on the Saints' record books.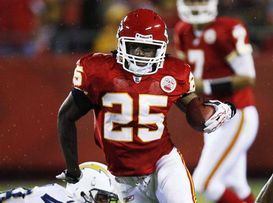 Charles owners are a disgruntled bunch this morning.
17. The Seahawks and Chiefs are slowly putting all their eggs in Andrew Luck's basket. It breaks my heart that Jamaal Charles -- the Fantasy Philanthropist's de facto man-crush of the last three years -- will miss the season after apparently tearing his knee against Detroit. But on the positive side, Kansas City is now a viable contender to post the NFL's worst record ... thus creating a previously unforeseen opportunity to collect the No. 1 pick in next April's draft. The same can be said about the sad-sack Seahawks, who are stunningly below-average at quarterback (Tarvaris Jackson), receiver (especially when Sidney Rice sits), tight end (Zach Miller looks painfully ordinary) and even running back (12 total yards for Marshawn Lynch ... REALLY??). But alas, there is a light at the end of the tunnel, with the two reigning division champs melting down in 2011 and then duking it out to grab the seemingly flawless Stanford QB in 2012.