September 26, 2011 -
Barry Dorey
Week 3 Revelations
Week 3 Revelations
1. Drew Brees and Matt Schaub are remorseless scoring machines in fantasyland. CBS should be ashamed for burying Sunday's Texans-Saints shootout in the huddled mass of 1 p.m. games, featuring two of the NFL's most prolific passers -- Brees (370 yards passing, 2 TDs) and Schaub (373 yards passing, 3 TDs). Even during the 132-day lockout, this Superdome tilt screamed real-world and fantasy fun for everyone; and yet, only a modest-sized sampling of the country witnessed the week-in, week-out greatness of (7 catches, 128 yards) ... and stealth goodness from tight ends Jimmy Graham (4 catches, 100 yards, 1 TD)/Owen Daniels (5 catches, 76 yards, 1 TD), running backs Darren Sproles (95 total yards, 1 TD), Mark Ingram (1 TD), Ben Tate (90 total yards without Arian Foster) and receivers Lance Moore (9 catches, 88 yards, 1 TD), Devery Henderson (3 catches, 62 yards) and Robert Meachem (5 catches, 51 yards, 1 TD). And if that weren't enough made-for-TV action, Houston's James Casey (5 catches, 126 yards, 1 TD) and Kevin Walter (twice-tipped TD reception) had excellent cameos on Sunday. Bottom line: Texans-Saints was the second-best TV event this week ... only taking a backseat to It's Always Sunny In Philadelphia's hilarious salute to the Jersey shore, under-the-Boardwalk first kisses and, of course, alcohol-drenched rum hams.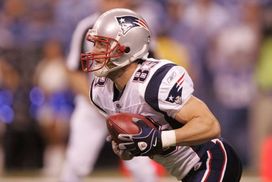 ICONWes Welker is killing it this season.
2. Wes Welker laughs in the general direction of every PPR owner who snubbed him on draft day. Leave it to Welker (16 catches, 217 yards, 2 TDs) to steal the spotlight from QBs Tom Brady (386 yards passing, 4 TDs, 4 INTs)/Ryan Fitzpatrick (369 yards passing, 2 TDs, 2 INTs), RB Fred Jackson (161 total yards, 1 TD), TE Rob Gronkowski (78 catches, 109 yards, 2 TDs) ... and fellow receivers Donald Jones (5 catches, 101 yards) and Stevie Johnson (8 catches, 94 yards, 1 TD) in the most surreal fashion possible. Time will tell if Buffalo's thrilling 34-31 victory over New England stands as the AFC East's most explosive fantasy clash of the season; but there's no point in waiting to count the votes for the greatest individual performance -- in PPR leagues: From September to December, no non-quarterback will touch Welker's 50-point day ... and you, the fantasy owner, won't encounter a better time to sell high on Welker in standard-scoring leagues.
3. Fantasy owners should proceed with caution when breaking the bank for Torrey Smith in free agency. Consider this your fuddy-duddy warning of Week 3: Yes, Smith pulled down five catches for 152 yards and three touchdowns in just his third NFL game; yes, the kid is blessed with Denard Robinson-like speed in the open field; and yes, the Ravens are desperately seeking a viable No. 2 wideout in Lee Evans' tenuous stead. However, Smith is also the same prospect who didn't catch one ball in Weeks 1 and 2 ... and coming out of college, he was favorably compared to another blazing-fast Maryland receiver, Darrius Heyward-Bey. That said, I fully understand that some fantasy owners will move heaven and earth to land Smith this week ... on the hopes that another 152-yard, 3-TD performance is in the offing. Even on days when Ray Rice (162 total yards), QB Joe Flacco (389 yards passing, 3 TDs) and WR Anquan Boldin (7 catches, 74 yards; 14 targets) bring their A-games to a real-world laugher.
4. Darren McFadden will not be stopped from this point forward. If McFadden can rack up 178 yards (171 rushing) and two touchdowns on the Jets, perhaps the NFL's stingiest defense, what chance do the Chargers, Chiefs, Patriots, Packers or Lions have against the early-season Fantasy MVP? In his last 16 games -- a full NFL season -- McFadden has amassed 2,141 total yards and 14 touchdowns, while cracking the yardage century mark 13 times. Simply put, if redrafts were held this week throughout the country, McFadden would be no worse than No. 4 behind Adrian Peterson, Ray Rice and LeSean McCoy ... with an outside chance of going No. 1 in PPR leagues. Of course, D-Mac would be an even greater cinch for fantasy success if RB Michael Bush (57 total yards, 1 TD) and rookie WR Denarius Moore (67 total yards, 1 TD) weren't so proficient in the scoring zones.
5. The Packers are a fascinating study in random fantasy greatness. Green Bay wideout Greg Jennings may have posted team-highs in catches (9), yards (119) and targets (10) against the typically stout Bears ... but his across-the-board production shall only serve as a humble footnote to tight end Jermichael Finley's three-touchdown whirlwind -- a feat that included scores in the first, third and fourth quarters. Jennings' great day may have also been obscured by Ryan Grant's 92-yard revival and Aaron Rodgers' ho-hum magic of 300 total yards and three touchdowns. Yes, it's hard to be a dynamic featured performer for the Packers every Sunday. Just ask Jordy Nelson (3 catches, 40 yards), James Jones (4 catches, 24 yards), James Starks (14 yards) and Randall Cobb (1 catch, 13 yards). Remember them?
Revelations, Book II
6. Mark Sanchez deserves your full fantasy attention ... even if LaDainian Tomlinson might not. LT is easily one of the five best running backs of the last 25 years (along with Emmitt Smith, Barry Sanders, Marshall Faulk, Curtis Martin), but at age 32, it's fair to wonder if Sunday's effort (154 total yards, 1 TD on 11 carries) will represent his seminal performance of the season. (Give Shonn Greene quiet props for his 106 total yards.) If that's your hunch on Tomlinson, then it's time to sell high on arguably the Jets' best playmaker when playing from behind. On the flip side, Sanchez (369 passing yards, 3 TDs) may be scratching the surface of his season-long potential and could be acquired for a reasonable price on the trade market -- especially when playing second-fiddle to a redoubtable QB star, like Brady, Brees, Rodgers, Schaub or even Matthew Stafford.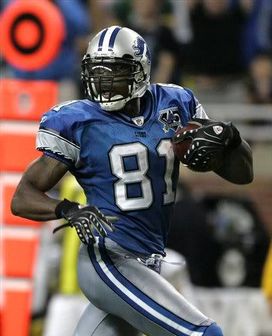 Johnson has found the end zone twice in every single game this year.
7. Calvin Johnson won't break Randy Moss's NFL record for receiving TDs -- I think. The inimitable Johnson (7 catches, 108 yards) is equal parts devastating and consistent (two TDs in all three games this season) ... and that doesn't necessarily cover the awe of his Willie Mays-esque, over-the-shoulder grab of a Stafford deep fade in overtime, essentially clinching Detroit's first 3-0 mark since Billy Sims' rookie season (1980). To deify Johnson as the NFL's best receiver would be a subjective (and perhaps fruitless) exercise -- given the extended excellence of Andre Johnson; but for one season, Calvin has a legitimate shot at eclipsing Moss's mark of 23 touchdowns (2007). Verdict: Calvin is worth virtually any price in a 2-for-1 blockbuster trade and could be the NFC North's unofficial MVP at year's end ... if Stafford (378 yards, 2 TDs) keeps bringing the heat every Sunday.
8. Ahmad Bradshaw does a spot-on impersonation of LeSean McCoy. On the same day that Eli Manning (254 yards, 4 TDs), Michael Vick (right hand contusion) and lightly regarded WR Victor Cruz (3 catches, 110 yards, 2 TDs) turned the NFL mini-universe on its head ... Bradshaw (139 total yards, 1 TD) and McCoy (141 total yards, 1 TD) ended up collecting the most fantasy cred in the latest Giants-Eagles clash. And why shouldn't that be the case? Fantasy championships, by and large, are the result of great running games; and McCoy (394 total yards, 5 TDs) and Bradshaw (297 total yards, 2 TDs) have already justified their Round 1 and Round 3 pre-draft values, respectively. As for the Philly/New York receivers who struggled on Sunday, Jeremy Maclin (5 catches, 69 yards) is obviously safe from public admonishment ... but now may be the time to explore trades involving DeSean Jackson (2 catches, 30 yards) and Hakeem Nicks (3 catches, 25 yards) -- while they still bear full-market prices.
9. Vernon Davis injected a little Red Bull attitude into an absolute snoozefest in Cincy. And to think that, prior to Sunday's games, Davis was trailing Leonard Pope in targets, Scott Chandler in receptions and some random cat named Jake Ballard in receiving yards ... leading some to wonder if the dream of owning a high-end talent at tight end should ever be a priority? But somehow, some way, Davis (8 catches, 114 yards) emerged from the primordial ooze of 49ers-Bengals and reaffirmed the faith of fantasy owners everywhere -- especially those in thin-bench leagues who can ill-afford to carry a second tight end. Speaking of thin benches ... Frank Gore owners should definitely find a way to add Kendall Hunter (38 total yards, 1 TD) as a handcuff this week (injured or not) -- just in case Gore (42 yards on 17 touches) is on the path to an inevitable, yet seemingly instantaneous decline ... not unlike Shaun Alexander, Clinton Portis, Larry Johnson, Brian Westbrook and LaDainian Tomlinson suffered in recent years.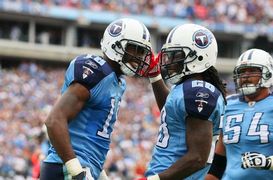 ICONWith Kenny Britt (left) possibly done for the season, look for Nate Washington to step up.
10. Mark it down: Nate Washington will be a top-20 receiver by season's end. Unfortunately, this proclamation is bolstered by the sad news that Titans WR Kenny Britt may have sustained a season-ending knee injury against the Broncos; but it also speaks to Washington's remarkable chemistry with Matt Hasselbeck (311 yards passing, 2 TDs) and how the QB-WR combo may be the best thing going in Tennessee. At this point, fantasy owners should expect 9 or more Washington targets for at least 10 of the next 13 games -- as the Titans continually strive for offensive balance and attempt to resurrect RB Chris Johnson, who fell just 77 yards and one touchdown short of my 152-yard/1-TD midweek prophecy. Obviously, Johnson is too good to be this mediocre for the entire season; but that compliment comes with a caveat: His next 'window of greatness' might not kick in until Week 7 -- after Tennessee's bye.
11. Sidney Rice may actually be the real deal in Seattle. Think of all the money you could have made in Vegas on Sunday, betting the 'over' on Rice's projected output for Week 3, aka his Seahawks debut. Eight catches for 109 yards ... or 64 percent of Tarvaris Jackson's final production against Arizona? Perhaps most impressive, Rice drew a team-high 10 targets and helped RB Marshawn Lynch trudge for 75 total yards -- a substantial improvement from Weeks 1 and 2 and something that could inspire TE Zach Miller (2 catches, 9 yards) to end the worst three-game stretch of his five-year career.
Revelations, Book III
12. Ryan Mathews has Philip Rivers' back on so-so days. Of the last two times Rivers failed to record a TD pass (including Sunday's struggle against the Chiefs), Mathews has picked up the slack with 269 combined yards and five touchdowns. Not bad for a runner who's been 1) Victimized by Coach Norv Turner's ill-conceived prediction of "300 carries" in 2010 ... 2) Haunted by comparisons to Albert Haynesworth after failing San Diego's post-lockout conditioning test ... 3) Stunned by Mike Tolbert's nuclear blast of three touchdowns in Week 1. Bottom line: Through all the adversity, through all the premature claims that Mathews (149 total yards, 2 TDs vs. Kansas City) was an overhyped asset coming out of college, he remains a rubber-stamped starter on 10-, 12-, 14- and 16-team leagues. It's as simple as that!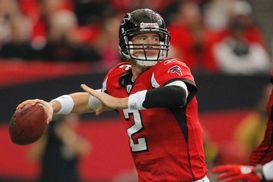 ICONWill the real Matt Ryan please stand up?
13. It's hard to get a read on Matt Ryan and Josh Freeman these days. Obviously, Freeman (215 total yards, 1 TD, 2 INTs) is more concerned with winning than fantasy stats; and making a post-Super Bowl pitch for Disney apparently holds greater appeal than starring in one of NFL.com's hilarious fantasy commercials, previewing the 2012 season. That isn't to say Ryan (330 passing yards, 1 TD) doesn't value winning or post-championship Disney spots; nevertheless, it's odd to see him attempt 47 passes for the second time in 14 days -- something that never happened from 2008-10 -- while Michael Turner (20 total yards) accepts a subservient role in a game that was reasonably close the whole way through. But then again, it's not like many teams can match the 1-2 receiving combo of Roddy White (9 catches, 140 yards; 17 targets) and rookie Julio Jones (6 catches, 115 yards). At this point, the Buccaneers might settle for back-to-back 50-yard outings from WR1 Mike Williams (5 catches, 43 yards) ... while asking the defense to carry the brunt of their NFC South title hopes.
14. The Vikings passing offense is more 'train wreck' than a 'work-in-progress.' While Minnesota's Michael Jenkins (9 catches, 88 yards; 11 targets) deserves kudos for a stellar Sunday, he simply doesn't possess the consistent traits of a quality No. 1 receiver ... and, in a bit of total honesty, neither does Percy Harvin. In my warped fantasy mind, I tried to rationalize Harvin (88 total yards) as a near-equal to RB Adrian Peterson (97 total yards, 1 TD); but if that was the case, Percy would 9;ve touched the ball more than five times ... BEFORE exiting the game in the fourth quarter (injury? illness?).
15. Mike Wallace and Antonio Brown are the Steelers' best receivers. I have a two-tiered assignment for fantasy owners this week: Step 1 -- Move heaven and earth to trade for Wallace (5 catches, 144 yards, 1 TD) in standard-scoring and PPR leagues. Step 2 -- Stealthily pluck Brown (4 catches, 75 yards) from the waiver wire ... just days before Ben Roethlisberger (364 passing yards, 1 TD) and the Steelers hit serious paydirt with the often-targeted and supremely athletic Brown.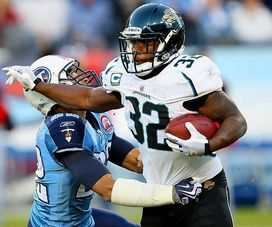 Look for Gabbert to lean heavily on the workhorse that is MJD.
16. Maurice Jones-Drew will be a saving grace for Blaine Gabbert ... and vice versa. Before we break down MJD's excellent effort in Carolina, did you see Gabbert's first career touchdown pass -- a crop-duster-esque 'Hail Mary' to WR Mike Thomas right before the first half ended? It was a bizarre coming-out moment for the rookie, but one that'll hopefully lead the Jaguars players, coaches and fans to believe they'll have a blue-chip franchise quarterback sooner than later -- and one that won't be unceremoniously dumped before Week 1 in 2015. On Sunday, Gabbert threw for a pedestrian 139 yards and one TD; but his cannon-armed presence alone helped Jones-Drew amass 167 total yards ... with a good chunk coming during the near-biblical rainstorm that engulfed Charlotte sometime in the second quarter. I guess the statue of limitations for worrying about Jones-Drew's balky knee have expired, huh?
17. Reggie Bush is no longer roster-worthy in standard-scoring leagues. Wow! It took the Dolphins coaches only three games (and three head-scratching defeats) to realize that Bush (36 total yards) is a flare-pass receiver dressed in a running back's clothing; and after Sunday's one-target outing against the Browns, it's fair to wonder if Tony Sparano and Co. have lost confidence in Bush's capacity to augment a middling passing offense, as well. Whatever the case, there's no point in exhausting a roster spot for Bush in 12-team standard leagues; and his short-term standing as a flex-starter consideration in PPR leagues has vanquished too, especially if rookie Daniel Thomas (122 total yards, 1 TD) can triple Bush's targets on a semi-regular basis. My empathy for Bush owners runs deep ... but it cannot compare to my shared sorrow for the good people of Pizza Hut, who built an entire marketing campaign around Bush -- thinking the Heisman-turned-Bayou-hero-turned-reality-star-turned-feature back would sell a ton of pizzas this fall. Ouch!
An award-winning fantasy writer with Sports Illustrated (2008-2010) before joining the National Football Post, Jay Clemons' Fantasy Philanthropist Blog can be found here every Monday and Thursday during the regular season. Clemons can be reached, day or night, via Twitter.