October 03, 2011 -
Barry Dorey
Week 4 Revelations
<b>Week 4 Revelations
Aaron Rodgers destroyed the Broncos ... to the surprise of no one. This might have been the easiest call of the young season, with Rodgers (408 yards passing, 6 total TDs) working his late-afternoon, nationally televised magic against a work-in-progress defense; and sure enough, Rodgers responded with the greatest fantasy performance at Lambeau since you-know-who (aka Brett Favre) threw for 336 yards and five TDs against the Bears in 1995. The carryover effect from Rodgers' red-letter day was significant as well, with Greg Jennings (7 catches, 103 yards, 1 TD), Jordy Nelson (5 catches, 91 yards, 1 TD), Randall Cobb (141 all-purpose yards), James Jones (3 catches, 48 yards, 1 TD) and RB James Starks (101 total yards) reaffirming their fantasy relevance in 12-, 14- or 16-team leagues. In fact, Jermichael Finley (3 catches, 28 yards) was the only Packers star to struggle against the Broncos ... but it wasn't gloomy enough to sound any warning bells for Weeks 5-7. With Rodgers' help, Finley (18 catches/243 yards/3 TDs in 2011) could tally three TDs against Atlanta, St. Louis and Minnesota.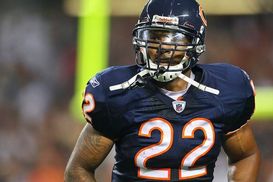 ICONMatt Forte continues to destroy opposing defenses.
Matt Forte should be considered 'untouchable' in PPR trade talks. Given the Bears' deep corps of eminently replaceable receivers and Jay Cutler's inconsistency from week to week, O-coordinator Mike Martz essentially has no choice but to ride the versatile Forte (228 total yards, 1 TD vs. Carolina) every Sunday. Otherwise, Chicago would struggle to stay relevant in the NFC North and Martz might begin to fear for his cushy job of watching Forte amass 92 total yards in eight of his last 10 games, while collecting 26 catches in 2011 (tops RBs). Bottom line: Forte has too much game-breaking value for a standard 1-for-1 or lackluster 2-for-1 trade in Points Per Reception leagues ... and only a 3-for-1 blockbuster might clinch the deal. Forte's a real keeper ... just like Cam Newton and his 374 passing yards and three total TDs in Week 4.
There's no place for Tony Romo's real-world shame in fantasyland. In a nutshell, Romo's schizophrenic day against the Lions (347 passing yards, 3 TDs, 3 INTs) embodies what's best about our parlor game ... and why so many anti-fantasy bullies are quick to mock the millions of fantasy "nerds" who are only consumed with numbers: Every Romo triumph (Laurent Robinson's 7 catches, 116 yards; Jason Witten's 8 catches for 94 yards and one TD; Dez Bryant's two TDs) had a positive consequence; and every Romo failure (helping the Cowboys blow a seemingly insurmountable 27-3 lead) also yielded a positive consequence -- in the form of the Lions' defense/special teams racking up two pick-six TDs and 12 fixed fantasy points on the same afternoon that Robinson (one career 100-yard game prior to Sunday) zipped through the Detroit secondary, virtually untouched, as if he was playing against a Division II college team that could ill-afford to use bump-and-run press coverage on the bigger, faster SEC receivers. Fast forward to Monday night: While some real-world pundits are busy questioning Romo's 'elite' status ... you, the fantasy owner, should move heaven and earth to land a QB who's very good at spreading the wealth.
You honestly can't go wrong in the Julio vs. A.J. debate. Ah, so this is why the Falcons mortgaged a substantial part of their draft back in April ... for a golden chance to acquire rookie Julio Jones (11 catches, 127 yards; 17 targets vs. Seattle) and cultivate arguably the NFL's most dangerous receiving duo -- along with Roddy White (6 catches, 78 yards). And now we know why the Bengals gleefully grabbed A.J. Green (4 catches, 118 yards vs. Buffalo) at No. 4 overall -- as a pre-emptive strike against the Falcons taking the former University of Georgia star. (At least that was the rumor at the time.) Just like Beatles vs. Stones ... or Coke vs. Pepsi ... or Kramer vs. Costanza ... there's really no point in debating the pluses/minuses of Jones and Green. After all, we're talking about the most prolific rookie wideouts since Tim Brown, Sterling Sharpe, Michael Irvin in 1988; and for fantasy purposes ... two rubber-stamp starters at the WR2 or flex spots -- regardless of league size or scoring. And good luck trading for either one in PPR leagues; you might have a better chance at getting a Tier II running back who's usually a threat for 1,600 total yards.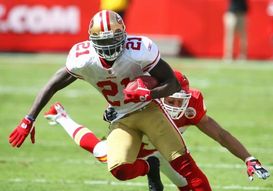 ICONGore busted up a shaky Eagles defense in Week 4.
Reports of Frank Gore's demise have been greatly exaggerated. Hmmm, perhaps Mr. Gore should make the amazing daily transformation from "doubtful" and "questionable" to "iffy" and "set to start, primed to dominate" every week. In what might have been Kendall Hunter's coming-out party became the ultimate comeback win for the 3-1 49ers ... and the greatest "Frank"-related coup since actor Frank Bonner beat out Tom Selleck for the shady role of "Herb Tarlek" on WKRP In Cincinnati. OK, so maybe Bonner didn't outlast Selleck for that iconic TV character, but Gore's last-minute power play over Hunter was very real, with a few media outlets reporting on Saturday that he'd miss the game with an ankle injury. But there he was, rumbling for 139 total yards and one touchdown and helping San Fran produce a stunning road victory. As for the other Niners, like Hunter (100 total yards), QB Alex Smith (291 yards passing, 2 TDs), TE Vernon Davis (4 catches, 45 yards, 1 TD), WR Michael Crabtree (5 catches, 68 yards; 9 targets) ... they played complementary roles to Gore, who became the fourth straight tailback to amass 139 total yards or more against Philly. And with that, Gore has returned to his regular spot as an entrenched RB2 in all leagues.
Hakeem Nicks is becoming exactly who we thought he'd be. In this Revelation, I will TRY to avoid any second references to Giants WR Victor Cruz (6 catches, 98 yards) or one of the lamest non-fumble calls in NFL history ... and direct all the fantasy attention to Nicks (10 catches, 162 yards, 1 TD) and the Dennis Green-inspired introduction (the ghosts of University of Phoenix Stadium demanded that I show this clip). With two 100-yard outings sandwiched between two middling performances it's fair to wonder if Nicks can maintain last season's prodigious pace of 11 touchdowns; but TDs aside, Nicks has posted better numbers in receptions (24), targets (38) and receiving yards (347) than this time last year -- while essentially flying under the fantasy radar in 2011. Well, those days are over: Nicks is a shoo-in for hefty stats in Weeks 5-6 (Seattle, Buffalo), before the Giants' bye kicks in.
Revelations, Book II
Matt Schaub isn't a starter in 12-team leagues without Andre Johnson. If only someone could inject Texans coach Gary Kubiak with truth serum on Sunday night ... to find out if the coaching staff honestly had RB Arian Foster (166 total yards, 1 TD) tabbed for 30 catches and five targets. That's an incredible workload for any back in a non-playoff setting, let alone a guy with a balky hamstring. But once Johnson (4 catches, 36 yards) crumpled to the turf off a flare screen -- untouched -- Houston assimilated to the mini-crisis by feeding Foster the rock as much as possible, while hoping the defense and special teams would do enough to overcome two TDs that were nixed by needless, bone-headed penalties. OK, so Schaub (138 yards, 1 TD) survived the Steelers in a crucial real-world victory; but his fantasy situation will likely be downgraded in the coming weeks, with only Foster, Ben Tate (20 yards before injury) and TE Owen Daniels (5 catches, 69 yards, 1 TD) being counted on for reliable chunks of points -- in Johnson's stead. It's simply a burden too great for Kevin Walter, Jacoby Jones or Joel Dreessen.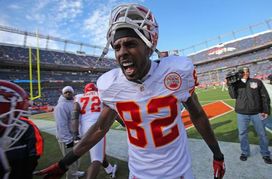 Can Dwayne Bowe be trusted moving forward?
Dwayne Bowe owners might soon be at a crossroads. For the third straight game, Bowe (5 catches, 107 yards, 1 TD vs. Minnesota) registered either 100 receiving yards or one touchdown, perpetuating the notion that his stats won't suffer amid Jamaal Charles' season-long absence, the Chiefs' cast of average playmakers or underwhelming QB play from Matt Cassel (just 4 TDs in 2011). But it's fair to wonder how long Bowe can sustain this run of fantasy goodness -- especially on days when WR Steve Breaston (4 catches, 91 yards) doesn't provide a spark. On the flip side, perhaps Kansas City's first victory will inspire more sideline shenanigans with Cassel and head coach Todd Haley (lucky omens should never be underestimated) and maybe, just maybe, it'll motivate rookie Jonathan Baldwin to make his NFL debut next week against Indy. Bowe needs a lot of help over the next 12 games ... whether he realizes it or not.
Ryan Mathews is the West Coast version of Ray Rice. There are only so many ways to re-brand Mathews (149 total yards vs. Miami) as a fantasy dynamo, especially for those who saw his greatness coming in Week 17 of last year or since Day 1 of training camp -- after Mathews "failed" a conditioning test, Haynesworth-style. Sure, Vincent Jackson (3 catches, 108 yards, 1 TD) may be the team's most explosive receiving option, and RB Mike Tolbert (68 total yards, 1 TD) may draw more targets (8), but the lightning-quick Mathews is the proverbial straw that stirs the Chargers' drink ... and the perfect savior for when QB Philip Rivers is only good for 307 yards passing and one TD against the downtrodden Dolphins. At this point, Mathews is a top-10 running back in PPR and standard-scoring leagues; perhaps more importantly, he'll be a top-8 projection during the fantasy-playoff period of Weeks 13-16 (@ Jacksonville, Buffalo, Baltimore, @ Detroit).
Brandon Marshall cannot be stellar in PPR leagues without a healthy Chad Henne. If Matt Moore couldn't develop long-term chemistry with the always-open Steve Smith in Carolina, what chance does Moore (167 yards passing, 1 INT) have of appeasing Marshall (5 catches, 52 yards) once the Dolphins' sinking ship finally capsizes? If you had to guess which franchise will undergo complete change at the GM/head coach/QB slots for next season, Miami would be the quarter-pole leader; and the next 12 games could easily be an exercise in disinterest and futility if Moore and Marshall are joined at the hip. Now, that isn't to say that Henne (left shoulder injury) deserves to be feted for "leading" the Dolphins to a winless start ... but at least with Henne, Marshall and RBs Reggie Bush and Daniel Thomas, there was a hint of a future foundation that didn't necessarily include college megastars like Andrew Luck, Justin Blackmon, Trent Richardson. But should Henne miss significant time, there's no reason to start any Dolphin in 12-team leagues -- including Marshall and Thomas (when healthy).
Where was this Ryan Torain during the preseason? During the 132-day lockout, most fantasy analysts had Torain (135 yards, 1 TD vs. St. Louis) pegged as the lead back in the Redskins' three-headed rushing monster, along with Tim Hightower (28 yards) and rookie Roy Helu (35 yards). But a funny thing happened on the way to preseason fun ... as Torain struggled to keep pace with Hightower and Helu in August, and then toiled in anonymity for the season's first three weeks. Bottom line: We could spend time breaking down QB Rex Grossman's medicore showing (143 passing yards, 1 TD, 2 INTs), Hightower's pedestrian nine touches or Santana Moss's PPR viability on so-so days (5 catches, 39 yards, 1 TD); but the real storyline lies with Torain's capacity to capitalize on Sunday's strong showing. After all, Torain has only tallied back-to-back 100-yard efforts once ... and he won't see the Rams again in 2011.
There are only three fantasy tidbits to glean from Jets-Ravens ... and one involves Ed Dickson. Let's start with the obvious mention of Ray Rice rolling for 130 total yards and one touchdown, before discussing how painfully ordinary QBs Mark Sanchez (119 yards passing, zero TDs) and Joe Flacco (163 yards passing, zero TDs) looked on Sunday night. But on the bright side, neither quarterback will have to face the Jets or Ravens defenses for the rest of the regular season ... which may be bad news to Baltimore's Dickson (4 catches, 45 yards), whose 12 targets will likely be the most of any Tier III tight end this season.
Revelations, Book III
Beanie Wells and Larry Fitzgerald are the only Cards worth starting in 12-team leagues. Arizona QB Kevin Kolb (237 yards passing, zero TDs) can inflict only so much fantasy damage when Wells (138 yards, 3 TDs) posts the greatest outing of his pro career. But that is what's so vexing about the situation: Kolb missed a golden chance to expose perhaps the NFL's most vulnerable secondary, while adding to the legend of Fitzgerald (8 catches, 102 yards) and asserting his own standing in the fantasy community. And for that nitpicky assessment, Kolb is nothing more than a QB2 for teams that employ Ryan, Fitzpatrick, Freeman, Flacco, Newton and Stafford as starters.
Chris Johnson owners finally have something to smile about.
Chris Johnson is back, baby! Please don't mistake Johnson's Book III placement for a lukewarm reception to his first 100-yard rushing day of the season. This modest reversal of fantasy fortune holds great value to the owners who believe that Johnson is a good bet for 100 total yards in 11 of Tennessee's next 12 games -- with only one potential roadblock against a typically stout run defense (Pittsbrugh in Week 5) -- and that Sunday's effort was the first major step in a memorable fantasy campaign. Of course, it'd be nice if QB Matt Hasselbeck wasn't so incredibly efficient, extracting three passing TDs out of 10 completions against the Browns. Nevertheless, Johnson is a firm RB1 in all leagues from this point forward.
The Broncos may be the NFL's best garbage-time team. Thank goodness QB Kyle Orton (273 yards passing, 3 TDs) can handle a prevent defense, eh? Otherwise, we'd be left to focus on his 12-20 mark as Denver's starter and why Tim Tebow deserves a chance to rescue the Broncos from another basement finish in the AFC West. The same holds true for RB Willis McGahee (113 total yards), WRs Eric Decker (5 catches, 56 yards, 2 TDs) and Brandon Lloyd (8 catches, 136 yards): When the scoreboard turns ugly for the Broncos, it's their time to shine. But since there's no discernible difference between "first-quarter points" and "garbage-time fun" in fantasyland ... there's no reason to lose faith with any of the Big Four right now.
Stevan Ridley and Darrius Heyward-Bey shall hold sneaky-good value in 12-team leagues from this point forward -- for different reasons. Instead of detailing the bankable excellence of QB Tom Brady (226 yards passing, 2 TDs vs. Oakland) and WR Wes Welker (9 catches, 158 yards, 1 TD), let's delve into the interesting battle between Ridley (100 total yards, 1 TD) and BenJarvus Green-Ellis (84 total yards, 1 TD). Both tailbacks are obviously roster-worthy talents ... but only one can garner flex-starting consideration from week to week. The smart money says that Green-Ellis remains a reliable threat for another double-digit TD season; but at the same time, Bill Belichick would not have devoted such a high draft pick on Ridley -- while ignoring the pass rush -- if he didn't foresee unlimited potential in the rookie rusher. Sounds like the perfect handcuff scenario. As for Heyward-Bey (4 catches, 115 yards; 7 targets), we've seen these short-term flashes before; but for the first time since joining the pro ranks, it's reasonable to believe that DHB could piggyback off the successes of Darren McFadden (123 total yards), Michael Bush (81 total yards, 1 TD) and rookie Denarius Moore (3 catches, 19 yards, 1 TD) and evolve into an effective, low-key fourth option for QB Jason Campbell and the Raiders (504 total yards on Sunday).
Calvin Johnson probably won't break Randy Moss's record -- I think. It's amazing to see that Johnson (8 catches, 96 yards, 2 TDs) is on pace for 32 receiving TDs and can eclipse Moss's record of 23 from 2007. But for every alley-oop touchdown that Calvin collects -- courtesy of Matthew Stafford</strong> (240 passing yards, 2 TDs) -- that once-unthinkable notion inches closer to reality. And for Calvin owners, that should be enough motivation to never part with him, via trade -- in the absence of a one-sided blockbuster.
I may have to eat a big bag of crow on Devery Henderson. One game does not a meltdown make, but I have no explanation for Henderson's disappearing act against the Jags (zero catches, one target) -- in a game where Drew Brees (351 passing yards, 1 TD) had a big day and WR Marques Colston tallied a pedestrian 1-catch, 8-yard outing in his return from a Week 1 collarbone injury. At the risk of ending today's Revelations with needless hyperbole, Hendo's Week 5 clash with Carolina may be the most important game of his life. It could be his last shot at keeping my unconditional love for the season.
An award-winning fantasy writer with Sports Illustrated (2008-2010) before joining the National Football Post, Jay Clemons' Fantasy Philanthropist Blog can be found here every Monday and Thursday during the regular season. Clemons can be reached, day or night, via Twitter.