October 10, 2011 -
Jay Clemons
Week 5 Revelations
Week 5 Revelations
1. Let's start with an obligatory Written In The Stars parallel: In the course of reading today's Revelations, you may encounter a few less-than-household names (Jason Avant, Jackie Battle, Jonathan Dwyer, Chaz Schilens, Early Doucet) garnering casual kudos for Week 5. But the hallmark of a truly memorable fantasy weekend lies with superstars and their uncanny ability to redefine greatness every Sunday. For the 1 p.m. games, we had Adrian Peterson bowling over the Cardinals for 122 yards and three touchdowns. At 4 p.m., we saw Tom Brady/Wes Welker light up the Jets' high-end cornerbacks; and in prime time, we watched Aaron Rodgers fleece the Falcons for 396 yards and two TDs -- just four yards shy of back-to-back 400 games. But perhaps nothing could compare to Kansas City's Dwayne Bowe wrapping up this week's nomination for Greatest Catch Ever!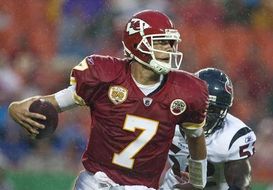 Matt Cassel has finally started to roll up some numbers.
2. Don't pull a hamstring jumping onto the Jackie Battle bandwagon. For the record, I have nothing against Battle (career-best 140 total yards vs. Indy) and his recent candidacy to become the Chiefs' top tailback in 2011 (Jamaal Charles will reclaim this spot in '12). After all, if certain governors/ex-governors from Texas, New Jersey and Alaska can garner fame for entering (or not entering) the Republican presidential race long after the 'season' began ... why can't Battle pull a Ryan Torain and make a strong October pitch for a job that Thomas Jones (62 total yards) and Dexter McCluster (18 total yards) haven't already clinched? For starters, Battle's monster day came at the expense of the 0-5 Colts, who ranked 27th in run defense before Sunday (133 yards per game); and then there's the matter of QB Matt Cassel (257 yards passing, 4 TDs), Dwayne Bowe (7 catches, 128 yards, 2 TDs) and WR Steve Breaston (4 catches, 50 yards, 2 TDs) having a stronghold on the Chiefs' red-zone attack. Throw in the notion Kansas City could always audition a slew of tailback prospects during its Week 6 bye ... and there are viable reasons to support Battle being a one-hit fantasy wonder. As if his previous career-high of 44 rushing yards (from 2007) didn't already indicate that.
3. There's no downside to the Patriots' season-long streak of 30-point games ... unless you bought the farm on Stevan Ridley. I have the Tweet log to prove it: Heading into Week 5, a sizable number of fantasy owners were willing to bench -- or even purge -- BenJarvus Green-Ellis from their rosters ... thinking that Ridley (100 total yards, 2 TDs in Week 4) would supplant BenJarvus sooner than later in New England's up-tempo, high-octane offense. But a funny thing happened on the way to Ridley's premature coronation, as Green-Ellis dissected the Jets defense for 149 total yards (136 rushing) and two TDs -- in what might have been the grittiest (and greatest) performance of any tailback this season. How superb was it? For the second consecutive week, the dynamic duo of Brady (321 yards passing, 1 TD) and Welker (5 catches, 124 yards) took a backseat to the Pats' backs -- although there's no debate to which one warrants a RB2 slot in all scoring formats (Green-Ellis).
4. On the way to channelling his inner-Newton, Michael Vick found his inner-Romo in Philly's loss to Buffalo. Being a dispassionate observer of the Eagles has its perks. Yes, the team committed five turnovers -- including four INTs from Vick -- and one major defensive blunder late in the game; but aside from the final score -- and Philly's unexpected fall to a 1-4 record -- what's not to like about Sunday's effort? Vick (395 total yards, 2 TDs) finished a whisker shy of back-to-back 400-yard outings and DeSean Jackson (5 catches, 86 yards, 1 TD), Jeremy Maclin (6 catches, 54 yards, 1 TD), LeSean McCoy (117 total yards, 1 TD) brought their A-games to a sun-splashed shootout. For deeper leagues, even Jason Avant titillated owners with nine catches for 139 yards, maximizing his 10 targets on the day. (The chances of that happening next week are remote.) Of course, the good people of Philadelphia might view the Eagles in a different prism today, expressing doubts over Vick's real-world viability or coach Andy Reid's long-term sustainability; but it's still better to be a fan of a 1-4 team that's oozing with talent than a 1-4 club that's flailing in the desert. Right?
5. There's no rhyme or reason for Early Doucet collecting 16 targets on Sunday. I had originally planned to devote this segment to Cardinals QB Kevin Kolb and how he missed a golden chance to capitalize on the Mother of All Garbage-Time Scoring Opportunities (with Arizona trailing 28-0 in the first quarter). Instead, it's probably best to explore the fantasy phenomenon that could be Doucet (8 catches, 92 yards) on days when RB Beanie Wells (60 yards, 1 TD) and WR Larry Fitzgerald (4 catches, 66 yards) are marginal, at best ... which may be the case whenever the Cards hit the road. Seriously, when did Arizona become so schizophrenic away from University of Phoenix Stadium? And when did Kolb (232 yards passing, zero TDs, 2 INTs) become a doppelganger to John Skelton or Max Hall, in terms of on-field proficiency? It's enough for frustrated fantasy owners (like me) to lower their weekly expectations for Fitzgerald, and downgrade Wells to flex-only consideration on the road -- in between fuzzy memories of Doucet (78 career catches) apparently getting open 16 times in a three-hour span.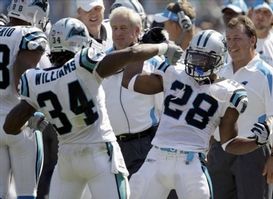 DeAngelo Williams emerged from witness protection to post a monster stat line against the Saints on Sunday.
6. It's hard to get a handle on DeAngelo Williams' value within the Panthers offense. How does one interpret D-Will's excellent effort against the Saints? Yes, he tallied 115 yards and one TD on just nine carries; but how does a big-name back who's averaging 13 yards per carry collect single-digit touches in a relatively close game ... especially when he had amassed 509 total yards and four TDs in his last four meetings with New Orleans? The answer is simple: Carolina backs are essentially left to pick up the red-zone scraps of QB Cam Newton (251 total yards, 3 TDs on Sunday) ... and will likely need to break off more 69-yard scoring runs to find the end zone with any regularity. Yes, it's a brave new world for Williams and Jonathan Stewart (33 total yards), as they a djust to Carolina's metamorphosis from a run-heavy attack to a Newton-pass/Newton-run system. For everyone's sake, though, we could do without the college-boy option calls in the pros (even the ones that work). Protecting Newton should always be Job-1.
Revelations, Book II
7. Fred Jackson adds new meaning to the term slippery. Apropos of nothing but quirky nonetheless ... Jackson (196 total yards, 1 TD) had never rushed for 100 yards in October, prior to Sunday. Quirky of nothing but apropos nonetheless ... the Bills did little to disguise their primary objective in Week 5: Run, run, run on the vulnerable Eagles ... and when that stopped working, feed the ultra-quick Jackson for six catches and 85 yards. On the same day when Buffalo rocked Philly for five turnovers and Naaman Roosevelt (5 catches, 41 yards) drew more receiving targets than Steve Johnson (4 catches, 29 yards) and David Nelson (1 TD), it was Jackson who stood alone as the Bills' big cheese, racking up his fifth straight outing of 100-plus total yards and cementing his status as a RB1 in standard-scoring and PPR leagues. Of course, that also makes F-Jax an intriguing sell-high candidate ... for the owners who've already peaked ahead to the Bills' next four opponents (Giants, Redskins, Jets, Cowboys). On the flip side, Jackson absolutely cannot fail during the fantasy-playoff period of Weeks 14-16 (Chargers, Dolphins, Broncos).
8. San Fran is more dynamic in the real world than fantasyland -- and that's a good thing. A quick look at the 49ers' Sunday box score suggests nothing of a 48-point explosion. Sure, RB Frank Gore (143 total yards, 1 TD) was his usual stellar self, TE Vernon Davis registered two TD catches and WR Josh Morgan (5 catches, 75 yards) almost hit end-zone paydirt before breaking his ankle; but to hang 48 on Tampa Bay without any plays of 45 yards or longer seems a tad unsettling. Could QB Alex Smith (170 yards passing, 3 TDs) be a weekly fantasy starter if the Niners win 11 or 12 games? Will wideouts Michael Crabtree (2 catches, 36 yards) and Braylon Edwards carry any weight with fantasy owners in November/December? And will RB Kendall Hunter (65 yards on nine touches) serve as anything more than a highly qualified injury-replacement tease to Gore in the coming weeks? Hmmmm ... after re-reading this paragraph, it's almost like San Fran isn't getting enough respect for its success; but that could easily change after next week ... when the 4-1 Niners face the only other team to enjoy a 45-point drubbing in 2011 (Lions).
9. Curtis Painter and Pierre Garcon have a nice thing going in Indy. It's not like Garcon (5 catches, 125 yards, 2 TDs vs. Kansas City) required Peyton Manning's presence to be a fantasy success this year ... he just needed anyone but Kerry Collins throwing him the ball. How else should we explain Garcon's three-week whirlwind in catches (13), receiving yards (353), TDs (4) and targets (26), other than focusing on his lack of chemistry with Collins, who had little or no grasp of Indy's playbook, tempo or receivers before Week 3 of the preseason? Ah, perhaps Reggie Wayne (4 catches, 77 yards) was right to stump for Painter (277 passing yards, 2 TDs) in Manning's injured stead; and perhaps many fantasy owners were wrong to jump ship on Garcon (8 targets) after a horrid start -- as part of a then-plausible/now-futile plot to acquire Devery Henderson off waivers. Yikes!
10. Jimmy Graham may be the most bankable tight end in fantasyland. Drew Brees might be on track for 5,000 yards passing (and Dan Marino's single-season record), but Graham (8 catches, 129 yards) has been the Saints' most valuable playmaker of the first five games, racking up more catches (32), targets (48), 100-yard games (3) and receiving yards (496) than any other star at his position. (To be fair, Cowboys TE Jason Witten had a Week 5 bye.) More importantly, Graham has brought stability to a pass-catching corps that has been plagued by injuries (Marques Colston, Lance Moore) and woeful inconsistency (Devery Henderson/Robert Meachem), prompting this out-of-nowhere prediction: Graham is a lock for 400 yards and five TDs from Weeks 6-10 ... so don't be afraid to move heaven and earth to land him, via trade.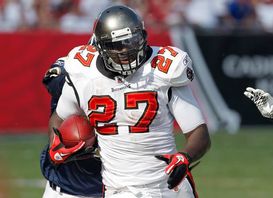 ICONThe 49ers did a nice job keeping Blount in check on Sunday.
11. OK, so maybe LeGarrette Blount wasn't the ultimate foil to the 49ers' run defense. There's no way to avoid the Monday shame of predicting that Blount would notch 120 total yards and/or two TDs on a defense that hasn't allowed a 100-yard rusher in something like 25 games ... so why go there? Simply put, it was a dreadful forecast on my part. In Sunday's blowout, Blount (65 total yards) was nothing more than a hulking decoy for a Bucs offense that looked ill-prepared for a much-hyped battle between playoff contenders, and now fantasy owners are left to wonder if one-time studs like QB Josh Freeman (187 yards, zero TDs), WR Mike Williams (4 catches, 28 yards) and TE Kellen Winslow (5 catches, 54 yards) can quickly rebound from an abomination that may have been worse than the 48-3 score. As for Blount, he'll be fine, assuming he collects more than 12 touches in Tampa Bay's intra-division clash with New Orleans in Week 6 ... which no longer feels like a showdown.
12. Somewhere in football heaven, Al Davis is smiling about Darrius Heyward-Bey. Roughly 30 hours after Davis -- a Raiders icon for 48 years and the American Football League's second-to-last commissioner -- passed away at the age of 82, one of his most controversial draft picks came through with a career-high in catches (7), targets (12) and TDs (1 -- shared personal best), while racking up 99 yards in his team's emotional comeback victory in Houston. Heyward-Bey's breakout was the perfect tribute to a great football innovator (Davis) ... but it was hardly his last hurrah in the fantasy realm. With back-to-back stellar weeks, Heyward-Bey (115 yards in Week 4) has passed the One-Hit-Wonder Test with flying colors, and should now be rostered in 12-, 14- and 16-team leagues. Of course, DHB was a direct benefactor of RB Darren McFadden's middling outing against the Texans (68 total yards) -- pedestrian numbers that D-Mac (the top-ranked tailback in so me leagues) only posts once every 10-12 weeks.
Revelations, Book III
13. Eli Manning made a little history at the new Meadowlands. Not that Giants fans celebrated the event on Sunday evening, but Manning threw for a career-high 420 yards (and three TDs) in the team's home loss to the Seahawks, while notching back-to-back 300-yard outings for the first time in his career. Think about that for a moment. For a club that routinely airs it out 35 times a week, Manning had never crossed the 300 threshold in consecutive games. And amid this bankable success, fantasy owners must now decide if Manning, RB Ahmad Bradshaw (85 total yards vs. Seattle), WR Hakeem Nicks (4 catches, 65 yards, 1 TD), WR Victor Cruz (8 catches, 161 yards, 1 TD) and WR Mario Manningham (5 catches, 56 yards) are safe bets for monster numbers against the Bills, Patriots, 49ers, Eagles, Redskins, Jets, Packers, Saints and Cowboys (twice) -- starting Week 6.
14. Maybe Big Ben should play on a bad foot every week. I feel guilty for giving Ben Roethlisberger the Book III treatment here. After all, it's not every day that an embattled quarterback -- operating behind a patchwork O-line -- throws for five TDs (the second time of his career) against one of the NFL's best defenses. And it's an even rarer day when the Steelers are on the cusp of a legitimate running back controversy, starring Rashard Mendenhall (missed Sunday due to injury), Isaac Redman (61 total yards) and Jonathan Dwyer (113 total yards) -- all of whom would be dynamite fantasy options in the coming weeks ... if we knew who was starting AND who'd be getting prime touches during garbage-time play. But at least there are no illusions about Mike Wallace (6 catches, 82 yards, 1 TD) and Hines Ward (7 catches, 54 yards, 2 TDs): One is a rock-solid star ... the other's a sneaky-good WR4 in PPR leagues from this point forward.
15. Seahawks wideout Doug Baldwin makes his own luck. The cynical fantasy owner might chalk up Baldwin's game-turning, 27-yard touchdown against the Giants to 'busted coverage' or 'the defense wasn't ready to make a play.' But it's not like Baldwin (8 catches, 136 yards, 1 TD) has been the only fantasy WR to benefit from New York's injury-ravaged, talent-deprived secondary this season -- and probably won't be the last, either. But gift TDs notwithstanding, Baldwin (three games of 80-plus yards) has shown some consistency as Seattle's WR2 -- taking pressure off Sidney Rice (4 catches, 38 yards) -- while demonstrating his worth as a roster-worthy asset in 12-team leagues. His presence has also been a saving grace for RB Marshawn Lynch (131 total yards, 1 TD) and QB Tarvaris Jackson, who left Sunday's game with an upper-body injury. As for Ben Obomanu (6 catches, 51 yards, team-high 10 targets), never underestimate the relationship between a scout-team QB (Charlie Whitehurst) and scout-team wideout (Obomanu) -- especially if Whitehurst gets pressed into a starting role in Week 7, after the Seahawks' bye.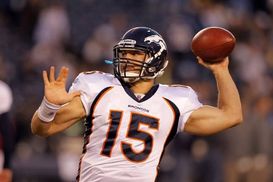 ICONWill Tebow surprise owners who acquire the Denver quarterback via waivers this week?
16. Surprise! Tim Tebow is now roster-worthy in 12-team leagues. Whether or not Tebow (117 total yards, 2 TDs) has the passing IQ, arm strength and accuracy (4-of-10 vs. San Diego) to be an elite winning quarterback in the NFL is irrelevant to the fantasy aficionado. Bottom line: If he should earn the starting nod in Denver, Tebow will likely have a direct role in 90 percent of the Broncos' offensive touchdowns from this point forward, and any guy who's a solid bet for two TDs every Sunday -- regardless of their efficiency, throwing mechanics or awkward pocket presence -- should never be overlooked. Even with solid goal-line finishers at tailback like Willis McGahee (125 total yards) and Knowshon Moreno (40 yards, 1 TD). Unfortunately, there's a downside to Tebow's quirky play: Wideouts Brandon Lloyd (1 catch, 20 yards) and Eric Decker (2 catches, -4 yards) have diminished value whenever Kyle Orton's holding a clipboard on the Denver sidelines.
17. There will be no 'rookie wall' for A.J. Green in November and December -- I think. As stated before in these Revelations, there is no substitute for opportunity in fantasyland, especially with freakishly athletic talents, like Green (5 catches, 90 yards, 1 TD vs. Jacksonville), who must remain an integral part of the offensive game plan. Simply put, given Cedric Benson's recent struggles (53 yards on Sunday) and the steep learning curves of TE Jermaine Gresham (5 catches, 21 yards, 1 TD), WR Jerome Simpson (4 catches, 40 yards) and rookie QB Andy Dalton (179 yards passing, 2 TDs), Green is already the Bengals' most consistent playmaker ... and deserves 8-12 targets per game, without exception. Of course, that isn't to say Green (24 catches, 402 yards, 3 TDs in 2011) is immune from the occasional clunker -- an unavoidable rite of passage for all first-year stars; it just means that he'll encounter little rest while being asked to carry a Cincinnati club that shouldn't expect 30 points from 13 first downs every week.
18. Ryan Mathews picked the perfect time to hurt his calf ... and wrist. If the Chargers had a game next week, perhaps we'd be more worried about Mathews' capacity to bounce back from separate maladies, Philip Rivers' third straight game of zero or one TD passes or Vincent Jackson's sluggish outing (3 catches, 34 yards). Instead, we'll happily reflect on Mathews' career-best rushing day of 125 yards, Rivers' recaptured chemistry with WR Malcom Floyd (3 catches, 100 yards, 1 TD) and that V-Jax won't see Broncos CB Champ Bailey again until Week 12 -- in sunny San Diego. Speaking of blue skies ... fantasy ignorance is the ultimate bliss, dontcha think?
An award-winning fantasy writer with Sports Illustrated (2008-2010) before joining the National Football Post, Jay Clemons' Fantasy Philanthropist Blog can be found here every Monday and Thursday during the regular season. Clemons can be reached, day or night, via Twitter.