October 17, 2011 -
Barry Dorey
Week 6 Revelations
Week 6 Revelations
1. Ray Rice, Anquan Boldin and Arian Foster are primed for Decembers To Remember. For 6-0, 5-1 or 4-2 owners, it's fun (and quite essential) to peek ahead at the matchups for the fantasy-playoff period of Weeks 13-16 and see that Rice (161 total yards vs. Houston) and Boldin (8 catches, 132 yards) could easily be top-10 picks against the Colts, Chargers and Browns (twice). As a result, savvy GMs should start making immediate inroads to landing either star for the stretch run -- even if it involves parting with supreme talents like Vincent Jackson, DeSean Jackson, Reggie Wayne, Beanie Wells, Peyton Hillis or Jahvid Best in non-keeper leagues. But no tailback can match the expected December greatness of Foster (101 total yards vs. Baltimore), who'll encounter the Falcons, Bengals, Panthers and Colts from Weeks 13-16 -- four matchups where 120 total yards and/or two TDs shall serve as the baseline measure, not a tipping point. Of course, that fearless prediction allows for some wiggle room with the fantasy prospects of Houston QB Matt Schaub (220 yards passing, 1 TD) -- assuming that Andre Johnson and Foster (11 targets on Sunday) are worry-free in the hamstring department for the season's final month.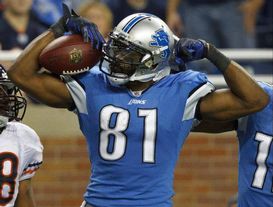 Another week, another big performance from Megatron.
2. Calvin Johnson does a spot-on impression of Larry Fitzgerald. Johnson deserves much credit for changing the narrative away from his touchdown streak ending at five games, the Lions suffering their first loss of the season or head coach Jim Schwartz's all-bark/no-bite brouhaha with 49ers coach Jim Harbaugh after the postgame handshake. For only the third time in his brilliant career, Calvin posted back-to-back games of 100 yards and quietly reserved his spot on the updated Mount Rushmore of PPR Receivers (along with Fitzgerald, Wes Welker, Andre Johnson). On a slightly smaller scale, Jahvid Best (110 total yards), TE Brandon Pettigrew (8 catches, 42 yards, 1 TD; 14 targets), QB Matthew Stafford (302 total yards, 2 TDs) and WR Nate Burleson (4 catches, 34 yards, 1 TD) warrant plenty of Week 6 love ... although we're left to wonder how Burleson's completing-the-process TD catch was OK'd by referees but Calvin's completing-the-process (non-)TD catch from 2010 didn't count in the eyes of replay officials? If the NFL Competition Committee hasn't wavered on the Completing The Process rule in the last 15 months ... how come Calvin's acrobatic "catch" hasn't been retroactively documented in the record books? Weird.
3. Rashard Mendenhall apparently doesn't like the term time share. There are two ways to look at Mendenhall's excellent Sunday adventure: The optimist would point to the 146 rushing yards and one TD against the scrappy Jags as an indication that Mendy steadfastly refuses to be in a 50-50 touches split with either Isaac Redman or Jonathan Dwyer (Week 5's rushing dynamo) ... and that he's a solid bet to wreak havoc on the Cardinals in Week 7. The pessimist would attribute the monster day to one sterling run of 68 yards, followed by 22 largely pedestrian carries for the other 78 yards. He/she may also identify Jacksonville as one of the NFL's least intimidating clubs and that Redman (24 total yards) or Dwyer (8 total yards) could have inflicted similar damage. Well, call me Captain Blue Sky for believing that Mendenhall can recapture the form that made him a top-10 pick during the August drafts. I also attest, without reservation, that QB Ben Roethlisberger (200 passing yards, 1 TD) and WR Mike Wallace (2 catches, 76 yards, 1 TD) will raise their fantasy games against Arizona, as well.
4. Blame Michael Turner for Roddy White's recent fantasy shortcomings. That bolded comment comes with tongue in cheek, now that Turner (147 total yards, 2 TDs) has again dissected a defense that's seemingly powerless to stop him. (Prior to Sunday, Turner was averaging 97 total yards/1.6 TDs against the Panthers.) As good as Turner has been since coming to Atlanta in 2008 (4,699 total yards, 45 TDs), he'd be on the fast-track to Canton if he faced Carolina more than twice a year. As a result, his "RB lock" prediction of 120 yards and/or two TDs might have been the easiest call of the fantasy season; on the flip side, we badly missed on the assumptions that White -- only one 100-yard performance in his last 13 games and way behind last year's torrid pace of 115 receptions -- and tight end Tony Gonzalez (3 catches, 29 yards) would post stellar numbers at the Georgia Dome. Perhaps they'll re-establish their power in Detroit next week, although Gonzo might be needed as an extra blocker to combat the Lions' frenetic pass rush.
5. The Rams really need to work on their garbage-time offense. From a Points Per Reception perspective, there's much to like about Steven Jackson (125 total yards), Danario Alexander (6 catches, 91 yards) and Greg Salas (8 catches, 77 yards) earning double-digit points against the Packers; and we can certainly appreciate QB Sam Bradford (321 yards passing, zero TDs) targeting Salas, Alexander and WR Brandon Gibson 10 times each. But how could St. Louis fail to hit end-zone paydirt against Green Bay's often-bend/sometimes-break defense ... in a game where the outcome was never in doubt and garbage-time fun should have been an absolute given? As one who believes in O-coordinator Josh McDaniels, it's hard to trust any Rams playmaker (aside from Jackson) in 12-team leagues -- even with expected blowout losses to the Cowboys and Saints on the docket for Weeks 6 and 7.
Revelations, Book II
6. LeSean McCoy is the fantasy gift that keeps on giving. Oh, to be a fly on the wall at the Eagles' practice facility when the coaches formulated the midweek game plan for their must-win clash against the 'Skins: Was it a conscious decision to dole out 30 touches to McCoy (139 total yards, 1 TD) -- easily the most of his young NFL career? Did they expect QB Michael Vick (291 total yards, 1 TD) to repeat his six-touchdown bonanza against Washington last year? And were they fully prepared for Vince Young making one of the most unfulfilling cameos since Burt Reynolds showed up at the end of S mokey & The Bandit 3? Yes, it was an interesting day for Vick, Young, McCoy and WR DeSean Jackson (3 catches, 46 yards) -- all of whom played integral roles in Philly's good-half/bad-half outing, where only McCoy and WR Jeremy Maclin (5 catches, 101 yards) brought consistent fantasy goodness to the table. Speaking of which, expect great numbers from Vick, Maclin and McCoy after the Eagles' Week 7 bye, as they'll have three straight home games against the Cowboys, Bears and Cardinals.
7. A certain fantasy guru may have underestimated the talents of Earnest Graham. Prior to Saints-Bucs on Sunday, I would have attached greater odds to head coach Sean Payton blowing out his knee on the sidelines than Graham rumbling for 131 total yards (on only 19 touches). That's how much I doubted the 31-year-old's capacity to carry Tampa Bay to a huge divisional victory over New Orleans (my Super Bowl pick). After all, we're talking about a guy (Graham) who's done very little since that breakout campaign in 2007 (1,222 total yards/10 TDs) and a Bucs offense that looked anemic and deflated against the 49ers last week (and that was before LeGarrette Blount got hurt). But for one day, Graham conjured up images of solid Bucs runners past (Ricky Bell, James Wilder, Cadillac Williams) ... while suspending any pie-in-the-sky thoughts of Kregg Lumpkin (13 total yards) becoming the franchise's next intriguing back. Speaking of the future, let's not go overboard on Josh Freeman's big passing day (303 yards, 2 TDs) and his value for the coming weeks. The rule of thumb: Until WR Mike Williams can break the spell of eight consecutive outings with 66 yards or less ... Freeman shall remain a quality backup QB in fantasyland.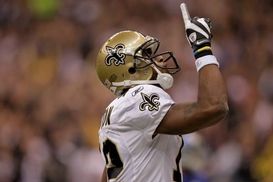 ICONTime to unload Colston while his stock is still high.
8. Fantasy owners should consider trading Marques Colston this week. I cannot recall the last time an NFL wideout broke his collarbone ... and then dominated the competition just five weeks later. Either Colston (7 catches, 118 yards, 1 TD vs. Tampa Bay) has the world's greatest clavicle surgeon, or his recovery time from a major injury is way above that of most humans. And with that glowing recommendation comes this dour announcement: Thanks to Colston's huge day against the Bucs -- which included a blown-coverage TD -- fantasy owners have been granted a short window to capitalize on the receiver's upward trade value and improve their roster in other areas. Yes, Colston (11 targets on Sunday) remains the best wideout option for QB Drew Brees (383 passing yards, 1 TD, 3 INTs); but given the lightning-fast progress of Saints TE Jimmy Graham (7 catches, 124 yards) and RB Darren Sproles (8 catches), it's reasonable to think that Colston may only post 3-4 more games of 90-plus yards this season. Besides, you don't want to be left holding the proverbial bag the next time Colston dives for a low ball or incurs a bone-crushing tackle -- allowing for a re-break of the collarbone.
9. In 12-team leagues, Andy Dalton may be a sneaky-good starting QB for the playoffs. Seriously. Obviously, owners of Rodgers, Brady, Brees, Rivers, Vick, Stafford, Newton, Romo and Roethlisberger would garner immunity from the previously unconscionable notion of entrusting Dalton (264 passing yards, 1 TD vs. Indy) with a playoff start. But aside from those rubber-stamp starters, Dalton deserves to be in the conversation of potential playoff gems -- especially Week 15 (@ St. Louis) and Week 16 (vs. Arizona). In his last five games, Dalton has either eclipsed the 260-yard mark or accounted for two touchdowns, respectable numbers that rival such luminaries as Matt Ryan and Josh Freeman during that span. Of course, for Dalton to max-out any December consideration, he'll need the full support of A.J. Green (5 catches, 51 yards, 1 TD), Cedric Benson (62 total yards, 1 TD), tight end Jermaine Gresham (4 catches, 23 yards) and enigmatic wideout Jerome Simpson, who amassed team-highs in catches (6), yards (101) and targets (9) against the Colts. They're essential components for a quarterback who has averaged 35 passes since Week 2.
10. Reggie Wayne and Brandon Lloyd owners stand to benefit from their players' possible change of scenery. In July, who could have imagined that Wayne (5 catches, 58 yards against Cincy) would be a relative afterthought on an 0-6 club that's floundering in Peyton Manning's absence ... or that Lloyd (bound for St. Louis) would be expendable on a Broncos team that's curiously devoid of big-time playmakers? (Apologies to Willis McGahee, Eric Decker, Knowshon Moreno.) And yet, that's where we stand with two free-agents-to-be who could provide a much-needed boost to a playoff contender (or young team with cap room). In the fantasy realm, Wayne and Lloyd owners would be wise to wait three days before proffering any sell-low trades; on the flip side, prospective owners should feel emboldened to broker a deal that's heavy on upside.
11. It's pointless to debate the merits of Torain vs. Hightower vs. Helu when Rex Grossman stinks up the joint. Just so we're clear here: Sunday's invisible efforts from running backs Ryan Torain (22 total yards), Roy Helu (17 total yards) and Tim Hightower (zero touches) had nothing to do with Shanahanigans -- the unflattering term used to describe coach Mike Shanahan's infamously quirky treatment of tailbacks -- and everything to do with the Redskins' 20-0 hole in the first half, forcing the club to abandon the run and seek out Grossman (143 yards passing) for heroism. And of course, that plan failed miserably -- sometime between Rex's fourth interception and John Beck's arrival from the bullpen. In other words, we're not going to overreact to one game that went terribly awry from the opening kickoff. If Washington has any hopes of winning the NFC East, Torain, Helu and especially Hightower (bad shoulder) need to be integral parts of the offense -- regardless of who gets the starting nod. The Redskins' bread-and-butter lies with their typically stout defense, tight end Fred Davis (6 catches, 95 yards; 11 targets) and a trio of talented backs ... all of whom can now be had for pennies on the dollar in trades.
Revelations, Book III
12. Fantasy owners should accentuate the positive from Felix Jones' Debbie Downer day. There's no upside to exaggerating Jones' impact in Sunday's high-profile meeting with the Patriots (33 total yards on 10 carries), but we can certainly extract some good news from the experience: With consecutive games against St. Louis, Philadelphia, Seattle, Buffalo, Washington and Miami on the horizon, there will never be a better time to buy-low on Jones and/or handcuff DeMarco Murray (39 total yards) -- now that QB Tony Romo (317 yards passing, 1 TD) has all-star receivers Dez Bryant (4 catches, 78 yards) and Miles Austin (7 catches, 74 yards) back in the fold. Yes, while the real world focuses on the Cowboys' inability to finish games -- despite Romo's glowing passing stats and the defense's sack-happy nature -- you, the savvy GM, are free to make a stealth deal for Jones ... knowing that he may dominate six Charmin-soft defenses from Weeks 7-13.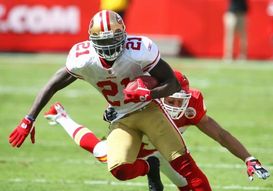 ICONGore played a big role in the 49ers upset of the Lions.
13. Michael Crabtree may be the most coveted free agent in 12-team leagues this week. What's the greater miracle from Sunday -- QB Alex Smith (125 passing yards, 1 TD) knocking off an unbeaten power on the road on 53-percent passing ... or Crabtree (9 catches, 77 yards) emerging from the icy depths of obscurity to draw 15 targets? Of course, Frank Gore (146 total yards) and the crunch-time defense deserve a hefty share of credit for vaulting San Francisco to a stunning 5-1 record; but for the sake of looking ahead, it's fun to ask if Crabtree warrants more waiver-wire consideration than receivers Steve Breaston, Doug Baldwin (Week 6 byes) or any Rams wideout who stands to benefit from weekly garbage-time goodness? Admit it: Welcoming Crabtree onto your team with open arms feels like a needless guilty pleasure ... but aside from Vernon Davis, who else are they going to throw to?
14. Proceed with caution when trading for Devin Hester. We've never doubted Hester's potential to occasionally rise up and roll for five catches, 91 yards and two TDs on a given Sunday (one receiving/one kick-return). After all, Hester is easily the greatest punt/kick returner in NFL history and likely the Bears' most explosive receiving threat (excluding Matt Forte); and then there's the old saying that Blinding speed kills ... eventually. But after those generic platitudes, things get tricky: Hester doesn't really pack a punch in PPR leagues (185 catches in five-plus NFL seasons) and hasn't posted back-to-back games of 60 yards receiving since November 2009, a major deterrent in standard-scoring leagues. And for leagues that only reward kick-return TDs -- and not kick-return yardage -- does it really make sense to start Hester at the flex spot on a weekly basis? Bottom line: On nights when Jay Cutler (267 yards passing, 2 TDs) has time to throw the ball and Forte (123 total yards) has ample room to run, Hester can be an excellent complementary piece in the fantasy realm. Unfortunately, that's not something you should expect in Week 7, especially if the Bears and Bucs must trudge through a soggy pitch at London's Wembley Stadium. (Is it ever rain-free for these England games?)
15. The Raiders need Carson Palmer ... and vice versa. Assuming the 31-year-old Palmer sincerely wants to end his early retirement from the NFL, he may not encounter a better match than Oakland and its eclectic mix of young playmakers. OK, so maybe Darren McFadden (93 total yards, 1 TD vs. Cleveland) would easily survive and flourish with Kyle Boller or rookie Terrelle Pryor as the Raiders' full-time signal-caller, but emerging talents like Darrius Heyward-Bey (6 catches, 82 yards), Jacoby Ford (181 all-purpose yards, 1 TD), Denarius Moore, Chaz Schilens, Louis Murphy and TE Kevin Boss (1 catch, 35 yards, 1 TD) are at crucial stages of their development and stand to benefit from a Palmer trade, courtesy of enigmatic Bengals owner Mike Brown. That isn't to say Boller (8,870 career passing yards) couldn't pull a Jim Plunkett and morph into a former-first-round-pick-turned-franchise-savior-on-his-third-NFL-stop ... but with Jason Campbell done for the year (broken collarbone), who's the better option? Which quarterback preserves the 4-2 Raiders' standing as viable playoff contenders ... and which QB immediately becomes roster-worthy in 12-team fantasy leagues? The educated guess lies with Palmer.
16. Greg Olsen shall remain a top-10 tight end in fantasyland. At first blush, there was nothing special about Olsen's Sunday outing (5 catches, 42 yards); but a closer look reveals just how far he's come with Panthers QB Cam Newton in six short weeks: In his last four games, Olsen (3 TDs) has racked up 32 receiving targets -- including 10 against Atlanta -- while finding his new-kid-on-the-block niche amongst Carolina playmakers Jonathan Stewart (72 total yards, 1 TDs), DeAngelo Williams (46 total yards) and Jeremy Shockey (4 catches, 60 yards). All this bodes well for Olsen and Newton -- who still eclipsed the minimum star threshold of 275 total yards on arguably his worst day as a pro -- during the stretch run, as they develop a chemistry that's prolific between the 20s and in the red zone. (As a matter of convenience, we're ignoring Newton's Week 2 numbers in that monsoon ... and in a fit of stubbornness, we'll never back down from saying that Newton is a rubber-stamp starter in all scoring formats.)
17. ESPN may live to regret wanting Dolphins-Jets for Monday night ... instead of Bills-Giants. While it's true that ESPN has access to five amazing pregame clips involving the Jets and Dolphins -- 1) Dan Marino's fake-spike-to-stop-the-clock TD pass; 2) Nat Moore's's helicopter catch; 3) A.J. Duhe's pick-six return in the 1982 AFC Championship; 4) the Marino-Ken O'Brien 51-45 shootout in 1986; or 5) the Jets' Monday Night Miracle from 2000 -- they would have also enjoyed the Sunday fireworks at MetLife Stadium. Ahmad Bradshaw (130 total yards, 3 TDs) and Fred Jackson (147 total yards, 1 TD) killing it at running back; Steve Johnson (5 catches, 39 yards, 1 TD), Naaman Roosevelt (60-yard TD catch/run), Hakeem Nicks (4 catches, 96 yards) shining at wide receiver ... and Eli Manning (292 yards passing, zero TDs) and Ryan Fitzpatrick (244 yards passing, 2 TDs) adding spice to the passing game -- in stiff Meadowlands winds, no less. The only fantasy marvel who didn't really produce was WR Victor Cruz (2 catches, 12 yards) ... but that's no reason to bench him for Week 8 (after the Giants' bye) against -- guess who? -- the Dolphins.
An award-winning fantasy writer with Sports Illustrated (2008-2010) before joining the National Football Post, Jay Clemons' Fantasy Philanthropist Blog can be found here every Monday and Thursday during the regular season. Clemons can be reached, day or night, via Twitter.