October 24, 2011 -
Barry Dorey
Week 7 Revelations
Week 7 Revelations
1. So, this is why a certain fantasy guru ranked Drew Brees as the No. 1 QB in August. I'm not a mathematician -- nor do I play one on TV -- but how did Brees NOT score a perfect QB rating against the Colts? Brees (31-of-35 passing for 325 yards, 5 TDs) led his club to single-game franchise records in points (62) and first downs (36), while only netting four incompletions on the night (Curtis Painter's total after one quarter) -- shouldn't that be enough to earn a perfect score of 158.3? At the very least, can someone explain what was so special about the times Y.A. Tittle, Joe Namath, Craig Morton, Vince Evans, Steve Bartkowski, Trent Green and some guy named Mike Buck pitched perfect games -- compared to Brees' domination in Week 7? It makes no sense. Sabermetric rants aside, there wasn't much to find fault with here: Marques Colston (7 catches, 98 yards, 2 TDs) and TE Jimmy Graham (6 catches, 54 yards, 2 TDs) maintained their standing as pass-catching dynamos, while Darren Sproles (107 total yards, 2 TDs), Mark Ingram (97 total yards before injuring his heel/foot) and Pierre Thomas (125 total yards) raised the fantasy bar for future three-pronged rushing attacks. Bottom line: Brees, Colston, Graham and Sproles are automatic starting considerations from this point forward; and hopefully, Ingram will be healthy enough for Week 8, when the Saints likely pillage and plunder another Suck For Luck candidate -- the winless Rams.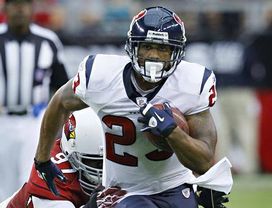 On Sunday, Arian Foster reminded fantasy owners why he's one of the best in the business.
2. Forget about wondering who's the AFC's best tailback. On a day when Darren McFadden sprained a foot, Rashard Mendenhall got swallowed up by the Steelers' passing attack, Ray Rice chilled in a Jacksonville-area hotel and Chris Johnson brought a whole new meaning to the term uninspired mediocrity (more on him later) ... RB Arian Foster enjoyed perhaps his greatest day as a pro, racking up 234 total yards (115 rushing) and three TDs in Houston's surprisingly easy road rout of Tennessee. How great was Foster? The distance between himself and the aforementioned stars might be greater than the separation that exists between a Tier II rusher and Texans backup Ben Tate, who pounded the Titans for 104 yards on just 15 carries. Obviously, Tate can't be expected to go trolling for 100 yards every week, but Sunday's effort may have solidified his standing as one of the better RB2s in fantasy -- along with Darren Sproles, Mike Tolbert, Knowshon Moreno, Jonathan Stewart, Brandon Jacobs, Michael Bush and the latest Cowboys playmaker to set the NFL world on fire.
3. DeMarco Murray has likely earned another start with the Cowboys -- and your fantasy team. If Felix Jones or Murray haven't heard the legend of Wally Pipp and Lou Gehrig, they'll get an earful of it before the Cowboys' Week 8 showdown with the Eagles. And now, it's fair to wonder if Jones (out with a knee injury) may have unwittingly ceded his spot as the team's feature back, after watching the rookie Murray torch the Rams for a franchise-record 253 rushing yards -- which included a 91-yard touchdown run in the first quarter? OK, so maybe Jones would have accrued similarly stellar numbers against the porous Rams defense; but there's no disputing that Murray should be given every chance to prove Sunday's monster outing wasn't a one-time occurrence. The same holds true for fantasy owners: Even if Dallas wasn't facing Philly's flailing run defense, they'd be advised to stick with Murray in all scoring formats, no matter the situation. But since the Eagles are on deck, it's fun to dream about Murray's capacity for 150 total yards ... while perhaps doing the unthinkable for a second straight week: Making the fantasy accomplishments of QB Tony Romo (166 yards passing, 2 TDs vs. St. Louis), TE Jason Witten (5 catches, 35 yards, 1 TD), WR Miles Austin (2 catches, 16 yards) and WR Dez Bryant (5 catches, 90 yards, 1 TD) go largely unnoticed.
4. Matt Forte has unlocked the key to playing great in London: Sleep on the plane! It's scary to think where the Bears would be sitting right now if Forte wasn't dominating the scene every week ... so much that Sunday's windfall (183 total yards, 1 TD) was only his second-greatest performance of the young season. Take away Jay Cutler's middling day (226 yards, 1 TD, 2 INTs) and that no Bears wideout collected five catches or 60 yards ... and we're left with an anxious Wembley Stadium audience hanging on Forte's every move, every against-the-grain cut, every long run that looks ridiculously smooth. But that's how fantasy owners want it anyway, since neither Cutler nor Devin Hester (4 catches, 46 yards), Johnny Knox (3 catches, 53 yards), Dane Sanzenbacher (2 catches, 13 yards) are entrenched starters; and only superstars like Forte could command top dollar -- and then some -- during their upcoming bye week.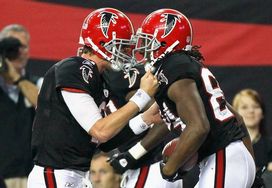 Matt Ryan and Roddy White all already behind last year's pace.
5. The days of Roddy White being a lock for triple-digit yardage may be over. While fantasy owners undoubtedly cheered White's over-the-shoulder TD catch against the Lions, Sunday's output (5 catches, 52 yards, 1 TD) marked the 14th time in 15 games that Roddy failed to tally 100 receiving yards; and to put this slump into context, White amazingly cracked the century mark 16 different times from 2008-10. But with friends like Michael Turner (122 yards vs. Detroit), Tony Gonzalez (5 catches, 62 yards) and Matt Ryan (220 total yards, 2 TDs) sharing the grunt work, it's hard to be completely dour after the Falcons' crucial NFC victory. Speaking of Ryan, did you notice that his decent stats were remarkably similar to the media world's biggest hero for Week 7? Here's a hint: Rhymes with Slebow.
Revelations, Book II
6. Tim Tebow's fantasy day should neither be celebrated nor disparaged. Seriously. In this golden age of DirecTV Sunday Ticket and NFL Red Zone (on two channels, no less), may I recommend the best course of action for the faint-of-heart Tebow owner: Don't watch his games on TV! Think about it: If you took the kids to an apple orchard from 1-4 p.m. on Sunday and checked out Tebow's line after Denver's incredible comeback victory, you'd be happy -- but not overjoyed -- with the 226-yard, 2-TD outing (plus a 2-point conversion) in Tebow's starting debut for 2011. But if you passed on that family-bonding opportunity for perhaps the worst 56 minutes by a QB since Ryan Leaf (circa 1998), followed by the most thrilling 10 minutes from a left-handed quarterback NOT named Steve Young ... you're now in the awkward position of guessing, 'Which Tebow will show up for Lions-Broncos next Sunday?' Bottom line: No current starting QB has more train-wreck potential than Tebow; but he also possesses that je ne sais quoi quality, that certain something that reassures fantasy owners everywhere: I will get my 220 total yards and two TDs ... no matter how many overthrows and 8-second scrambles it takes!
7. There's no middle ground with Plaxico Burress. Fantasy GMs should only view Plaxico's 3-TD effort against the Bolts in two ways: Either he represents the ultimate red-zone weapon for Jets QB Mark Sanchez (198 total yards, 3 TDs) and deserves to be a weekly flex starter in 12- and 14-team leagues ... OR fantasy owners should feel obligated to "sell high" on Burress this week, knowing there will never be a better time to get top dollar in the trade market. (I'm siding with the latter.) If Burress was an actual tight end trapped in a receiver's body, perhaps I'd want him for the remainder of the season; but I cannot commit to a wideout who, on his greatest fantasy day since 2007 (8 catches/144 yards/3 TDs in Week 1), only pulled down four catches for 25 yards. And given the relative strength of playmakers Shonn Greene (117 total yards vs. San Diego), TE Dustin Keller (4 catches, 53 yards) and WR Santonio Holmes ... I cannot envision Plax rolling for three scores again this year. As a Michigan State alum, it pains me to view Plax in this prism; but then again, what right-minded fantasy owner could pass on the opportunity to bilk a die-hard Jets fan out of a RB2 or RB3 -- for a guy who hasn't caught five balls since George W. Bush's presidency?
8. There's something Favre-ian about Kevin Kolb's game ... and that's not a good thing. Oh, how I wish NFL.com had the clip of Kolb missing a wide-open receiver (Rob Housler, I think) in the first half of Steelers-Cardinals. It may have marked the first time I have ever seen a QB underthrow an unfettered pass-catcher on a simple seam route -- for a coulda/woulda/shoulda touchdown. That shaky play best encapsulated Kolb's Sunday struggles: Yes, he tallied 286 total yards and two touchdowns against a top-notch defense, and yes, he had to make do without RB Beanie Wells (sprained knee) in the second half; but it was the kind of erratic performance that leaves one to wonder if Kolb (272 yards passing) needs 1-2 more years of seasoning before developing into a weekly starting consideration in 12- or 14-team leagues -- let alone leading the Cardinals to a winning record? As a direct consequence to Kolb's inefficiency, Larry Fitzgerald (4 catches, 78 yards; team-high 10 targets) caught 50 percent or less of his targets for the third time in seven games ... which wouldn't be such an ominous sign if Early Doucet (5 catches, 30 yards, 1 TD), Housler (2 catches, 28 yards) or Andre Roberts (1 catch, 8 yards) were capable of posting rock-solid numbers on a consistent basis. And looking at the Cardinals' slate during the fantasy-playoff period of Weeks 14-16 (San Francisco, Cleveland, @ Cincinnati) ... Fitzgerald's greatest gift to his current owners may come in the form of a pre-deadline trade to another team.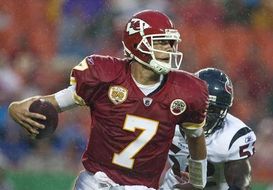 Cassel frustrated fantasy owners in Sunday's big win over Oakland.
9. Let's not overreact to the subpar efforts of Matt Cassel and Carson Palmer -- for different reasons. Outside of Kansas City's first drive (three plays and out), Cassel and Co. were playing with house money the entire game, benefiting from a silky-smooth pick-six (off Kyle Boller) and an early injury to Raiders RB Darren McFadden (6 total yards). Throw in a couple short-yardage touchdowns from Le'Ron McClain and Javier Arenas ... and Cassel (161 yards passing, zero TDs) was unwittingly a productive bystander who brought very little fantasy spice to the Chiefs' shutout rout. On the flip side, Cassel targeted Dwayne Bowe (6 catches, 76 yards) and Steve Breaston (5 catches, 64 yards) 19 times -- so at least his fantasy heart was in the right place, boding well for next week's clash with the Chargers. As for Palmer (116 yards passing, zero TDs, 3 INTs) ... what did you expect from a guy who's been sitting on a couch for the last 10 months and had only three days to bond with teammates and learn a complicated offense? Bottom line: The Raiders have a bye next week; and in the 14 days before their next game (vs. Denver), I fully expect Palmer to perfect timing routes with Darrius Heyward-Bey (5 catches, 89 yards; team-high 11 targets) and Jacoby Ford (2 catches, 13 yards) ... while getting full-time support from McFadden and RB Michael Bush (111 total yards). But then again, it's not like we endorsed starting him in the first place. HA!
10. Someone not named Kregg Lumpkin stands to benefit from Earnest Graham's Achilles injury. Depending on how many more weeks LeGarrette Blount misses with an MCL injury, it'll be very interesting to see how Tampa Bay handles its latest devastating injury (Graham will reportedly miss the season). Will the club try to make a temporary franchise back out of Lumpkin (52 total yards vs. Chicago) ... or solicit the help of Clinton Portis, Larry Johnson, Tiki Barber to come off the street and work miracles for a bruised and battered playoff contender? Whatever the case, WR Mike Williams (6 catches, 75 yards), WR Dezmon Briscoe (6 catches, 73 yards, 1 TD) and TE Kellen Winslow (4 catches, 25 yards) need to dramatically step up and help lift QB Josh Freeman (264 yards passing, 2 TDs, 4 INTs) from the icy depths of mediocrity. We loved the 33 combined targets for the trio ... but neither Williams, Winslow nor Briscoe (a decent free-agent pickup before/after the Bucs' bye) are anything more than roster-worthy assets in 12-team leagues.
11. It's time to eat some crow on Chris Johnson. Let's keep this one short and sweet: I was wayyyyyyyy off on my midweek assertion that Johnson was a certifiable lock for 100 total yards from Weeks 7-16; and I may have overvalued Nate Washington's impact in t he fantasy realm ... short of one catch for 10 yards (and three measly targets) becoming the new standard of acceptable mediocrity. But at the same time, let's not browbeat the Titans too much for treating Sunday's showdown with the Texans like a drab, meaningless game in late December and NOT a litmus test to determine the new AFC South favorite. Just wait until Matt Hasselbeck (104 yards passing, 1 TD, 2 INTs) connects with a coveted secret weapon like Terrell Owens ... and Johnson (411 total yards, 1 TD in six games) finally gets in shape for the stretch run. That's when amazing happens!
Revelations, Book III
12. Fantasy owners should spend the week trying to land Greg Jennings, via trade. The optimist would point to Jennings' phenomenal effort against the Vikings (7 catches/147 yards/1 TD) as another example of his bankable excellence, whereas the pessimist might chide Jennings for falling short of last year's production at Mall of America Field (7 catches/152 yards/3 TDs). Either way, there's ample reason to pursue a pre-deadline deal for Jennings -- especially with Packers QB Aaron Rodgers (335 yards passing, 3 TDs) destroying all comers ... and Green Bay's rushers struggling to reach the end zone with semi-regularity. (Although James Starks did finish with 99 total yards.) The only nit-picky strike against Jennings: With the emergence of James Jones (4 catches, 63 yards), Jordy Nelson (4 catches, 52 yards) and TE Jermichael Finley (2 catches, 13 yards, 1 TD) ... it's unreasonable to think that Jennings (6 TDs) can remain within shouting distance of Calvin Johnson's record-setting touchdown pace. Right? Could fantasy owners be happy with Jennings only giving 1994 Sterling Sharpe (18 TDs) a run for his money?
13. Steve Smith is the perfect complement to Cam Newton -- and vice versa. By mid-October, Newton and Smith (7 catches, 143 yards vs. Washington) may already be the most prolific Round 10 or later QB/WR duo in the history of fantasyland. That's the highest compliment one could give this pairing of supreme talents ... who were either too inexperienced or too old just two months ago. In case you're scoring at home, Newton (315 total yards, 2 TDs) has eclipsed the minimum star threshold of 275 yards and/or 3 TDs in every game that wasn't played in monsoon-like conditions; and Smith, bless his indefatigable heart, is the only NFL receiver to post at least four games of 143 yards this season. In case you're peeking ahead to Carolina's schedule, fantasy owners should explore floating a few trade-trial balloons involving Newton (non-keeper leagues only) before or immediately after next week's juicy encounter with Minnesota, for three reasons:
1. The Panthers are among the second-to-last grouping of bye teams (Week 9).
2. Even bankable stars in September/October aren't immune from hitting the proverbial 'rookie wall' in December.
3. Carolina has four tough dates with Atlanta, Houston and Tampa Bay (twice) from Weeks 13-16.
14. The Rams' garbage-time offense may be horrible, but there's reason for optimism here. OK, so maybe QB A.J. Feeley (196 yards passing, zero TDs) isn't a reasonable facsimile of Sam Bradford (out with high-ankle sprain); and perhaps Steven Jackson (73 total yards, 1 TD) has wasted his prime NFL years on a club that's 13-57 in their last 70 games. But with five double-digit losses this season alone, it's quite reasonable to believe that 0-6 St. Louis will eventually figure out how to produce in garbage-time situations. With respected talents like Bradford, Jackson, WR Greg Salas (2 catches, 33 yards), TE Lance Kendricks and now Brandon Lloyd (6 catches, 74 yards; team-high 12 targets), their red-zone efficiency during blowouts has to improve down the stretch; and that stance alone makes the above playmakers roster-worthy in 14- or 16-team leagues. After all, it's not like the Rams and Dolphins play this season.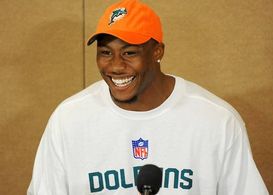 Brandon Marshall isn't the only receiver in Miami.
15. Please don't ignore Davone Bess in PPR leagues. I can only write about Brandon Marshall (6 catches, 61 yards) and his relative interest -- or disinterest -- in catching balls so many times. So, for once in Miami's hopeless season, we'll explore the viability of Bess (7 catches, 52 yards) in deeper PPRs. Was his team-high 12 targets from Sunday a product of the Broncos "rolling" under/over coverages on Marshall -- thus pressuring the Dolphins rushers to seize control of an eminently winnable game? Or has QB Matt Moore (197 yards passing, 1 TD) begun to realize that Marshall, Daniel Thomas (53 total yards) and Reggie Bush (46 total yards) are incapable of carrying one of the NFL's most anemic offenses? For fantasy owners who would kill for consistency during the bye-ravaged weeks, Bess represents an intriguing "safety play" for 13-16 PPR points every week -- even if he finds the end zone with noticeable infrequency.
16. Christian Ponder likely won't be an anchor on Adrian Peterson's fantasy value. Considering that no rookie quarterback had earned his first NFL start against a 6-0 (or better) club since 1967 (Steve Spurrier), we're perfectly content with handing Ponder (250 total yards, 2 TDs, 2 INTs) a free pass against the Packers -- even if he acquitted himself just fine, numbers-wise. It's not like 12-team owners will require Ponder to start during the bye-ravaged weekends; and it's not like his promotion to Minnesota's QB1 will dramatically improve the values of Michael Jenkins (3 catches, 111 yards, 1 TD), Visanthe Shiancoe (4 catches, 45 yards, 1 TD), Devin Aromashodu (1 catch, 13 yards) or even Percy Harvin (2 catches, 15 yards). Yes, Jenkins and Shiancoe were solid against Green Bay, but they're nothing more than roster-worthy benchwarmers in 12- or 14-team leagues -- barring a rash of unforeseen consistency. As for Peterson, he's a weekly lock for 23-26 touches in non-blowout situations ... with the customary expectation of 115 total yards and one touchdown. Bank on it!
17. There's no more Revelations space to address Mike Wallace's 95-yard TD or potentially damaging injuries to Tim Hightower and Matthew Stafford. Thank god for our Thursday column ... and a Twitter feed that answered 739 fantasy questions last week alone!
An award-winning fantasy writer with Sports Illustrated (2008-2010) before joining the National Football Post, Jay Clemons' Fantasy Philanthropist Blog can be found here every Monday and Thursday during the regular season. Clemons can be reached, day or night, via Twitter.