October 31, 2011 -
Jay Clemons
Week 8 Revelations
Week 8 Revelations
1. Ray Rice picked the perfect time to break new ground. What's the more impressive statistical occurrence from Sunday: Rice collecting a career-high three rushing TDs (and 99 total yards) after the Ravens fell into a 24-3 hole ... or WR Anquan Boldin (7 catches, 145 yards) tallying large numbers, in between drawing crucial pass-interference penalties against the Cards? Since we're partial to high-end tailbacks, we'll side with Rice (and his realistic pursuit of 2,000 total yards), although we also feel comfortable saying that Boldin should be a top-10 receiver for Weeks 10 (@ Seattle), 13 (@ Cleveland), 14 (vs. Baltimore), 15 (@ San Diego) and 16 (the Browns again) -- presumably boosting QB Joe Flacco's stock for the fantasy playoffs, as well. Flacco is quite the enigma, racking up 351 total yards (and zero TDs) just six days after the Jacksonville debacle -- his seventh straight extreme performance of the young season. It's almost like Flacco revels in being the Sybil of fantasy QBs.
2. Perhaps Cam Newton should be the holder for Olindo Mare kicks, too. We can apologize for underestimating Newton's preseason potential and over-publicizing his in-season greatness only so many times, and yet it bears repeating: With the rare exception of playing in monsoon conditions, Newton (343 total yards, 3 TDs vs. Minnesota) is a lead-pipe cinch for the minimum star threshold of 275 total yards and/or three TDs every week, regardless of the opponent. He's also a rubber-stamp starter every Sunday -- minus next week's bye. That bankability trickles down to WR Steve Smith (7 catches, 100 yards, 1 TD), TE Greg Olsen (4 catches, 73 yards, 1 TD) and running backs Jonathan Stewart and DeAngelo Williams, all of whom should be very productive in the season's latter half. It even bodes well for Panthers kicker Olindo Mare ... whose blown chip-shot field goal to force overtime was hopefully a one-time exercise in futility. Speaking of one-timers, did you see Jeremy Shockey's one catch for one yard and one touchdown against the Vikings? It was a fine cameo for fantasy owners who sought bye-week relief ... unless they chose Shockey over Brent Celek.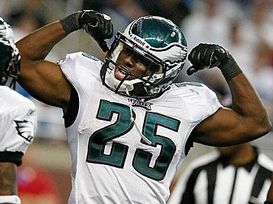 LeSean McCoy and Fred Jackson have been destroying opposing defenses this season.
3. Fred Jackson and LeSean McCoy owners should ask for the moon -- and expect it back -- when conducting trade trade talks. Outside of Aaron Rodgers or Calvin Johnson, no one can match the respective statistical powers of Jackson (194 total yards vs. Washington) and McCoy (200 total yards, 2 TDs vs. Dallas), so much that it would be a fantasy travesty to part with either tailback in a 1-for-1 swap before the trade deadline (typically Week 12). And at this point, even the 2-for-1 megadeals (top-5 receiver/top-10 rusher) should be heavily slanted in favor of Jackson and McCoy owners. That rationale only applies to struggling clubs in need of a quick and dramatic talent infusion to make the playoffs; GMs who already have a postseason spot (and high seed) locked up are prepared to ride Jackson (San Diego, Miami, Denver for Weeks 14-16) and McCoy (Dolphins, Jets, Cowboys for Weeks 14-16) all the way -- come hell or high water. Of course, it also helps that both superstars play in East Coast markets, where running the ball in December is paramount to success. It also helps that both Ryan Fitzpatrick (262 yards passing, 2 TDs on Sunday) and Michael Vick (329 total yards, 2 TDs) love targeting their backs ... presumably more than making household names of tight ends Scott Chandler (2 TDs vs. Washington) and Brent Celek (7 catches, 94 yards, 1 TD; team-high 9 targets).
4. Let's not overreact to Steven Jackson's monster performance against the Saints. Prior to Sunday, Jackson hadn't registered a 100-yard rushing day since last December (Week 13); and he's now gone 13 consecutive games without hitting the 50-yard mark in receiving. Those figures can easily be ignored on a day when Jackson (191 total yards, 2 TDs) dismantled one of the NFL's pre-eminent teams -- while eliminating chatter of St. Louis going 0-16 on the year -- but it'll play a significant role in determining Jackson's true value for the stretch run. And we'll probably be singing the same tune after Jackson (532 total yards, 5 TDs) crushes the Cardinals next week. Simply put, one amazing upset isn't enough to alter the Rams' current standing as a bottom-feeder club -- and one that will likely be on the business end of a few more blowouts this year, minimizing the running game. The key to Jackson's fantasy greatness lies with QB Sam Bradford rallying from an ankle injury and fighting to keep the Rams respectable for November/December ... which seems plausible when Brandon Lloyd (6 catches, 53 yards, 1 TD; 14 targets) and Greg Salas (5 catches, 47 yards) are progressing at an accelerated rate.
5. Matthew Stafford and Calvin Johnson are the best QB/WR combo in fantasyland -- duh! We've seen this stat sheet before: Stafford (288 total yards vs. Denver) tosses three touchdowns against an inferior defense -- one to a secondary receiver (Titus Young), one to a tight end (Tony Scheffler) and one to Calvin (6 catches, 125 yards, 1 TD) ... who is now on pace for 22 receiving TDs (one short of Randy Moss's seasonal NFL record). And with that bankable consistency, fantasy owners are encouraged to move heaven and earth to complete the Stafford-Johnson handcuff before their respective trade deadlines, even if Maurice Morris (65 total yards, 1 TD) remains Detroit's RB1 or TE Brandon Pettigrew (3 catches, 8 yards) can't shake the pre-bye blues. From Weeks 11-16, the Lions will play five games indoors (Detroit or New Orleans) and one in sunny California. How's that for a favorable slate?
Revelations, Book II
6. Eli Manning can carry teams to the Week 16 Fantasy Bowl; but after that, who knows? The Giants may have the real-world Schedule From Hell for Weeks 9-17 (@ NE, @ SF, vs. PHI, @ NO, vs. GB, @ DAL, vs. WSH, @ NYJ, vs. DAL) ... but from a fantasy perspective, it's a golden opportunity for Manning (349 yards passing, 2 TDs vs. Miami) to finish as a top-6 quarterback, while establishing a new baseline standard of seasonal excellence. But we're a little concerned as to how Week 16 -- Christmas Eve Day -- will shake out against the Jets. Let's pretend Manning vaults your club to the fantasy title game then: Would you ride the hot hand, regardless o f Darrelle Revis/Antonio Cromartie ... or would you start someone like Matt Ryan (@ New Orleans), Josh Freeman (@ Carolina) or rookie Andy Dalton (vs. Arizona) on the ultimate fantasy weekend? Without a doubt, Manning has a generous allotment of big-name playmakers like Ahmad Bradshaw (88 total yards in limited action), Hakeem Nicks (6 catches, 67 yards; 10 targets), Victor Cruz (7 catches, 99 yards, 1 TD) and Mario Manningham (6 catches, 63 yards, 1 TD) ... but all bets are still off for Dec. 24. And that's before the first weather forecast hits the wires.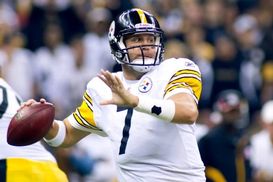 ICONBig Ben ripped apart the Patriots...while targeting Antonio Brown 15 times.
7. Antonio Brown's breakout against the Pats shouldn't have been a surprise to anyone. While it's true that Brown (9 catches, 67 yards, 1 TD; team-high 15 targets) had the good fortune of facing the NFL's worst pass defense, the seeds of his Week 8 content were sown a long time ago. The guy possesses amazing speed, off-the-charts athleticism, soft hands and never has to worry about double-team coverage -- at least when fellow Steeler Mike Wallace (7 catches, 70 yards) is on the field. Throw in the fact that QB Ben Roethlisberger (365 yards passing, 2 TDs) loves targeting him ... and it's easy to see why we've been trumpeting his eventual success all season. But ay, there's the rub: Prior to Sunday's showdown, Brown hadn't found the end zone, indicating that he was nothing more than a mere bench stud in roughly 70-80 percent of fantasy leagues. But that's OK. Even if the Steelers morph into a conservative operation for the winter months, with Rashard Mendenhall (92 total yards) and TE Heath Miller (7 catches, 85 yards) flourishing around the goal line, Brown shall remain a weekly starting consideration in PPR leagues (and standards during bye weeks). He's too good, too fast and too accessible to be ignored at this stage.
8. Adrian Peterson raised his stock in Points Per Reception leagues. We could attribute Peterson's career day in receiving yards (76) and first TD catch since Week 1 of his rookie season (2007) to poor tackling from Carolina or the Blind Squirrel Syndrome; but it's more fun to credit Vikings QB Christian Ponder with AP's versatile transformation. As if being the No. 1 tailback during the August drafts on rushing prowess alone wasn't enough, Peterson (923 total yards, 10 TDs in 2011) may be Minnesota's second-most reliable receiving threat from this point forward -- behind Percy Harvin (4 catches, 58 yards) and ahead of boom-but-more-bust talents like Michael Jenkins (2 catches, 30 yards), Devin Aromashodu (2 catches, 20 yards), Kyle Rudolph (2 catches, 15 yards) and Visanthe Shiancoe (3 catches, 37 yards). Regarding Ponder (240 total yards, 1 TD), Sunday's stats might not have reflected the following gush ... but I love the kid's fearlessness when making downfield throws, a trait that could lead to fantasy viability for Weeks 14-16 (Detroit, New Orleans, Washington).
9. Michael Crabtree can be a difference-maker during Weeks 14-16. Seriously. Wouldn't it be something if Crabtree (5 catches, 54 yards, 1 TD) and Raiders WR Darrius Heyward-Bey -- forever linked by the 2009 NFL Draft -- both made quantum leaps in November/December? At this point, it's hard to minimize the progress Crabtree and Heyward-Bey have shown in recent weeks, leading their respective teams in catches and targets. Sure, Crabtree (16 catches/29 targets in his last three games) enjoys the luxury of single coverage with RB Frank Gore (134 yards, 1 TD vs. Cleveland) and TE Vernon Davis garnering the defense's full attention; but he's still an emerging force on an offense that looks good when QB Alex Smith (199 total yards, 1 TD) stays within himself and Braylon Edwards keeps his head. Factoring in the 49ers' slate for Weeks 14 (@ Arizona), 15 (vs. Pittsburgh) and 16 (@ Seattle), a combined 17 catches, 250 yards and two TDs are well within Crabtree's range of production.
10. The Texans are about as subtle as a punch in the face ... and that's a good thing. The Don Shula reference aside (circa 1970), Houston deserves plenty of love for not messing around with an inferior team, like Jacksonville, and feeding Arian Foster (123 total yards, 1 TD on 34 touches) as much as possible. Foster right. Foster left. Foster up the middle. Repeat ... it was the perfect game plan for an offense that's essentially killing time before Andre Johnson returns from a hamstring injury (Week 9?). It was also a good showcase for WR Kevin Walter (5 catches, 70 yards; 9 targets) and Owen Daniels (4 catches, 60 yards), whose fantasy values may actually increase once Johnson returns ... and instantly draws double and triple coverages for the stretch run. Speaking of which, fantasy owners would be wise to trade for QB Matt Schaub (225 passing yards, 2 total TDs) in the coming weeks, on the strength of his undeniable talent ... and great fortune for drawing the Colts in Week 16.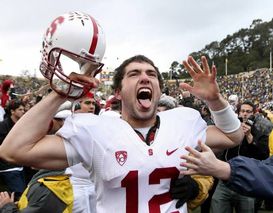 ICONIs Andrew Luck headed for Indianapolis?
11. Let's accentuate the PPR positives with the winless Colts. I realize things look bleak in Indy right now -- 'bleak' being a relative term since the club has Peyton Manning in its past and (maybe) Andrew Luck in its future; but for PPR owners, it's hard to be disgusted with a club that targets its four main pass-catchers (Reggie Wayne, Dallas Clark, Pierre Garcon, Austin Collie) 45 times in a three-hour window. It's also difficult to characterize QB Curtis Painter (329 total yards, zero TDs, 2 INTs) as a colossal failure in fantasyland. Yes, he should never be a starting consideration during non-bye weeks; and yes, he should be flogged for missing Wayne (5 catches, 61 yards; 13 targets) eight times on a crisp, sunny day. But at least he's trying to feature Clark (6 catches, 77 yards; 10 targets), Garcon (7 catches, 66 yards; 15 targets) and Collie (5 catches, 44 yards) with admirable frequency. After all, it's not like the Colts rushers are bringing much to the party these days ... as evidenced by Painter's team-high 79 rushing yards against the Titans.
Revelations, B ook III
12. It's too early to formulate any long-lasting opinions of Tim Tebow. Echoing the theme from last week's Revelations, Tebow (235 total yards, 1 TD vs. Detroit) will neither be celebrated nor disparaged as a fantasy quarterback this season -- regardless of the extreme highs and lows of real-world play. After all, what's the point of overreacting to someone who will consistently finish between 215 and 240 total yards and 1.5 TDs per game? In the fantasy realm, Tebow has value as a bye-week starter in 12-teamers and backup QB the rest of the time; but he's also an eminently replaceable asset ... meaning that most fantasy owners could find a similarly skilled, yet equally flawed talent on waivers at any point. Unfortunately, the same holds true for receivers Eric Decker (6 catches, 72 yards, 1 garbage-time TD), Eddie Royal (6 catches, 41 yards; 13 targets) and Demaryius Thomas (1 catch, 10 yards), all of whom might garner more fantasy cred if Kyle Orton or even Brady Quinn were flinging the ball in Denver. Bottom line: The most appealing aspect of the Broncos lies with their three-headed rushing attack of Willis McGahee (hand injury), Knowshon Moreno (74 total yards) and of course, Tebow.
13. A certain fantasy guru might have misjudged Beanie Wells as a home-only starting option. Wells (83 yards, 1 TD vs. Baltimore) has racked up at least 93 total yards or one touchdown five times this season; so obviously, the kid has talents that extend past the cushy lair of University of Phoenix Stadium. But until Sunday's sneaky-good outing -- amid lingering questions of a sprained knee -- I had never viewed Wells (518 total yards, 1 TD) as a coveted trade-deadline prospect. His schedule for Weeks 13-16 (Dallas, San Francisco, Cleveland, Cincinnati) is reasonable, and the Cardinals desperately need a diversion away from the mediocre adventures of QB Kevin Kolb (153 yards passing, 1 TD) or any pass-catcher not named Larry Fitzgerald ... although Fitz (3 catches, 98 yards) is hardly setting the numbers world ablaze in 2011. Verdict: It's rare to suggest a teammate-on-teammate trade in fantasy, but if you have the means to swap Fitzgerald with Wells in a 1-for-1 switcheroo ... pull the trigger. As stated last week, the Kolb-Fitzgerald dynamic is probably best viewed from a dispassionate standpoint, with neither anchoring your lineups in December.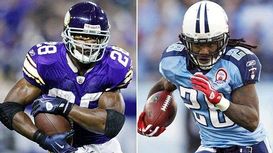 Chris Johnson (right) is no longer in the same class as Minnesota's Adrian Peterson.
14. Chris Johnson has been downgraded from his AAA+ fantasy rating. We have jumped through countless hoops to defend Johnson at every turn this season -- from his post-lockout lethargy to recent concerns about conditioning or a lack of chemistry with the offensive line. But with only 51 total yards against the embattled Colts, there's nothing more to say, really. If fantasy owners want to trade Johnson (411 total yards, 1 TD) right now ... by all means, do it. If they want to ignore Johnson's seemingly easy schedule for Weeks 9-16 ... that's fine, too. And if the Titans should feel emboldened to start Javon Ringer (102 total yards) next week against Cincinnati ... perhaps that's not a bad idea. While few doubt Johnson's 2012-and-beyond viability, he's no longer an automatic starter in 10-, 12- or even 14-team leagues. The same holds true for QB Matt Hasselbeck (224 passing yards, 1 TD) and WR Nate Washington (2 TDs). In Nate's case, we're not going overboard about a fantasy day that yielded only four catches and 34 yards. Call it the Plaxico Burress Rule.
15. The Redskins and Browns may soon get the fantasy-roadkill treatment. What's the point of rostering Cleveland QB Colt McCoy (271 total yards, 1 TD vs. San Fran) in 12-team leagues, if he has no one to throw to? And what's the use in keeping Washington TE Fred Davis (8 catches, 94 yards) past the fantasy trade deadline ... with John Beck (208 yards passing, zero INTs vs. Buffalo) and/or Rex Grossman as his quarterback options? It's disheartening to see the Redskins' season disintegrate so quickly. No more Tim Hightower (year-ending knee injury). No Santana Moss (broken hand). It's equally disappointing to see zero consistency from Browns pass-catchers like Greg Little (4 catches, 28 yards; 11 targets), Jordan Norwood (5 catches, 32 yards), Mohammed Massaquoi (DNP - injury) and even TE Ben Watson (only two TDs in 2011). Put it all together ... and fantasy owners are left with two teams that offer little hope at the receiver or running back slots. Even kicker Graham Gano has been rendered moot.
16. Tarvaris Jackson knows how to make an entrance -- and exit. Can you imagine the damage Jackson (323 yards passing) might have inflicted if he hadn't been holding a clipboard until midway through the second quarter? Or if the Seahawks hadn't botched a slam-dunk opportunity for a gimme field goal or air-assisted TD at the end of the first half? That aside, Jackson was a welcome sight for Seattle's playmakers and fantasy owners everywhere, hurling 40 passes in 37 minutes and reinvigorating the modest values of WR Sidney Rice (7 catches, 102 yards; 14 targets), WR Ben Obomanu (4 catches, 107 yards), Doug Baldwin (5 catches, 73 yards) and maybe RB Marshawn Lynch (24 yards, 1 TD). He also boosted the Bengals' fantasy cred with a last-minute pick-six to Reggie Nelson (75 yards) -- even though Cincy already registered a punt-return TD just three minutes prior (courtesy of Brandon Tate). Verdict: When healthy (and playing at home), Jackson is a sneaky-good starting consideration in 14- and 16-team leagues.
17. Don't read too much into Reggie Bush's 100-yard outing. If only Bush could play against the Giants every week ... perhaps he'd be viewed as more than a RB4 in PPR leagues (and free agent in standards); instead, fantasy owners can only bask in the short-term glow of Reggie's second 100-yard rushing effort of his career (both against New York) -- assuming they got the pregame memo that Daniel Thomas (hamstring) was an injury scratch. Otherwise, they likely missed out on Bush's signature performance of 2011 -- from a total yards perspective (120). Looking at the schedule, Bush could post solid numbers Week 10 against the suddenly wretched Redskins ... conveniently before most trade deadlines. You know who wouldn't make an exorbitant pre-deadline pickup? Brandon Marshall. Not because he struggled against Corey Webster (4 catches, 55 yards) or that Matt Moore (169 total yards, 1 TD) is the Fins' QB for the foreseeable future; his schedule for Weeks 14 (vs. Philly), 15 (@ Buffalo) and 16 (@ New England) is simply plagued by high-end cornerbacks or the (very likely) thre at of brutal East Coast weather in December -- not unlike the classic Nor'easter that attacked many states this weekend.
An award-winning fantasy writer with Sports Illustrated (2008-2010) before joining the National Football Post, Jay Clemons' Fantasy Philanthropist Blog can be found here every Monday and Thursday during the regular season. Clemons can be reached, day or night, via Twitter.