November 07, 2011 -
Barry Dorey
Week 9 Revelations
Week 9 Revelations
1. Philip Rivers is the quintessential fantasy gift that keeps on giving. While the masses were thrilled to see Aaron Rodgers (302 total yards, 4 TDs) fill the blue-gray skies above Qualcomm Stadium with touchdowns to four different pass-catchers (Jordy Nelson, Jermichael Finley, Greg Jennings, James Jones), Rodgers couldn't match Rivers' direct accountability for six TDs on Sunday -- three to Vincent Jackson (7 catches, 143 yards), one to Antonio Gates (8 catches, 96 yards) and two to the Packers defense (Charlie Peprah, Tramon Williams). This game emitted so much positive energy on the passing side ... it's easy to forget that Bolts RB Mike Tolbert amassed 142 total yards and one touchdown in Ryan Mathews' injured stead and that Green Bay's James Starks (75 total yards) may be on the verge of a breakthrough in the not-too-distant future. Speaking of prospective breakouts, if you're looking for a PPR sleeper in 14- or 16-team leagues, look to San Diego rookie Vincent Brown, who caught four balls for 79 yards (6 targets). Even with his athleticism and top-end speed, Brown will never see double coverage as long as Jackson, Gates or Malcom Floyd are patrolling the field -- genetic predisposition for red-zone goodness and all.
2. Roy Helu is the ultimate PPR weapon with John Beck as the Redskins' starting QB. Seriously. That bolded intro isn't a referendum on Helu's skill set -- he clearly has the requisite speed, toughness and hands to be a fixture in Washington for years to come. But with Captain Checkdown now leading the offense (and failing to locate downfield receivers), Helu (146 total yards; 14 catches for 105 yards) immediately vaults into a starring role in Points Per Reception leagues ... where the tipped-at-the-line, accidental pass to safety-valve backs reigns supreme. Seventeen targets? Seventeen targets? How does Beck (254 yards passing, 1 TD, 1 INT) even remember Helu's name or number 17 times over 60 minutes? We're talking about a rookie back, who prior to Sunday's game, had 16 targets for the season and was lagging behind RB Ryan Torain (9 yards vs. San Francisco) and TE Fred Davis (4 catches, 42 yards) on the Attention Stimpmeter. But all that changed, in the wake of Mike and Kyle Shanahan finding a new way to compensate for the loss of Tim Hightower, Chris Cooley and Santana Moss -- while depressing Torain's fantasy value in the trade market and artificially boosting Beck's stock with GMs who only saw the box score from this anemic showcase.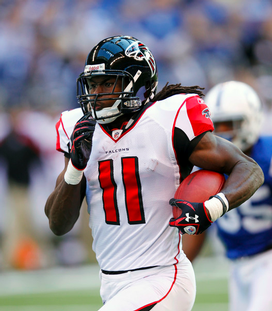 Julio Jones sliced and diced the Colts secondary on Sunday.
3. Julio Jones only needs to see the ball once per quarter to be dominant. What are the odds of a rookie receiver -- with hamstring issues -- scoring two touchdowns (and eclipsing 100 yards) on just three catches and four targets after a month-long absence? To quote Paul Reiser's character from the twisted comedy, The Marrying Man ... "you couldn't place the bet." To say that Jones (164 total yards, 2 TDs) was a pleasant surprise in Week 9 would be a vast understatement; and to say that RB Michael Turner (78 total yards, 1 TD) might have posted his lowest yardage output for November and December may be a little too ambitious for this forum. After all, QB Matt Ryan (275 yards passing, 3 TDs) is always a viable threat for monster numbers when Jones, Roddy White (4 catches, 76 yards; team-high 9 targets) and Tony Gonzalez (4 catches, 36 yards, 1 TD) are healthy and focused. And yet, it's hard to envision Turner falling short of 90 total yards from this point forward -- even if Jones should morph into a top-10 receiver week in/week out.
4. PPR owners may be on the path to a championship with either Anquan Boldin or Antonio Brown. Boldin has racked up at least 88 yards or one TD in his last four games -- while collecting an NFL-high 43 targets during that span. Since Week 7, Brown has tallied 21 catches for 278 yards and one TD -- while drawing an NFL-high 35 targets during that span. Simply put, Boldin and Brown (5 catches, 109 yards, team-high 11 targets vs. Baltimore) are peaking at a time when most teams are bearing down for the cold-weather-inspired transformation to conservative play-calling; and yet, QBs Joe Flacco (300 yards passing, 1 TD) and Ben Roethlisberger seem comfortable with carrying their respective clubs on nights when star tailbacks Ray Rice (86 total yards) and Rashard Mendenhall (55 total yards, 1 TD) aren't registering all-world numbers. Funny thing about the quarterbacks: Flacco has cracked the 300-yard barrier four times this season, whereas Big Ben has eclipsed the hallowed mark three straight times; and yet, they're still a few more character-defining, highlight-reel TDs away from being automatic starters for the playoffs.
5. DeMarco Murray might be the Cowboys' offensive MVP -- just two games in as a starter. If Murray (186 total yards vs. Seattle) had burst onto the scene earlier in the season, perhaps the Cowboys -- and Tony Romo -- wouldn't be feeling the sting of devastating September defeats to the Jets and Lions. Perhaps Murray would be challenging Carolina's Cam Newton (2,712 total yards, 18 TDs to date) for Fantasy Rookie of the Year honors. And perhaps Felix Jones (and not the inexpensive Tashard Choice) would be wearing the uniform of an NFC East foe (Redskins). Instead, the fantasy world is going ga-ga over the NFL's leading rusher since Week 7 (416 yards) -- and rightfully so, now that Murray has put the Cowboys' vaunted passing game on the backburner ... and that was before Miles Austin's hamstring injury from Sunday. Sure, Romo (279 yards passing, 2 TDs), Austin (2 catches, 53 yards), Dez Bryant (4 catches, 76 yards), Laurent Robinson (5 catches, 32 yards, 1 TD) and tight end Jason Witten (4 catches, 71 yards, 1 TD) racked up respectable numbers against the Seahawks, but Murray is the undisputed straw that stirs the proverbial drink (thanks, Reggie Jackson), grabbing chunks of yardage on every carry. He's also the reason fantasy GMs are suddenly embracing the club's run-friendly slate from Weeks 14-16: Giants, Bucs, Eagles. You want Murray in a trade? Be prepared to pay through the nose.
Revelations, Book II
6. It's a good time to sell reasonably high on Brandon Jacobs. Obviously, Jacobs (100 total yards, 1 TD vs. New England) makes for a great flex starter in standard-scoring leagues during Ahmad Bradshaw's absence (crack ed bone in foot); but fantasy owners should also feel emboldened to float a trial balloon to every owner in their league, declaring that Jacobs could be had for a low-end No. 1 wide receiver (think big). After all, if Eli Manning has to attempt 39 passes in a close-knit game, what's stopping him from exceeding that number as New York continues its sojourn through the Schedule From Hell for Weeks 10-17 (@ SF, vs. PHI, @ NO, vs. GB, @ DAL, vs. WSH, @ NYJ, vs. DAL)? Of course, it helps that Manning (250 yards passing, 2 TDs, 1 INT vs. New England) has a decent fleet of playmakers even when Bradshaw and Hakeem Nicks are sidelined -- like Victor Cruz (6 catches, 91 yards; team-high 11 targets), Mario Manningham (3 catches, 33 yards, 1 TD) and the rapidly improving Jake Ballard (4 catches, 67 yards, 1 TD). Perhaps that's why dealing Jacobs from a position of strength makes sense.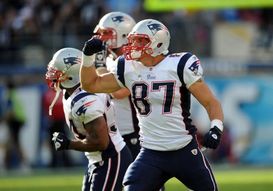 ICONGronk racked up 15 targets in Sunday's loss to the New York Giants.
7. There is no downside to going all-in on Rob Gronkowski for the stretch run. No fantasy owner would bat an eye over Gronkowski (8 catches, 101 yards, 1 TD) collecting eight catches or drawing 15 targets for the pass-happy Patriots; and yet, the Giants seemed woefully unprepared to handle Gronkowski's easy-as-pie TD catch late in the fourth quarter -- a score that seemingly clinched New England's revenge win over New York ... before Eli Manning calmly reprised his Super Bowl XLII role of conquering hero. Which brings us to an interesting two-part question: Are you prepared to make a pre-deadline play for Gronkowski -- easily the AFC's best tight end -- or do you have the chutzpah to ask for the moon, and expect the stars, when soliciting offers for him? The best remedy for improving a sluggish team usually calls for trading a high-end quarterback, running back or receiver; but right now, Gronkowski holds similar currency -- especially in PPR and TD-heavy leagues. The same could be said about Welker (9 catches, 136 yards) or Brady (342 yards passing, 2 TDs, 2 INTs) in any scoring format, but not necessarily BenJarvus Green-Ellis (63 total yards), Stevan Ridley (12 total yards) or Kevin Faulk (zero yards).
8. Shonn Greene is a pair of soft hands away from generating more fantasy buzz. At this point in the season, the Jets' most palatable starting options in fantasyland rest with the defense/special teams and kicker Nick Folk; and yet, Gang Green might be the AFC's most balanced team for December and January -- especially with Greene earning at least 74 yards rushing in his last four games. With that modest run, it's fun to project whether Greene has the easiest Weeks 13-16 slate of any back in the AFC East -- including Fred Jackson (120 total yards on Sunday). With four East Coast games against the Redskins (22nd against the run), Chiefs (20th), Eagles (17th) and Giants (25th), the Jets will undoubtedly lean on Greene and RB LaDainian Tomlinson (48 total yards, 1 TD) to carry the freight.
9. Tarvaris Jackson is a notch above 'fantasy roadkill' when playing away from Qwest Field. Jackson's per-game averages for road tilts aren't pretty: 186 yards passing, 0.75 TDs and 1.25 INTs -- numbers befitting of John Skelton, A.J. Feeley, Charlie Whitehurst, Kyle Boller or JaMarcus Russell back in the day ... not Pete Carroll's handpicked choice to lead the Seahawks back to sustainable respectability. And yet, here we are, trying to make fantasy sense of a Seattle club that offers Marshawn Lynch (143 total yards, 1 TD), Sidney Rice (3 catches, 69 yards; team-high 8 targets) -- and little else from week to week. Where's Doug Baldwin (3 catches, 31 yards) or Ben Obomanu (2 catches, 6 yards) when you need 'em? Why does Jackson (221 yards passing, zero TDs, 3 INTs) always resemble a career backup when playing on enemy turf? It's enough to baffle owners in 14- and 16-team leagues who rely on QB2 prospects, like the strong-armed Jackson, to rescue a bye-ravaged weekend -- at least to those who are carrying Jackson for more than just one game: The Seahawks' Week 14 home clash with the Rams, a primetime showcase for a hot-and-cold franchise that will surely bring Super Bowl-like juice to the Qwest party. Barring injury, T-Jack's a lock for big stats five weeks from now.
10. Ben Tate is a flex starter in 14- and 16-team leagues ... even when Arian Foster is healthy. What's the more impressive stat about Tate: He's currently the NFL's ninth-best rusher (623 yards) despite starting only once in eight games ... or that he garnered the lofty spot while ranking just 20th in rush attempts? No one is saying that Tate is a threat to Foster's job security; after all, Foster (150 total yards, 1 TD vs. Cleveland) has been the most dynamic fantasy back since Week 4 and could easily be the top-rated rusher heading into the fantasy-playoff period of Weeks 13-16. But Houston's coaches have brainstormed the perfect way to dominate opponents while Andre Johnson remains sidelined with a hamstring injury: Feed Foster and Tate (115 yards on 12 carries) as much as possible ... before letting QB Matt Schaub (119 yards passing, zero TDs) manage the rest with low-key reps to pass-catchers Owen Daniels (3 catches, 32 yards), Jacoby Jones (2 catches, 28 yards) and Kevin Walter (1 catch, 5 yards). Speaking of Walter, we're willing to give him a free pass against Browns cornerback extraordinaire Joe Haden, but that doesn't mean he's worth rostering in 10- or 12-team leagues, either. Think about it: If Walter can't average more than 5.3 targets during Johnson's absence ... how will he attract similar looks once AJ returns (hopefully next week)? Plus, the Texans still have their bye in Week 11, making Walter an eminently droppable asset until Week 12.
11. Perhaps we should worry about Darrius Heyward-Bey's re-calibrated place in the Raiders' passing offense. Apparently, Carson Palmer didn't watch a lot of Raiders games on DirecTV's Sunday Ticket package before being traded to Oakland before Week 7 ... otherwise, he would have known that Heyward-Bey was one of the NFL's most underrated wideouts during October (22 catches, 385 yards, 1 TD, 39 targets for the month) -- and deserved more than one target (and zero catches) against the Broncos. Palmer (332 yards passing, 3 TDs, 3 INTs) would have also known that rookie WR Denarius Moore had fallen by the wayside after a hot September; but after one full start as the Raiders' purported savior, Palmer's preferred pecking order appears to be Moore (4 catches, 61 yards, team-high 12 targets), Jacoby Ford (5 catches, 101 yards, 1 TD), old friend T.J. Houshmandzadeh (1 catch, 28 yards) and then Heyward-Bey. Of course, that list doesn't even factor in Marcel Reece, Louis Murphy, Chaz Schilens or whiche ver Raiders tailback gets an unfettered crack at the opposition. In Sunday's case, backup RB Michael Bush (129 total yards, 1 TD) tore through the Broncos -- as predicted in Thurday's Philanthropist -- and gave Darren McFadden (foot) another ounce of motivation to return to the Raiders lineup, sooner than later. Either way, Heyward-Bey is going to have to fight tooth and nail to reclaim his spot in Oakland's offense, just like the club must work diligently to recapture its mojo in the AFC West.
Revelations, Book III
12. Fantasy owners, your chance to buy Drew Brees for a less-than-elite trade price has arrived. The optimistic owner would laud Brees (278 total yards, 2 TDs vs. Tampa Bay) for throwing at least one touchdown in every game this year, while giving legitimate chase to Dan Marino's NFL record for seasonal passing yards (5,084 in 1984). They also have fond memories of Brees' Week 7 dismantling of the winless Colts, to the tune of 325 yards passing and more TD passes (5) than incompletions (4). The fantasy pessimist, on the other hand, could tweak the numbers to say (read: complain) that Brees has cooled off from a red-hot September and has thrown three TDs or more only once since Week 4. They'd also point to the tangible gains made by the rushers -- namely Darren Sproles (99 total yards, 1 TD), Pierre Thomas (91 total yards, 1 TD), Mark Ingram -- as evidence the Saints will be more conservative than usual down the stretch. And with that, prospective Brees owners have a limited window to pry him away from the pessimistic GM, who apparently hasn't peeked at a New Orleans schedule that includes only one game outdoors from Weeks 10-16 (Dec. 11 at Tennessee). In other words, there's a slim chance that Brees, TE Jimmy Graham (6 catches, 78 yards), WR Marques Colston (5 catches, 52 yards) or WR Lance Moore (3 catches, 20 yards, 1 TD) will be affected by cold, wind or even precipitation when it truly counts. Bottom line: Do whatever it takes to acquire Brees or Graham before next Sunday.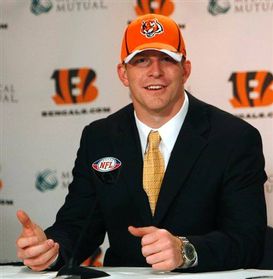 Second-round pick Andy Dalton is quietly putting together an impressive rookie season.
13. Andy Dalton and A.J. Green won't hit the dreaded 'Rookie Wall' during the fantasy playoffs -- I think. As stated in this column numerous times, GMs should strongly consider starting Dalton (217 yards passing, 3 TDs vs. Tennessee) and Green (7 catches, 83 yards) during the fantasy-playoff period of Weeks 15 (@ St. Louis) and 16 (vs. Arizona) -- based on their fortuitous matchups with NFC West lightweights. But that statement fails to account for Dalton and Green possibly being worn out by the extended pro schedule or immense pressure to carry the 6-2 Bengals to the AFC North title. It also doesn't recognize the prospect of blustery winter weather taking over southern Ohio on Christmas Eve -- wreaking havoc with the passing games of the Cards and Bengals. Lucky for us, WR Jerome Simpson (3 catches, 43 yards, 1 TD; team-high 10 targets) is slowly gaining more fantasy traction, and RB Cedric Benson, historically speaking, has a great finishing kick in December.
14. The Chiefs have a deep corps of eminently replaceable pass-catchers -- after Dwayne Bowe and Steve Breaston. I've never seen an NFL box score that featured seven players from one team (Jonathan Baldwin, Jackie Battle, Dexter McCluster, Le'Ron McClain, Leonard Pope, Keary Colbert, Jake O'Connell) catching only one ball each on the day, and yet, that's where we stand with the Chiefs. If only Baldwin (12 yards) had produced this clunker before his 5-catch, 82-yard, 1-TD breakout against the Chargers last week ... maybe his relative disappearance would have been a blip on the Week 9 radar; but with great expectations comes greater responsibility, meaning that a sizable number of fantasy owners who were burned from Sunday will probably think twice (next time) about starting a rookie wideout from a schizophrenic club that's already committed to Breaston (7 catches, 115 yards; 11 touches) and Bowe (6 catches, 88 yards; 10 targets) during blowout situations. That's how Kansas City QB Matt Cassel (291 total yards, zero TDs) likes his garbage-time stew to be served.
15. Brandon Marshall should own the flex spot in standard-scoring and PPR leagues. In a bit of full honesty, we should be focusing on the great Sunday works of Dolphins QB Matt Moore (244 yards passing, 3 TDs) and embattled RB Reggie Bush (142 total yards, 1 TD) in this space, but it's hard to locate 10 people off the street familiar with Moore's history -- let alone identify a group of GMs who genuinely gave him the starting nod in 10- or 12-team leagues; and Bush owners likely chalked Reggie's 120-yard effort against the Giants last week to random luck or a short-term bump off the hoopla from Kim Kardashian's most recent divorce proceeding and didn't want to start him against Kansas City. For Week 9, Miami's epicenter of attention should be Marshall (8 catches, 106 yards, 1 TD), who is now 3-for-3 this year in collecting 100-yard games when drawing double-digit targets, and has done enough to secure his standing as a universal flex starter in standard leagues -- and surefire WR2 in PPRs. After all, Marshall (team-high 11 targets) was the only Dolphins wideout to catch a pass against the Chiefs, complementing Bush, a bruising tight end (Anthony Fasano) and some random cat named Charles Clay (3 catches, 50 yards).
16. Let's accentuate the positives from Larry Fitzgerald's mediocre fantasy day. To his credit, Fitzgerald (4 catches, 43 yards, 1 TD) was the only Ram or Cardinal to haul in a touchdown pass on Sunday. He also drew a team-high 12 targets against St. Louis, confirming the notion that whoever Arizona starts on a given week -- John Skelton, Kevin Kolb, Richard Bartel, The Ghost of Neil Lomax, etc. -- that signal-caller will prioritize The Franchise at every turn. Of course, hitting Fitz at a 33-percent clip isn't necessarily the best way to capture a GM's fantasy heart before the trade deadline, although it does serve as an indirect endorsement for Early Doucet (6 catches, 78 yards) in deeper leagues and direct message to owners of Beanie Wells (33 total yards on 12 touches): 'Tis better to sell reasonably high now than be stuck with an erratic back who gets the stingy 49ers and stout Bengals for Weeks 14 and 16.
17. Fantasy owners should move heaven and earth to acquire Willis McGahee before the trade deadline. The oft-repeated creed of Tim Tebow will neither be celebrated nor disparaged in this column translates well from Sunday's performance (241 total yards, 2 TDs): Yes, Tebow rushed for 117 yards and played a significant role in the club's second straight road victory; but the Broncos' real-world fortunes have stronger ties to McGahee (163 rushing yards, 2 TDs), a viable candidate for the unofficial (but nonetheless flatte ring) title of Fantasy MVP Drafted After Round 12 (along with Cam Newton). Now that McGahee has allayed all fears about playing with a broken hand -- while simultaneously diminishing Knowshon Moreno's non-handcuff trade value -- it's time for GMs to grab him before Week 12. With games against the Bears, Patriots and Bills for Weeks 14-16, McGahee could easily reach the minimum star threshold of 120 total yards and/or two TDs three times in that span ... especially if Tebow has difficulty locating receivers Eric Decker (3 catches, 47 yards, 1 TD), Eddie Royal (2 catches, 25 yards, 1 TD) or Demaryius Thomas (1 catch, 25 yards) in a Denver or Buffalo-based snowstorm come December.
An award-winning fantasy writer with Sports Illustrated (2008-2010) before joining the National Football Post, Jay Clemons' Fantasy Philanthropist Blog can be found here every Monday and Thursday during the regular season. Clemons can be reached, day or night, via Twitter.