October 18, 2012 -
National Football Post
Week Eight Prospect Match-Ups To Watch
LSU –vs- Texas A&M
Texas A&M OT's Luke Joeckel (6060 E, 310 E & 5.30 E) and Jake Matthews (6050 E, 305 E & 5.25 E) –vs-
LSU DE's Sam Montgomery (6050 E, 260 E & 4.75 E) and Barkevious Mingo (6050 E, 240 E & 4.50 E).
When 5-1 Texas A&M takes on 6-1 LSU there is no doubt it will be a highly entertaining game with enormous importance for both teams. It is however likely that whichever group of players wins the above match-up will win the game. There will be numerous NFL scouts in attendance to see these battles because all four are viewed as potential NFL starters. Joeckel and Matthews, both juniors, are smooth footed athletes who can get out of their stance and set to pass block quickly. Joeckel is more of a strong and physical blocker who gets after man aggressively. If Joeckel can lock up on man, then he can eliminate him from the play, both in pass pro and on run blocks. While Matthews is similar to Joeckel, he is not as powerful and can be pushed around by aggressive and physical pass rushers. Montgomery and Mingo will provide different, but equally challenging battles for Joeckel and Matthews. Montgomery's combination of strength to be a dominant "bull rusher," good hand use to defeat blocker with good pass rush moves and the playing strength to be a force against the run at him make him a good test for Joeckel and Matthews to block. While Mingo will not provide a real challenge to either man's playing strength, his rare first step explosiveness and speed to get the corner will give scouts a chance to see if Joeckel and Matthews can handle elite speed rushers well enough to consider as left tackle prospects.
Alabama –vs- Tennessee
Alabama CB Dee Milliner (6010 E, 199 E & 4.45 E) –vs-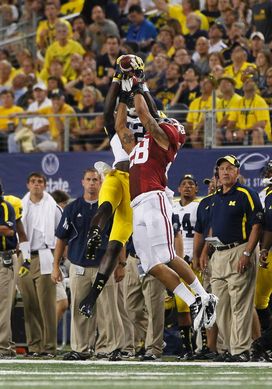 US PRESSWIREAlabama CB Dee Milliner goes up high to make a play on the ball.

Tenn. WR's Justin Hunter (6040 E, 200 E & 4.40 E) & Cordarrelle Paterson (6030 E, 205 E & 4.45 E)
Obviously, Milliner cannot cover Hunter and Patterson on the same play, but he will likely get a chance to cover each during this game. Hunter has returned from last season's knee injury well and looks to be close to his pre-injury form. With his height, jumping ability, hands and run after catch ability, Hunter reminds me of Bengals receiver AJ Green, so he will no doubt provide a great test for Milliner. As Hunter looks thin on film, playing against Milliner will allow scouts to see how well he does playing against a strong and physical cornerback. Milliner is a physical cornerback with excellent ball skills to break-up passes, but will need to prove he has the speed to stay with Hunter deep. On the other hand, Patterson is a strong and physical receiver with deceptive quickness and agility to run through arm/grab tackles to gain yards after contact. Going against Milliner will force Patterson to prove he can get separation from man coverage and that he can win battles for ball with a cornerback who can match his playing strength.
Kentucky –vs- Georgia
Kentucky Interior OL - C Matt Smith (6030 E, 300 E & 5.20 E) & OG Larry Warford (6033, 325 & 5.25 E)
-vs- Georgia NT John Jenkins (6041, 363 & 5.15 E)
This game will provide Smith and Warford their biggest test of 2012 when they get the chance to battle the premier nose tackle prospect in the country. In their third seasons starting next to each other, Smith and Warford could not be more different as players. Warford has excellent natural bulk and strength to go with good feet and athleticism. When he stays over feet and blocks aggressively he can be a very productive all around guard with the talent to be a good NFL starter. On the other side of the coin is Smith who lacks the bulk and natural strength that Warford has, but has been consistently productive because of his ability to get set to block quickly, good blocking technique and excellent competitiveness/intensity on every snap. Battling Jenkins will test Smith's strength as Jenkins is a mountain of a man with the size and strength to not only hold ground vs. double team run blocks, but also makes it look easy driving pass blocker backwards with a "bull rush." For Warford blocking Jenkins will be a great test because Jenkins can handle Warford's strength and matches his athleticism, so if Warford does not block aggressively and compete hard from snap to whistle Jenkins will defeat him easily.
Email Russ at Russelllande@yahoo.com and Follow him on Twitter @RUSSLANDE