October 22, 2012 -
National Football Post
Week Eight Risers & Fallers
Another weekend of great college football games is behind us and after LSU came from behind to beat Texas A&M and Kansas State crushed West Virginia there are many players around the country whose draft stock is moving. Below is a look at five players whose stock has been moving over the past few weeks based on my film evaluation and what I am hearing from NFL scouts. The measureables listed are either verified, which means taken by an NFL scout, or estimated.
Rising Players
Luke Joeckel Offensive Tackle Texas A&M Junior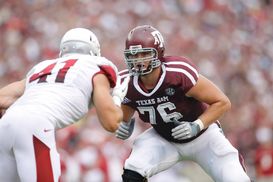 US PRESSWIRETexas A&M OT Luke Joeckel (#76) sets up to pass block against Arkansas.

6060 (Estimated) 310 (Estimated) 5.15 (Estimated) Potential Top Ten Pick
A highly regarded prospect when the season began, Joeckel's stock has continued to climb and after his performance against LSU this past Saturday he could challenge to be the first offensive linemen drafted. Natural flexibility to bend his knees and sink hips allows Joeckel to pass block with outstanding base/leverage. This combines with his quick feet to enable him to slide out easily to cut off explosive edge rushers and to re-direct and slide easily side to side to adjust to fast change of direction pass rush moves. Even though he needs to improve his "punch" in pass pro to avoid being jolted backwards initially by 'bull rushers," his ability to re-set feet and anchor after being jolted is not only impressive, but will serve him well vs NFL pass rushers. In addition to being a top pass blocker, Joeckel is quick off the ball on run blocks, makes contact with man quickly and is able to stay over feet to maintain block to eliminate his man.
Taylor Lewan Offensive Tackle Michigan Junior
6080 (Estimated) 309 (Estimated) 5.05 (Estimated) Potential Top Twenty Pick
While many in the media try to compare Lewan to former Michigan offensive tackle Jake Long, his play much more resembles that of Joe Thomas, who was a great player at Wisconsin, which is why I expect him to be a first round pick. Lewan has rare foot quickness for a 6'8 offensive tackle to get out of stance and in position to block speed rushers without any difficultly. Despite being a little upright in his pass pro, Lewan has no trouble changing directions to handle quick secondary pass rush moves. Although he does not deliver a violent "punch," he does a good job of "getting a good fit" on pass rusher and once he does he can tie up and eliminate his man. Even though he does not fire-off the ball aggressively on in-line run blocks, he consistently gets good position on man fast, stay after block and can ride him out of the play. Quick and nifty getting through the line to the second level, Lewan delivers a good initial blow to defender and is consistent maintaining blocks out in space.
Keith Pough Outside Linebacker Howard Senior
6016 (Verified) 236 (Verified) 4.93 (Estimated) Potential 3rd Round Pick
Unlike many players who are highly recruited out of high school, Pough choose his school based on academics and turned down a number of FBS offers (According to scouts I spoke with) to attend Howard. Despite lacking the great measureables that small school players usually need to get the NFL's attention, Pough's dominant play has done more than enough to get scouts talking. A highly intelligent player who reads and reacts to the play in a flash, Pough plays significantly faster than his timed speed because of how quickly he gets started towards the ball. He plays with an aggressive mentality and combined with his ability to avoid/defeat blocks while on the move, he consistently makes impact plays behind the line of scrimmage. His instincts, smarts and athleticism also combine so that he can excel in pass coverage, both zone and man. Overall, Pough may not be well known to the public now, but he will be by the time the draft gets here because he has the tools to warrant being a third or fourth round pick.
Falling Players
Michael Buchanan Defensive End Illinois Senior
6053 (Verified) 243 (Verified) 4.65 (Estimated) Potential Late 2nd / 3rd Round Pick
Numerous NFL scouts told me over the summer that when they evaluated Texans' first round pick Whitney Mercilus they felt Buchanan was a more dynamic athlete and better all-around player than Mercilus in 2011, so they expected him to have a breakout 2012 and challenge to be a Top Ten pick. Unfortunately, Buchanan's play has not improved and he has taken a step back. For a pass rusher who displayed rare foot quickness and agility to beat the offensive tackle inside and outside a season ago, he has struggled to consistently generate pressure this season. He needs to do a better job of rushing the passer with good pad level and must use his hands more aggressively to be more productive attacking the quarterback. For a player expected to be a first round pick when the season began, Buchanan needs to step up his game greatly to insure he gets drafted during the first two days of the 2013 Draft.
Barkevious Mingo Defensive End LSU Junior
6030 (Estimated) 240 (Estimated) 4.50 (Estimated) Potential Late 1st / 2nd Round Pick
When the 2012 season began NFL scouts were telling me that despite primarily being LSU's third defensive end in 2011 that Mingo could end up being a Top Five pick in the 2013 NFL Draft. However, so far this season he has not been nearly as productive as expected in his first season as a full-time starter, which was clear by his performance against Texas A&M this weekend. Despite flashing the great first step initial quickness and speed to get the corner easily, he has not pressured the quarterback consistently this season. In games I have evaluated, Mingo has not consistently exploded off the ball and rushed the passer without le verage, both of which have contributed to his being easier to pass block. Most concerning though is that Mingo does not show the same passion and intensity attacking the play that he did a season ago and often seems content to be blocked if the offensive tackle gets their hands on him. While there is still time for Mingo to climb back up to the top of the pass rusher list, right now he is much better to stay in school and play at LSU in 2013.
Email Russ at Russelllande@yahoo.com and Follow Russ on Twitter @RUSSLANDE