September 27, 2012 -
National Football Post
Week Five Prospect Match-Ups To Watch
GEORGIA vs. TENNESSEE
Match-Up One
Georgia Right OLB Jarvis Jones (6030 E, 241 E and 4.50 E) vs. Tennessee OT Dallas Thomas (6051 V, 297 V & 5.25 E)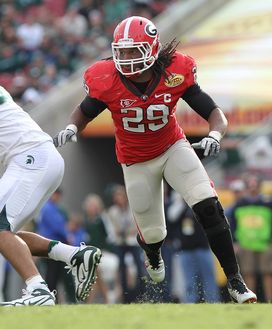 US PRESSWIREGeorgia's Jarvis Jones attacks the play.

Jarvis Jones is one of the premier edge pass rushers in the nation and going against Thomas will be a real challenge for both players. Jones first step initial quickness, explosive burst to point of contact and ability to turn corner easily will put a lot of pressure on Thomas because his biggest weakness is protecting the corner vs. speed rushers. With the quick feet and ability to pass block with good base, Thomas has consistently shown the ability to get to the corner in time to get hands on pass rusher. However, he has a bad habit of "stopping shuffle" after making initial contact and ends up "crossing over and chasing" pass rusher around the corner. If he does this vs. Jones he will get killed. On the flip side, Thomas is a strong and aggressive blocker who uses his hands well to punch and "get a good fit," which allows him to lock onto man and eliminate him from the play. While Jones has flashed the ability to be effective as a bull rusher, the reality is that he usually plays at less than 250 pounds and will not be a factor against the run or rushing the passer if Thomas gets his hands on him first. This match-up is one that scouts will be excited to see and could have a big effect on the draft status of both players.
GEORGIA vs. TENNESSEE
Match-Up Two
Georgia QB Aaron Murray (6010 E, 210 E and 4.85 E) vs.
Tennessee QB Tyler Bray (6060 E, 215 E and 5.00 E)
In a season with many highly regarded quarterback prospects, the chance to watch these two passers battle it out will not only be fun to watch, but will provide scouts with a chance to compare and contrast two different style passers. Both Murray and Bray are underclassmen, so they could return to school for the 2013 season, but if they continue to play at a high level it is expected that they both will enter the draft. Bray is the classic tall quarterback with an elite arm who has impressed with his ability to make all the NFL throws with accuracy. He is a better athlete than he gets credit for, but he still goes through stretches where he keeps his legs straight when passing and loses accuracy. On the other side of the spectrum is Murray who is shorter than ideal at between 6'0 – 6'1, but he has excellent mechanics to get rid of the ball very quickly with outstanding accuracy. He is a more polished and confident passer than Bray, is efficient and accurate on quick hitting passes and on long developing pass plays. This game's match-up is so interesting because Bray is so similar to former NFL quarterback Drew Bledsoe and Murray is the closest to Drew Brees that I have seen coming out of college.
MARSHALL vs. PURDUE
Marshall WR's Aaron Dobson (6031 V, 200 V and 4.50 E) & vs.
Purdue CB's Ricardo Allen (5090 E, 186 E and 4.40 E) & Joshua Johnson (5093 V, 194 V & 4.50 E)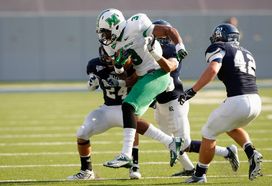 US PRESSWIREMarshall's Aaron Dobson runs with ball after catch.

Dobson has not received a lot of national attention, but NFL scouts are excited about him because of his combination of excellent size, natural hands and strong run after catch ability. This game will be his biggest challenge of the year as he goes up against two cornerbacks with real NFL potential. Ricardo Allen is a dynamic athlete whose foot quickness, agility and balance enable him to change directions in a flash. Combined with his explosive closing burst and ball skills, Allen makes it look easy breaking up and intercepting passes. On the other side of the defense is Johnson who lacks the elite physical skills of Allen, but is technically sound and enjoys playing physical and aggressive with receivers. I have a feeling that Purdue will likely match-up Allen on Dobson much of the time, but Johnson will also get chances to cover him. With Dobson's size, Allen and Johnson will get the opportunity to prove to NFL scouts that they can handle covering receivers who are significantly bigger as they each will give up six inches to Dobson. If Allen is able to shutdown Dobson, as I expect him to, he will start flying up draft boards and could end up as the first cornerback under 6'0 to be drafted and a first round pick if he choose to enter the draft early.
Email Russ at Russelllande@yahoo.com and Follow on Twitter @RUSSLANDE